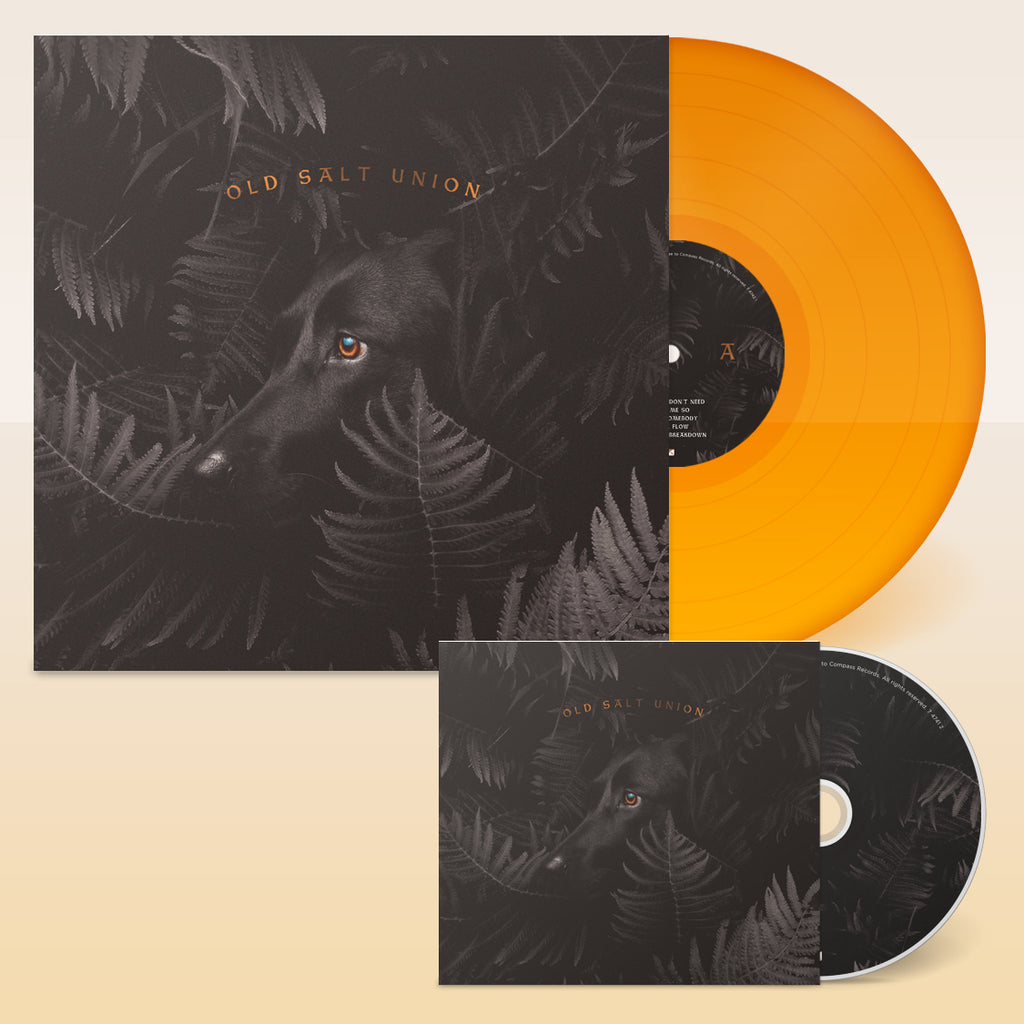 LP pressed on Limited Edition Orange Vinyl
Old Salt Union once again enlisted GRAMMY-winning banjoist and Compass co-founder Alison Brown to produce the follow-up to their self-titled Compass Records debut. The resulting album, Where the Dogs Don't Bite, builds on this non-traditional stringband's varied musical backgrounds for a wildly entertaining, eclectic batch of songs. The quintet — Ryan Murphy (banjo), Justin Wallace (mandolin), John Brighton (violin), Jesse Farrar (primary vocalist and bassist) and newest member Graham Curry (guitar) have continued to hone and develop their sound through relentless touring, cultivating a steadfast fanbase drawn to their high-energy shows. Coming from varied musical backgrounds, Old Salt Union's collective melting pot of styles and musical vocabularies informs their fresh approach to modern string band music and has helped to carve a unique niche for this Belleville, Illinois roots outfit.
Farrar, nephew of Son Volt's Jay Farrar, kicks off the album with "God You Don't Need," a hook laden ode to a relationship gone bad set against a tapestry of strings and an eerily compelling banjo melody.  Label mate Bobby Osborne guests on "Tells Me So," a nod to the bluegrass side of the band's musical sensibilities featuring a lead vocal by mandolinist Justin Wallace. Violinist Brighton delivers the gypsy-tinged instrumental "Johann's Breakdown," which pulls from jazz and classical progressions, and Wallace delivers the haunting title track, "Where The Dogs Don't Bite."  The dark, but heartfelt song features triple-layered guitar harmonies, stacked vocals and a group sing-along that recalls last call at a corner pub in the rust belt, a fitting closing to this musically diverse and compelling release.
"Old Salt Union has the groove and the chops of a great string band, balanced with infectious rock and roll energy. Their music occupies that sweet space between Old Crow folk and Yonder Mountain jam—not a bad place to be for a band about to break." — No Depression

"Old Salt Union is a 'heartland band' in the best sense. Their sound reverberates with echoes of their home in the midwest. In it you'll hear a landscape of dirt backroads and cement interstates; of small towns and even smaller farms; of half-empty downtowns and the ghosts of forgotten factories; of big dreams and even bigger disappointments. Their themes are as true as they are familiar: work is scarce but rewarding; love, even scarcer but worth fighting for; life isn't fair, but you get out of it what you make of it. Old Salt Union decided to make music out of it, and we're all the better for it." —Keith Dudding, KDHX St Louis
| | | |
| --- | --- | --- |
| MP3/320 | $10.00 | |
| FLAC | $12.00 | |
| WAV | $12.00 | |
| WAV-HD | $17.00 | |
| CD | $15.00 | |
| LP | $26.98 | |
Track Listing
| | | |
| --- | --- | --- |
| Sorry, but your browser is out dated and can't play audio. | God You Don't Need | |
| Sorry, but your browser is out dated and can't play audio. | Tell Me So | |
| Sorry, but your browser is out dated and can't play audio. | Hurt Somebody | |
| Sorry, but your browser is out dated and can't play audio. | Ebb & Flow | |
| Sorry, but your browser is out dated and can't play audio. | Johann's Breakdown | |
| Sorry, but your browser is out dated and can't play audio. | Big Dreams, Small Talk | |
| Sorry, but your browser is out dated and can't play audio. | Heartbroke & Lonesome | |
| Sorry, but your browser is out dated and can't play audio. | Promised Land | |
| Sorry, but your browser is out dated and can't play audio. | Holdin' On | |
| Sorry, but your browser is out dated and can't play audio. | Where the Dogs Don't Bite | |