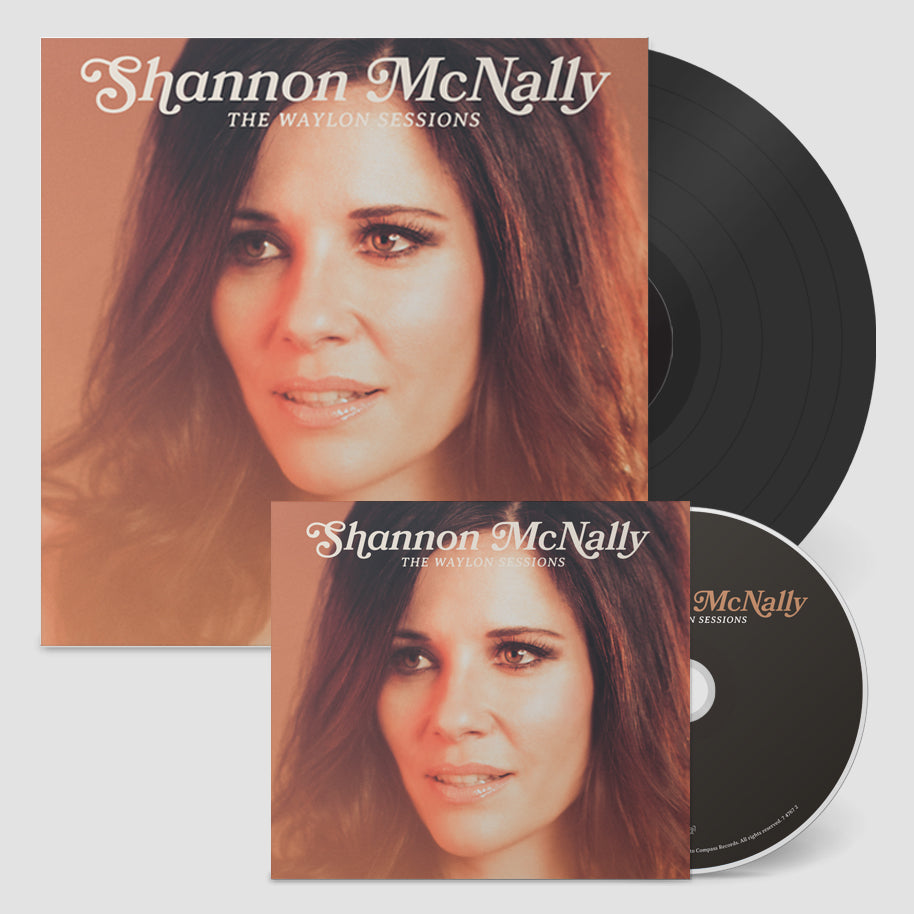 Featuring special guests Jessi Colter, Rodney Crowell, Buddy Miller and Lucas Nelson.

Recorded with an all-star band and featuring special guests like Jessi Colter, Buddy Miller, Rodney Crowell, and Lukas Nelson, Shannon McNally's extraordinary new collection, THE WAYLON SESSIONS, isn't so much a tribute to Waylon Jennings as it is a recontextualization: a nuanced, feminine rendering of a catalog long considered a bastion of hetero-masculinity. That's not to say McNally has a softer, gentler take on the songs of Jennings and his outlaw compatriots here; in fact, just the opposite. Over and over again, she manages to locate a smoldering intensity — a searing hurt buried deep within the music's deceptively simple poetry — and she hones in on it with a surgical precision. McNally doesn't swap pronouns or couch her delivery with a wink; she simply plays it straight, singing her truth as a divorced single mother in her 40's in all its beauty, pain, and power. The result is that rare covers record that furthers our understanding of the originals, an album of classics that challenges our perceptions and assumptions about just what made them classics in the first place.
"When I listen to Waylon, I hear an adult," says McNally. "He sounds like a grownup, and for a long time, I think being a grownup has been confused with being a man. There's a feminine perspective hidden somewhere inside each of these songs, though. My job was to find a way to tap into that and draw it out."
Shannon McNally, has been mining the rich veins of American roots music for more than two decades now. Born and raised on Long Island, she has called New Orleans, Nashville, and Holly Springs, Mississippi, home, but it was in Los Angeles that she first came to national attention in the early 2000's with her Capitol Records debut, Jukebox Sparrows. Recorded with a Murderer's Row of studio legends, the collection garnered high profile spotlights from NPR to Rolling Stone, earned McNally slots on Letterman, Leno, and Conan, and led to dates with Stevie Nicks, Robert Randolph, and John Mellencamp among others. She followed it up in 2005 with Geronimo, a critically acclaimed sophomore effort that prompted the New York Times to call her "irresistible" and the Washington Post to hail her as "a fine lyricist who often calls to mind Lucinda Williams." A restless creative spirit with a magnetic personality, McNally has released a wide range of similarly lauded albums, EPs, and collaborations over the past 15 years, including the 2017 Compass Record's release Black Irish.
"She has the voice: bruised, smoky and ornery, right at home where country and soul meet. She has the melodies and the timing - she's irresistible." - The New York Times
"This girl belongs in the Americana Music spotlight." - Rodney Crowell
"McNally ….sensual, swaggering, smokey. …..exhibiting an ability to depict pleasure and pain with an explicitness that seems deceptively natural for such a reasonably young songwriter.….a healthy dose of lowdown country and ragged soul...McNally's sound bears a timelessness that's truly uncommon." - Austin Chronicle
"She is probably rock's most talented undiscovered gem. This woman with the confident voice, pin-point lyrics and effortless guitar playing….Shannon McNally can rock your socks off at the same time she is hitting you over the head with words that actually make sense." - Glide Magazine
| | | |
| --- | --- | --- |
| MP3/320 | $10.00 | |
| FLAC | $12.00 | |
| WAV | $12.00 | |
| WAV-HD | $17.00 | |
| CD | $15.00 | |
| LP | $24.98 | |
Track Listing
| | | |
| --- | --- | --- |
| Sorry, but your browser is out dated and can't play audio. | I've Always Been Crazy | |
| Sorry, but your browser is out dated and can't play audio. | You Asked Me To | |
| Sorry, but your browser is out dated and can't play audio. | Out Among The Stars | |
| Sorry, but your browser is out dated and can't play audio. | You Show Me Yours And I'll Show You Mine | |
| Sorry, but your browser is out dated and can't play audio. | Black Rose | |
| Sorry, but your browser is out dated and can't play audio. | This Time | |
| Sorry, but your browser is out dated and can't play audio. | I Ain't Living Long Like This | |
| Sorry, but your browser is out dated and can't play audio. | I'm a Ramblin' Man | |
| Sorry, but your browser is out dated and can't play audio. | Mamas Don't Let Your Babies Grow Up to Be Cowboys | |
| Sorry, but your browser is out dated and can't play audio. | Help Me Make It Through The Night | |
| Sorry, but your browser is out dated and can't play audio. | We Had It All | |
| Sorry, but your browser is out dated and can't play audio. | Only Daddy That'll Walk The Line (Bonus Track) | |
| Sorry, but your browser is out dated and can't play audio. | Waltz Me To Heaven Tonight (Bonus Track) | |