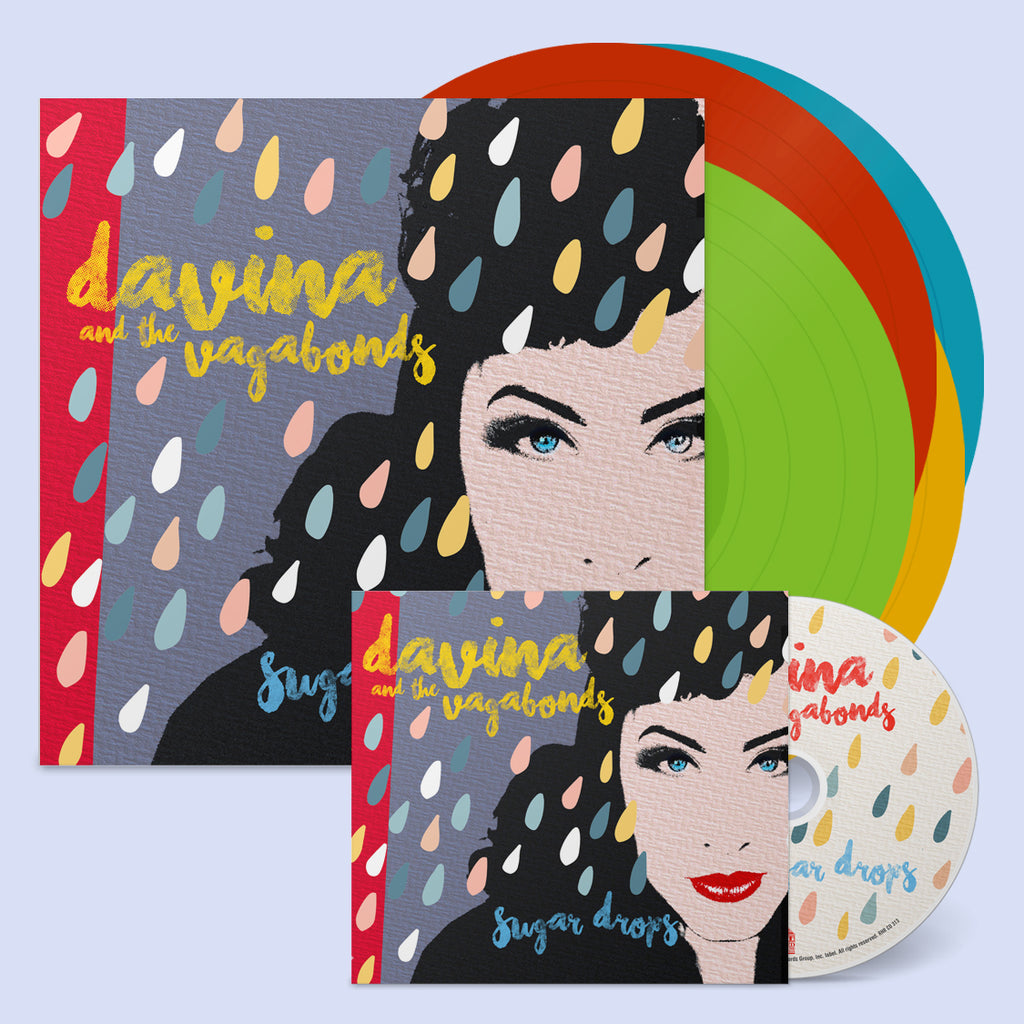 SUGAR DROPS is the first album on Red House Records from Davina and the Vagabonds and marks the first time singer/songwriter/pianist Davina Sowers entered a proper studio to record an album. The Minneapolis-based artist holed up in Nashville's Compass Sound Studio with producer (and Compass Records co-founder) Garry West, along with her trumpeter, string arranger and husband, Zack Lozier, and a rotating cast of powerhouse players including Todd Phillips (David Grisman, Robbie Fulks) on bass, Doug Lancio (Patty Griffin, John Hiatt, Tom Jones) on guitar and Reese Wynans (Stevie Ray Vaughan, Joe Bonamassa) on Hammond B3.

Sugar Drops is distillation of bluesy barroom baritone and bravado, graveyard jazz grooves, and noir-ish confessional lyricism backed by boisterous piano, guitar, and strings. Eclectic, engaging and instilled with a deep respect and knowledge for the Great American Songbook, SUGAR DROPS is the actualization of longstanding intent for Davina.

"It represents about 100 years of Americana; I did exactly what I wanted to do," she says.

Davina and the band are constantly on the road, touring throughout the world they've earned feverish acclaim from the Chicago Tribune, NPR, and more in addition to performing on BBC's international favorite late-night program Later…with Jools Holland and appearing on PBS's Bluegrass Underground.
"... part Bonnie Raitt, part Etta James and a little Amy Winehouse" —Star Tribune

"Davina Sowers is a one-of-a-kind performer whose singing… has a sassiness bearing some comparison to that of heart-thumping blues queens Ma Rainey and Ida Cox." —Downbeat
| | | |
| --- | --- | --- |
| MP3/320 | $10.00 | |
| FLAC | $12.00 | |
| WAV | $12.00 | |
| WAV-HD | $17.00 | |
| CD | $15.00 | |
| LP | $26.98 | |
Track Listing
| | | |
| --- | --- | --- |
| Sorry, but your browser is out dated and can't play audio. | Bone Collection | |
| Sorry, but your browser is out dated and can't play audio. | I Can't Believe I Let You Go | |
| Sorry, but your browser is out dated and can't play audio. | Devil Horns | |
| Sorry, but your browser is out dated and can't play audio. | Little Miss Moonshine | |
| Sorry, but your browser is out dated and can't play audio. | Sugar Drops | |
| Sorry, but your browser is out dated and can't play audio. | Another Lonely Day | |
| Sorry, but your browser is out dated and can't play audio. | No Matter Where We Are | |
| Sorry, but your browser is out dated and can't play audio. | Mr. Big Talker | |
| Sorry, but your browser is out dated and can't play audio. | Magic Kisses | |
| Sorry, but your browser is out dated and can't play audio. | Deep End | |