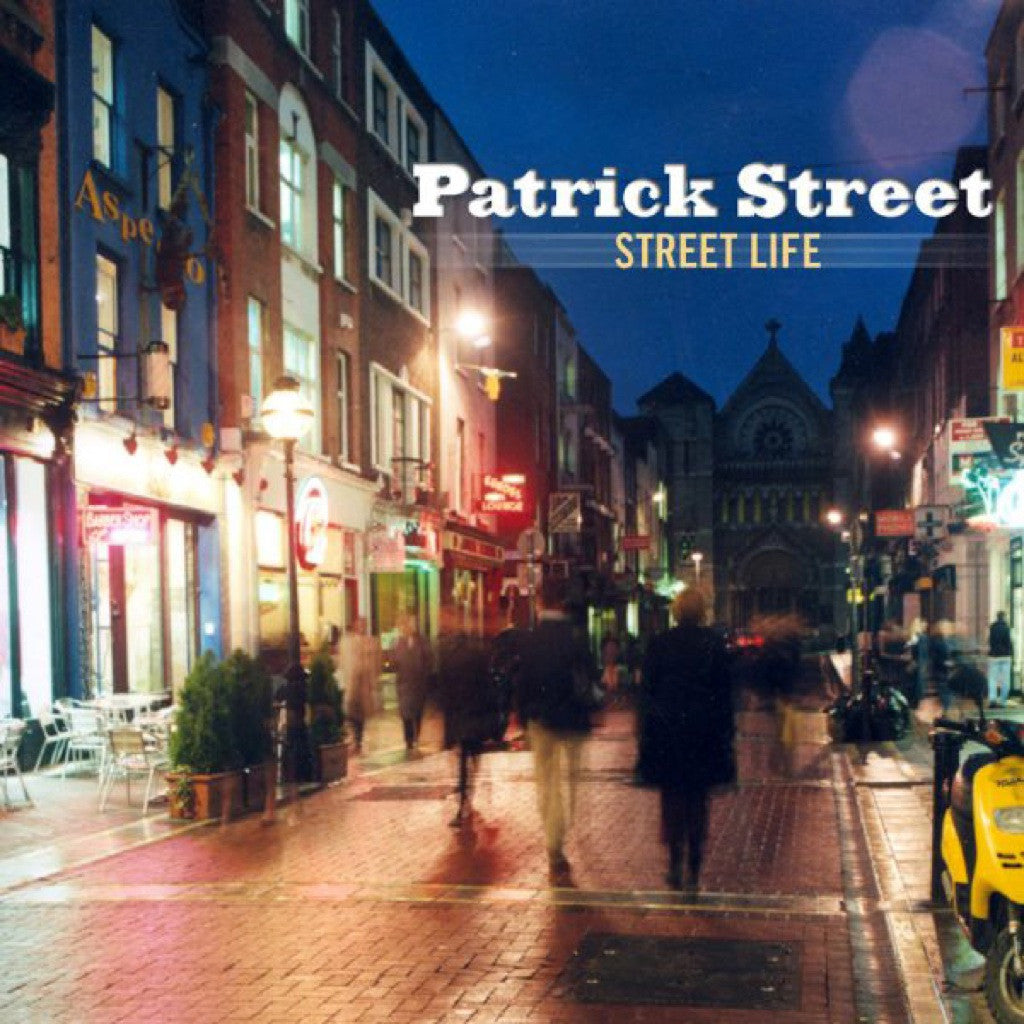 "I don't know this guy Patrick Street, but I tell you, the boys in his band are really good."

This was heard just a few minutes before the start of the very first concert on the very first tour ever played by Irish "supergroup" Patrick Street. Well, Patrick never did show up, but the "boys in his band" are doing fine without him. More than a decade after that first performance the group has earned a legendary status. Billboard Magazine has called their performances "mesmerizing" and their albums "a must for those who love Irish Music."

Kevin Burke, Andy Irvine, Jackie Daly, and Ged Foley's latest offering, Street Life is ten tracks -- five songs and five instrumentals -- recorded in four studios in Ohio, Ireland, New York and Oregon. Guest musicians include one of Irish music's most explosively creative performers, Steve Cooney, who brings his talent to a set of traditional reels. Bruce Molsky, American master of Old Timey fiddle, banjo, guitar, and song joins the fray as well as television and film composer and musician Cal Scott, who played and arranged the brass accompaniment on several tracks.
This album's MP3s are available at 320 kbps.
Track Listing
| | | |
| --- | --- | --- |
| Sorry, but your browser is out dated and can't play audio. | Saddle The Pony/The Boys Of The Town/The Frost Is All Over | |
| Sorry, but your browser is out dated and can't play audio. | Barna Hill | |
| Sorry, but your browser is out dated and can't play audio. | The Old Reel/Drowsy Maggie/Kay Girroir | |
| Sorry, but your browser is out dated and can't play audio. | If We Had Built A Wall/The March Of Time | |
| Sorry, but your browser is out dated and can't play audio. | Down In Matewan/Lost Indian | |
| Sorry, but your browser is out dated and can't play audio. | Down By The Old Fairy Fort/The Whisler And His Dog | |
| Sorry, but your browser is out dated and can't play audio. | The Diamantina Drover | |
| Sorry, but your browser is out dated and can't play audio. | Art O'Keefe's/Forget Your Troubles/Joe Bane's/Kiskeam | |
| Sorry, but your browser is out dated and can't play audio. | Green Grows The Laurel | |
| Sorry, but your browser is out dated and can't play audio. | King Of The Pipers/Free And Easy/The House On The Hill/O'Keefe's | |