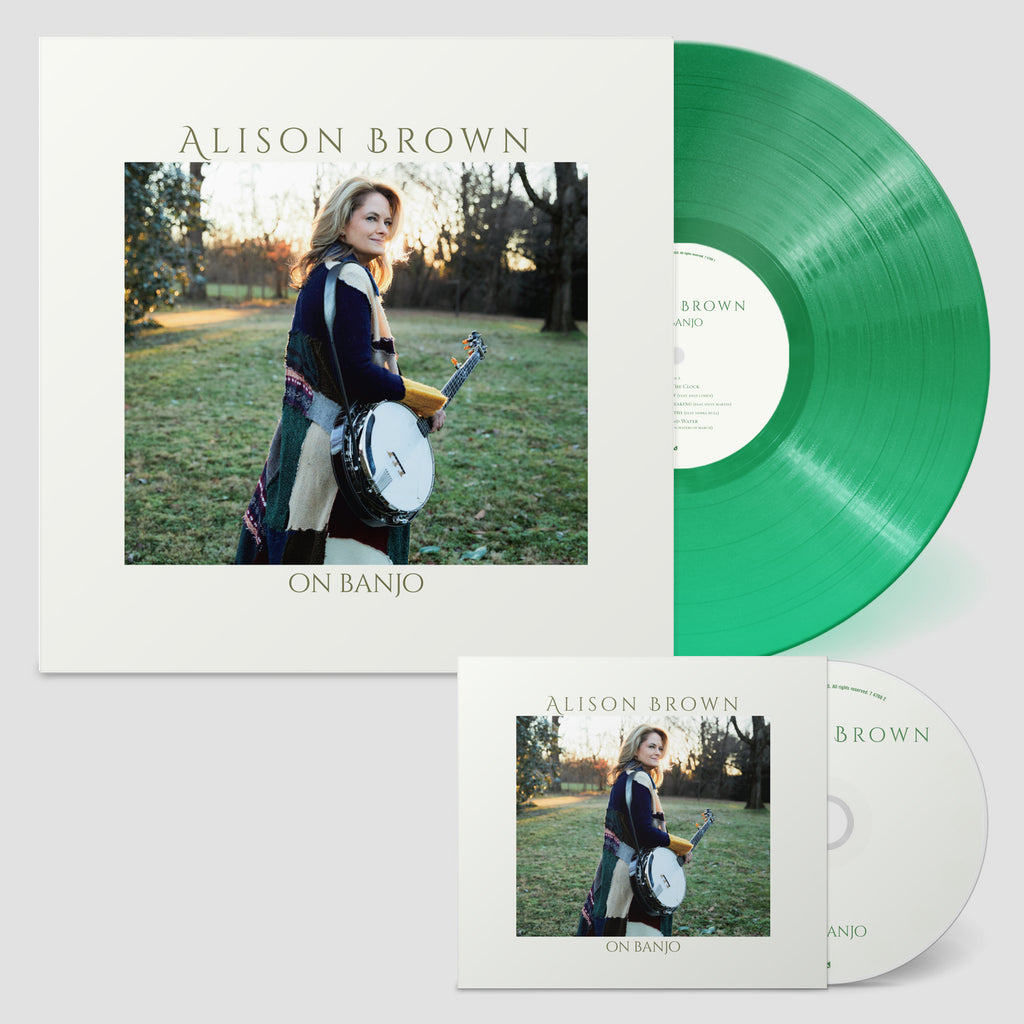 CD & LIMITED EDITION Clear Green VINYL will be signed by the artist while supplies last.
Featuring: Anat Cohen, Stuart Duncan, Sierra Hull, Sharon Isbin, Kronos Quartet, and Steve Martin
As Amelia Earhart is to aviation, as Julia Child is to the culinary arts, Alison Brown is to the five-string banjo. She has broadened the instrument's sound and identity with her distinctive voice as a player and composer, taking the banjo far beyond its Appalachian roots and earning praise from a variety of national taste-makers including The Wall Street Journal, The New York Times, CBS Sunday Morning, NPR, and USA Today. She is a frequent collaborator with Steve Martin and Indigo Girls as well as the bandleader of the Alison Brown Quintet which is on a self-declared mission to bring the banjo to mainstream audiences.
On her new album ON BANJO, Brown offers a musical autobiography of sorts.  Tunes that give a nod to her bluegrass roots sit alongside forays into Brazilian choro music, string quartet and swing era jazz and bossa nova. Brown invited an eclectic cast of guests to join her on the set of predominantly original tunes including three of her favorite fellow female virtuosos: Israeli jazz clarinetist Anat Cohen, mandolin whiz Sierra Hull and classical guitarist Sharon Isbin. Other guests include fiddle icon Stuart Duncan, cross-cultural string masters Kronos Quartet and comedian/actor/banjo player Steve Martin who contributes clawhammer banjo to a tune which he and Brown co-wrote.
While Brown came to national attention as a teenager in the Southern California bluegrass scene, she has always been driven to explore other musical possibilities for the banjo and she has been blurring musical boundaries since the beginning of her career. From her GRAMMY-nominated debut forward, her music has boldly included elements of jazz, Latin and Celtic music in addition to bluegrass. ON BANJO is a continuation of Brown's innovative, technical, and compositional artistry. What genre is it? Who cares? It's Alison Brown music.
"Like James Taylor's voice or B.B. King's guitar, Alison Brown's banjo is an instrument possessed of a unique sonic signature and an inescapable beauty." —Billboard Magazine
 
 "How sweetly she has taught her banjo to sing, whether humming winkingly behind the melody or delivering it with a breathy humanness that is as technically awesome as it is melodically seductive." —The Boston Globe
 
"Banjo music is seldom thought of as 'mellow' or, dare we say 'pretty,' but Alison Brown makes it so…As a true ground-breaker, (she's) opening up whole new vistas for an instrument once solely associated with pickin' n' grinnin." —USA Today
| | | |
| --- | --- | --- |
| MP3/320 | $7.50 $10.00 | |
| FLAC | $9.00 $12.00 | |
| WAV | $9.00 $12.00 | |
| WAV-HD | $12.75 $17.00 | |
| SIGNED CD | $12.00 $16.00 | |
| SIGNED Clear Green LP | $20.24 $26.98 | |
| Clear Green LP + CD SIGNED Bundle | $40.00 | |
| Deep Purple LP | $20.24 $26.98 | |
| Deep Purple LP + SIGNED CD Bundle | $40.00 | |
Track Listing
| | | |
| --- | --- | --- |
| Sorry, but your browser is out dated and can't play audio. | Wind the Clock | |
| Sorry, but your browser is out dated and can't play audio. | Choro 'Nuff | |
| Sorry, but your browser is out dated and can't play audio. | Foggy Morning Breaking | |
| Sorry, but your browser is out dated and can't play audio. | Sweet Sixteenths | |
| Sorry, but your browser is out dated and can't play audio. | Sun and Water (Here Comes the Sun/Waters of March) | |
| Sorry, but your browser is out dated and can't play audio. | Old Shatterhand | |
| Sorry, but your browser is out dated and can't play audio. | Regalito | |
| Sorry, but your browser is out dated and can't play audio. | BanJobim | |
| Sorry, but your browser is out dated and can't play audio. | Tall Hog at the Trough | |
| Sorry, but your browser is out dated and can't play audio. | Porches | |