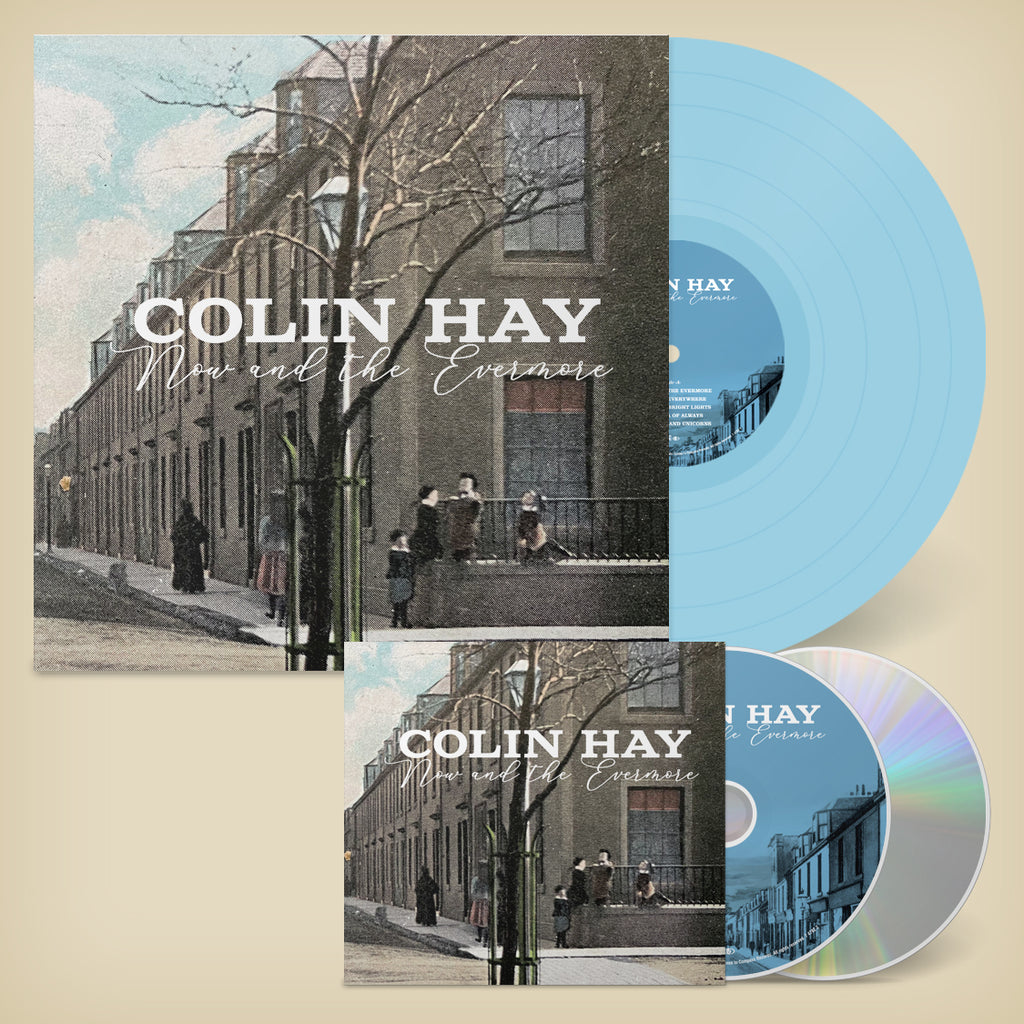 Deluxe Edition CD and digital formats include seven unreleased and never before heard tracks from the original Now and the Evermore recording sessions.
Standard LP features the 10 original songs and includes a download code with all 17 tracks.
Features special guest appearances by Ringo Starr, Gregg Bissonette (Ringo Starr All Star Band), Jimmy Earl (Jimmy Kimmel Live! Band), Jim Hoke (NRBQ), Michael McGoldrick, Cecilia Noel, and Reese Wynans (Double Trouble).
Compass Records is excited to announce the release of a deluxe edition of Colin Hay's acclaimed 2022 album NOW AND THE EVERMORE. The deluxe edition, titled NOW AND THE EVERMORE (MORE). Says Hay, "Upon listening to these songs, which were part of the NOW AND THE EVERMORE recording sessions, I am struck by a sense of yearning. For what is unclear, but the context is set within the fleeting nature of time, and the subsequent importance of the here and now. I think they deserve to run free."
Written and recorded in Hay's adopted hometown of Los Angeles and at Compass Sound Studio in Nashville, NOW AND THE EVERMORE (MORE) celebrates life and love, and finding silver linings and reasons to smile through the challenges of recent times. The music brims with fanciful melodies and lush orchestration. Hay's performances are likewise animated and full of life, drawing on vintage pop charm, pub rock muscle, and folk sincerity to forge a sound that's at once playful and profound, clever and compassionate, whimsical and earnest. And the lyrics offer the listener a roadmap for confronting the challenges of our times, responding to pain with beauty and doubt with wonder.
Colin Hay stepped onto the international stage as the front man and principle songwriter for '80s Australian hitmakers Men At Work, becoming one of the recognizable vocalists in pop music with his soaring vocals, infectious melodies and pointedly quizzical lyrical outlook. Classic songs like "Down Under," "Overkill," and "Who Can It Be Now?" unscroll like miniature movies, with timeless twists and a bittersweet sense of humor. That wry humor has stuck with Hay though his solo albums and projects, from his most recent solo release, to international tours as a member of Ringo Starr & His All-Starr Band. A Hay-penned song ("What's My Name") not only made its way onto Starr's 2019 album but also became the title track.
"It's fair to say that Now And The Evermore is, in fact, an album for the ages." ****
 —American Songwriter
 
"Hay is the consummate songwriter, who's only gotten better and better with age." —Daytrotter
 
"Hay has been attracting new fans with gentle, ruminative acoustic songs."
—The New York Times

| | | |
| --- | --- | --- |
| Deluxe MP3/320 | $7.50 $10.00 | |
| Deluxe WAV | $9.00 $12.00 | |
| Deluxe WAV-HD | $12.75 $17.00 | |
| SIGNED Deluxe CD | $12.00 $16.00 | |
| Standard Blue LP w/ Deluxe Edition Download | $20.24 $26.98 | |
| SIGNED Deluxe CD + LP w/ Deluxe Edition Download Bundle | $42.00 | |
Track Listing
| | | |
| --- | --- | --- |
| Sorry, but your browser is out dated and can't play audio. | Now And The Evermore | |
| Sorry, but your browser is out dated and can't play audio. | Love Is Everywhere | |
| Sorry, but your browser is out dated and can't play audio. | Into The Bright Lights | |
| Sorry, but your browser is out dated and can't play audio. | The Sea Of Always | |
| Sorry, but your browser is out dated and can't play audio. | Starfish And Unicorns | |
| Sorry, but your browser is out dated and can't play audio. | A Man Without A Name | |
| Sorry, but your browser is out dated and can't play audio. | Undertow | |
| Sorry, but your browser is out dated and can't play audio. | All I See Is You | |
| Sorry, but your browser is out dated and can't play audio. | Agatha Bell | |
| Sorry, but your browser is out dated and can't play audio. | When Does The End Begin? | |
| Sorry, but your browser is out dated and can't play audio. | Long Ago (Bonus Track) | |
| Sorry, but your browser is out dated and can't play audio. | Tomorrow Never Comes (Bonus Track) | |
| Sorry, but your browser is out dated and can't play audio. | We Can Love Again (Bonus Track) | |
| Sorry, but your browser is out dated and can't play audio. | Waterline (Bonus Track) | |
| Sorry, but your browser is out dated and can't play audio. | Someone Else's Life (Bonus Track) | |
| Sorry, but your browser is out dated and can't play audio. | Incommunicado (Bonus Track) | |
| Sorry, but your browser is out dated and can't play audio. | Within The Wheel (Love Is Everything) (Bonus Track) | |