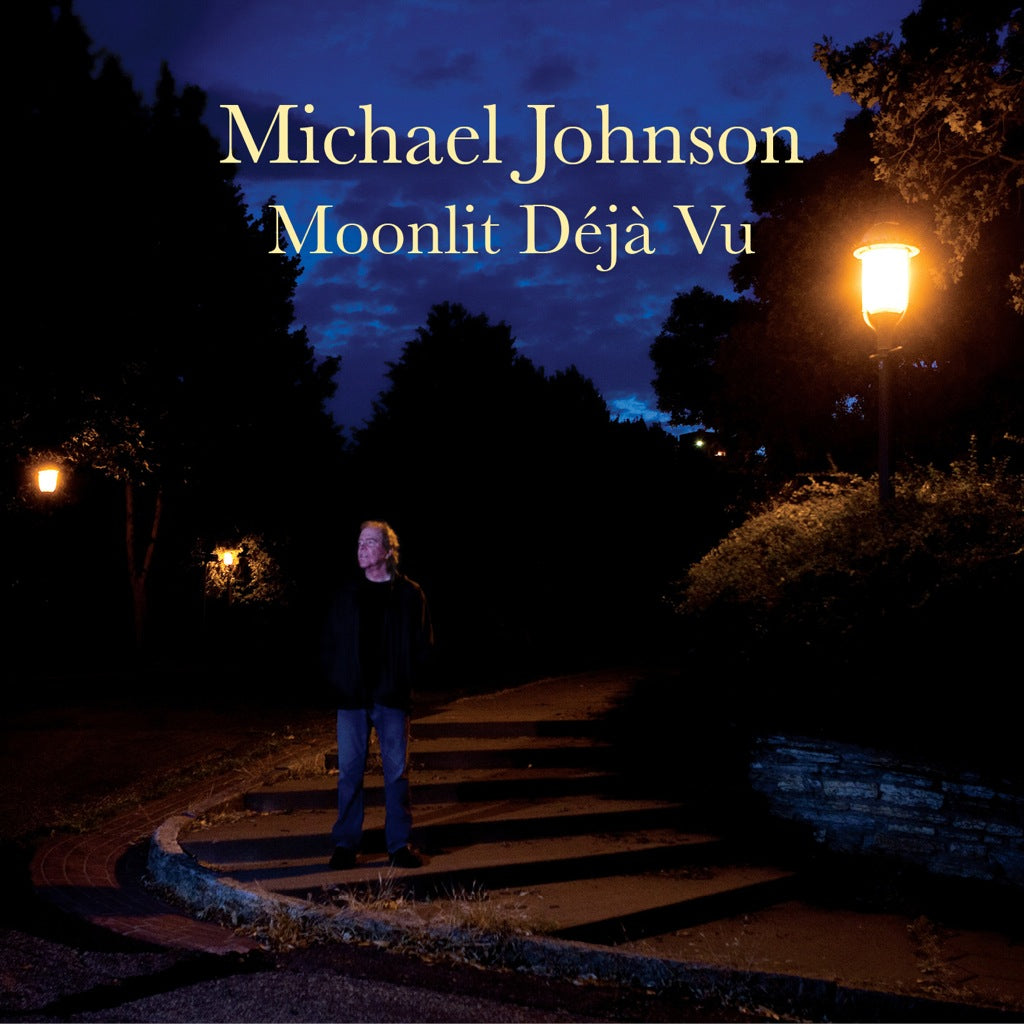 Moonlit Déjà Vu is Michael Johnson's first studio album in 15 years and shows a songwriter and performer at the top of his game. Perhaps best known for his hit song "Bluer Than Blue" and several #1 Billboard-charting country songs, Moonlit Déjà Vu is a riveting and intimate mix of folk, jazz, romance and nostalgia.
A troubadour in every sense of the word, Michael is in the middle of an artistic renaissance and Moonlit Déjà Vu puts his beautiful finger style guitar and vocals front and center. The eleven tracks reflect a life that has seen success, loss and illness with intimate and authentic songs like "My Favorite Lies" and "How Do You Know What You Know?" Perhaps what is most special about this record is his duet with his long lost daughter, Truly Carmichael, on "One Mile Apart." As themes of being close someone without knowing it permeate in this song as well as "April Fool" and "Looking for Rainbows (Without and Umbrella)" their serendipitous reuniting after more than 20 years makes this performance even more compelling.
From start to finish, Moonlit Déjà Vu is a high calibur folk album from one of the top-tier performers in the acoustic world that no folk music fan should be without.
| | | |
| --- | --- | --- |
| MP3/320 | $10.00 | |
| FLAC | $12.00 | |
| WAV | $12.00 | |
| CD | $15.00 | |
Track Listing
| | | |
| --- | --- | --- |
| Sorry, but your browser is out dated and can't play audio. | April Fool | |
| Sorry, but your browser is out dated and can't play audio. | My Favorite Lies | |
| Sorry, but your browser is out dated and can't play audio. | One Mile Apart | |
| Sorry, but your browser is out dated and can't play audio. | Learning How To Love | |
| Sorry, but your browser is out dated and can't play audio. | Gee I'm Glad I Worried About That | |
| Sorry, but your browser is out dated and can't play audio. | Emilio | |
| Sorry, but your browser is out dated and can't play audio. | Looking For Rainbows | |
| Sorry, but your browser is out dated and can't play audio. | How Do You Know What You Know? | |
| Sorry, but your browser is out dated and can't play audio. | SoSo | |
| Sorry, but your browser is out dated and can't play audio. | The Day I'm Over You | |
| Sorry, but your browser is out dated and can't play audio. | Kiss Me Goodbye | |