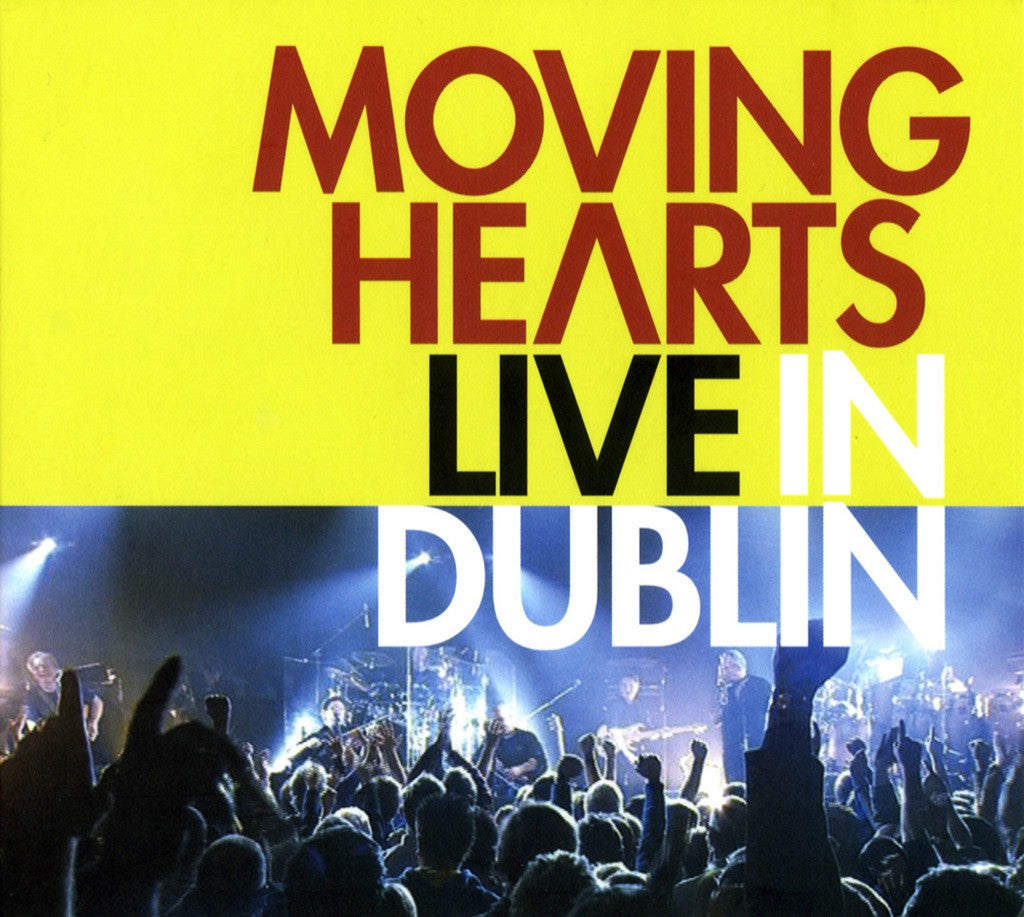 Recorded at Dublin's Vicar Street during The Moving Hearts sold out four-night stand in February 2007, Live In Dublin captures some of Ireland's finest instrumentalists at the very top of their collective game. Percussionist Noel Eccles says: "There's unfinished business! When we last played it was as an instrumental band and we always felt we hadn't finished exploring the possibilities of our unique line up." This is the first release from Moving Hearts in over 20 years and it sees the band play a blistering set to a packed house in one of Dublin's most intimate venues.

Moving Hearts started playing together in The Baggot Inn, Dublin on February 1981. That first line-up comprised Christy Moore, vocals, guitar and bodhran, Donal Lunny on bouzouki and synthesizer, Declan Sinnott on electric guitar, Eoghan O'Neill on bass, Brian Calnan on drums and percussion, Davy Spillane on pipes and low whistle and Keith Donald on various saxophones. The band attracted huge attention for its blending of musical influences - folk, Irish traditional, rock, funk and jazz - as well as its commentary in the songs sung by Christy Moore on issues of concern in the areas of human rights and political skulduggery. In addition to songs about Ireland, Christy sings about the nuclear industry, thieving landlords, the US-engineered coup in Chile that replaced the elected Allende with Pinochet and his cronies and the dark side of organized religion.

After many changes of personnel - nineteen people have played or sung in the band - the decision was made to concentrate on instrumental music and to follow on from The Storm, the influential album of 6 instrumentals that was recorded after the band ceased regular gigging in 1984. After reforming to tour in 1987, the band went their several ways for most of two decades and watched as the world caught up with their music. Unlike many bands that stop working together, all the core members of Moving Hearts went on to have successful careers as musicians and bring huge depth and range of experience to a band that never stopped playing.
| | | |
| --- | --- | --- |
| MP3/320 | $10.00 | |
| FLAC | $12.00 | |
| WAV | $12.00 | |
| CD | $15.00 | |
Track Listing
| | | |
| --- | --- | --- |
| Sorry, but your browser is out dated and can't play audio. | The Lark | |
| Sorry, but your browser is out dated and can't play audio. | The Titanic | |
| Sorry, but your browser is out dated and can't play audio. | Finore | |
| Sorry, but your browser is out dated and can't play audio. | Tribute to Peadar O'Donnell | |
| Sorry, but your browser is out dated and can't play audio. | Category | |
| Sorry, but your browser is out dated and can't play audio. | Lake of Shadows | |
| Sorry, but your browser is out dated and can't play audio. | Downtown | |
| Sorry, but your browser is out dated and can't play audio. | The Storm | |
| Sorry, but your browser is out dated and can't play audio. | May Morning Dew | |
| Sorry, but your browser is out dated and can't play audio. | McBrides | |