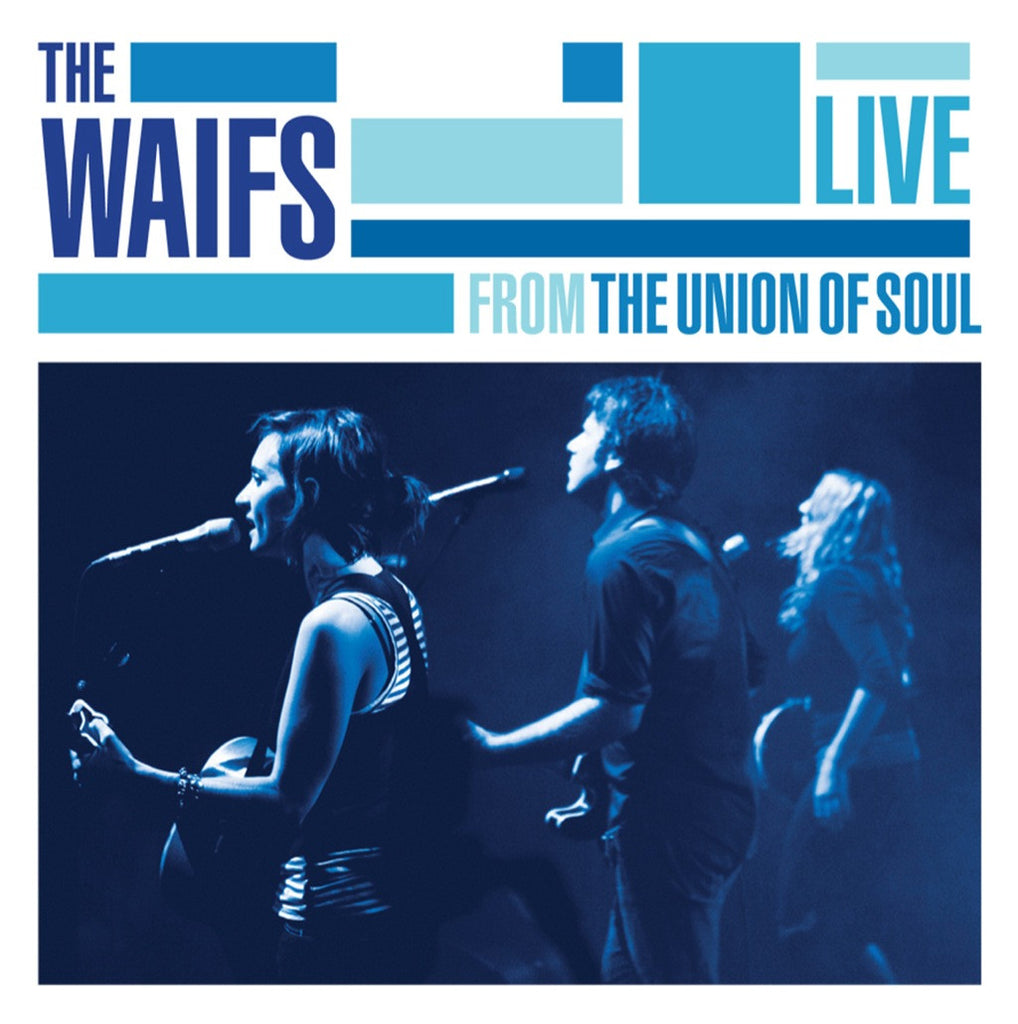 Singer-songwriters Donna Simpson, Vikki Thorn, and Josh Cunningham make up Australia's folk-rock band The Waifs. Their 2002 radio smash "London Still" was followed by a tour with Bob Dylan and ARIA Awards including Best Independent, and Best Blues And Roots Release. While each album they record—from 1996's self-titled debut to 2008's acclaimed SunDirtWater—has found the Waifs maturing as writers and performers, it is on the concert stage that they truly connect with their audience.

Live From the Union of Soul is a collection of 14 songs recorded on the road during last year's memorable and historic Australian Union Of Soul tour and features guest appearances from John Butler and Clare Bowditch. Widely known for their infectious shows and lengthy tours to all corners of the globe, The Waifs present new songs in acoustic mode, including classic covers of Frank Iffield's 'I Remember You' (initially performed as a tribute at the Australia's ARIA Hall Of Fame Awards, and becoming a popular addition to the bands live set list), and Paul Kelly and Kev Carmody's "From Little Things". They also perform a barn storming version of "When I Die" and of course there is plenty of Waif's banter in between!

Live From the Union of Soul is imbued with all the energy, charisma, and earthy soul that have won the Waifs new fans from their native Australia to America, and beyond. Essential for both longtime fans and newcomers, Live From the Union of Soul perfectly captures the offhand charm and bluesy soul of Australia's most successful independent band.
"Intimate, heartfelt songs that move at the speed of a road trip." - ROLLINGSTONE.COM
"Perhaps the most popular and successful independent band in Australia." - The Washington Post
"Blues, country, early rock and new-wave pop, and presenting it all with a cool sophistication that carries plenty of heat." - The Nashville Scene

| | | |
| --- | --- | --- |
| MP3/320 | $10.00 | |
| FLAC | $12.00 | |
| WAV | $12.00 | |
| CD | $15.00 | |
Track Listing
| | | |
| --- | --- | --- |
| Sorry, but your browser is out dated and can't play audio. | How Many Miles | |
| Sorry, but your browser is out dated and can't play audio. | London Still (Acoustic) | |
| Sorry, but your browser is out dated and can't play audio. | Sundirtwater | |
| Sorry, but your browser is out dated and can't play audio. | Downroads | |
| Sorry, but your browser is out dated and can't play audio. | When I Die (Bluegrass) | |
| Sorry, but your browser is out dated and can't play audio. | Rescue | |
| Sorry, but your browser is out dated and can't play audio. | Stay (Acoustic) | |
| Sorry, but your browser is out dated and can't play audio. | Take It In | |
| Sorry, but your browser is out dated and can't play audio. | From Little Things | |
| Sorry, but your browser is out dated and can't play audio. | I Remember You | |
| Sorry, but your browser is out dated and can't play audio. | Feeling Sentimental | |
| Sorry, but your browser is out dated and can't play audio. | Sweetest Dream | |
| Sorry, but your browser is out dated and can't play audio. | Eternity | |
| Sorry, but your browser is out dated and can't play audio. | Pony | |