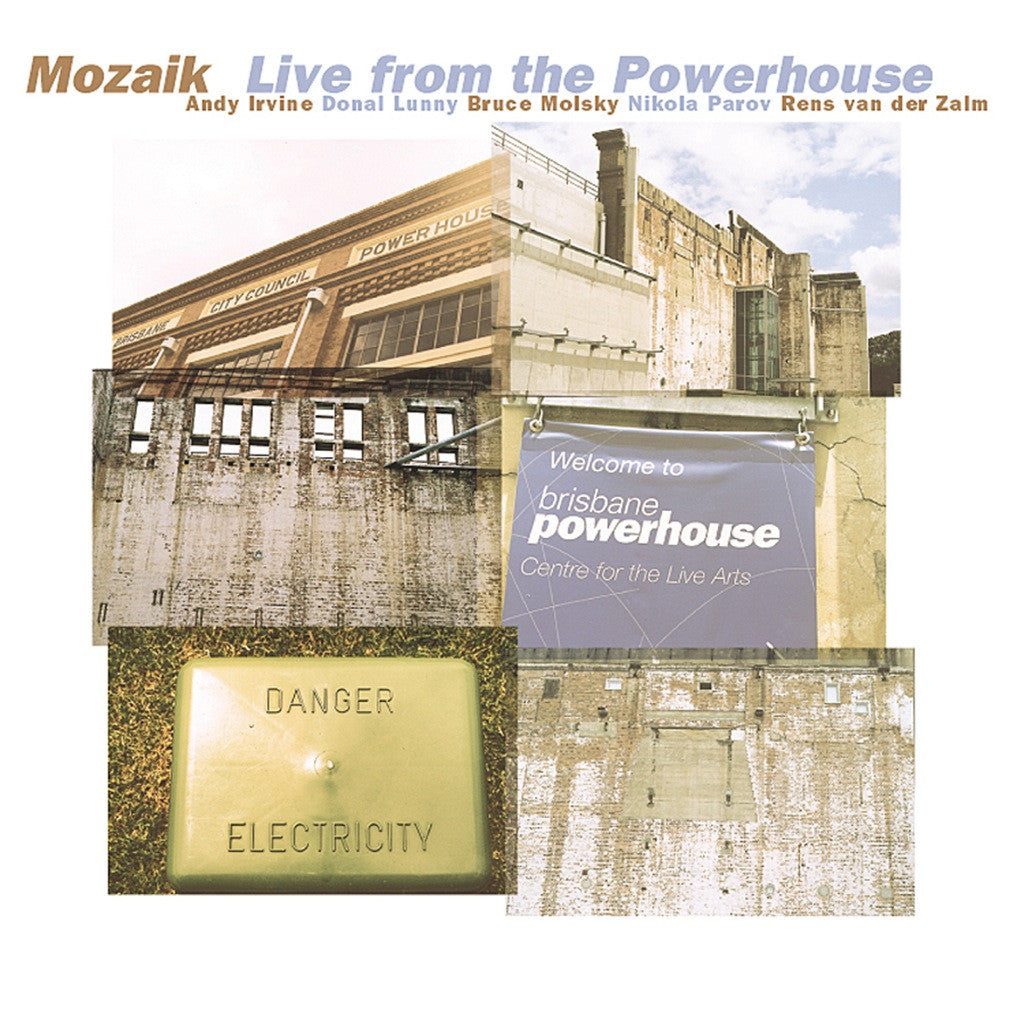 First envisioned by venerable vocalist and multi-instrumentalist Andy Irvine (Planxty, Patrick Street), Mozaik is the ultimate global stringband--a truly international ensemble who can not only perform music from a wide array of cultures, but interweave their myriad influences into an entirely new sound.

Consisting of Irvine, fellow Irish luminary Donal Lunny (bouzouki, guitar), American old-tyme fiddler/guitarist/vocalist Bruce Molsky, Dutch guitarist/mandolinist Rens van der Zalm, and Hungarian multiinstrumentalist Nikola Parov, Mozaik moves effortlessly from Celtic to old-tyme to Eastern European music, with intricate string arrangements complementing Andy and Bruce's plaintive vocals.

As the first recorded evidence of a major new collaboration in roots music, Live From the Powerhouse is essential listening for fans of any and all international acoustic music.
| | | |
| --- | --- | --- |
| MP3/320 | $10.00 | |
| FLAC | $12.00 | |
| WAV | $12.00 | |
| CD | $15.00 | |
Track Listing
| | | |
| --- | --- | --- |
| Sorry, but your browser is out dated and can't play audio. | My Heart's Tonight in Ireland / Robinson County / The Trip to Durrow | |
| Sorry, but your browser is out dated and can't play audio. | Suleman's Kopanitsa | |
| Sorry, but your browser is out dated and can't play audio. | The Rocky Road to Dublin / Indian Ate the Woodchuck | |
| Sorry, but your browser is out dated and can't play audio. | Romanian Horă / Black Jack Grove | |
| Sorry, but your browser is out dated and can't play audio. | Sandansko Oro / Mechkin Kamen | |
| Sorry, but your browser is out dated and can't play audio. | Pony Boy / Never Tire of the Road | |
| Sorry, but your browser is out dated and can't play audio. | A Blacksmith Courted Me / Blacksmithereens | |
| Sorry, but your browser is out dated and can't play audio. | Field Holler Medley | |
| Sorry, but your browser is out dated and can't play audio. | Băneasă's Green Glade / Roumen Sirakov's Daichevo | |
| Sorry, but your browser is out dated and can't play audio. | Smeseno Horo | |
| Sorry, but your browser is out dated and can't play audio. | The Last Dance | |