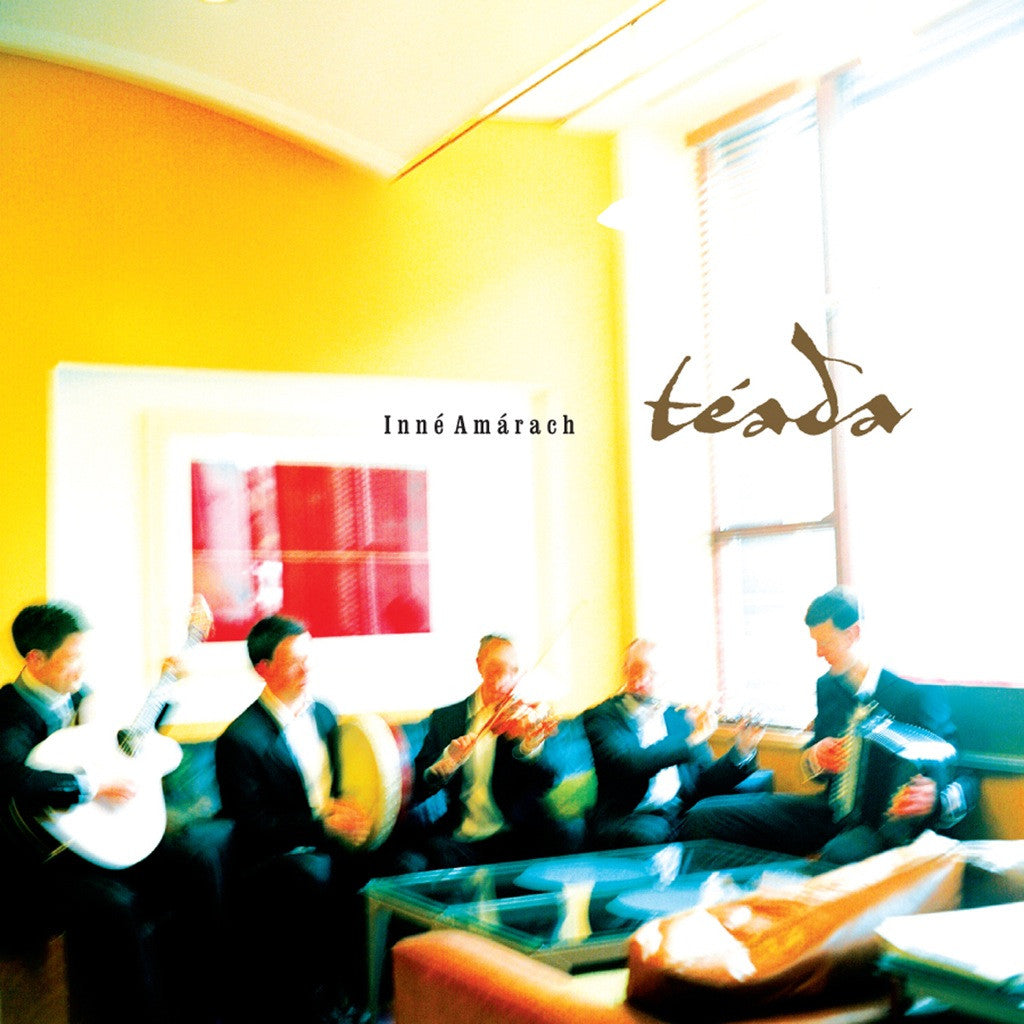 Téada (Pronounced tay-da, meaning "strings" in Irish) has been called "one of the most exciting traditional groups to emerge in recent years" (Irish World). The Irish quintet was voted "Best Traditional Newcomers" in Irish Music Magazine, and have released two highly-regarded albums on Green Linnet. "A new and fresh face in Irish music, Téada is a band to watch out for," says The Irish Voice.

On Inné Amárach (or Yesterday Tomorrow) Téada juxtaposes musical material from as far back as the 18th century, with interpretations of diverse traditional tunes of modern origin. Téada reflects a deep cultural fascination with the interaction of past and present. Accompanied by a DVD documentary providing a snapshot of the group's musical influences, Inné Amárach is a vivid melodic and rhythmic exploration by a traditional group engaging with a global audience.
"Téada...determinedly keep the traditional flag flying at full mast...they imbue their music with a decidedly Old World feeling...unhurried and satisfied to let the music breathe." - The Irish Times (Ireland)

"Their future couldn't be brighter...Instrumentally, téada are as inventive and exciting as any other trad group out there." - The Irish Echo (US)
Package includes a bonus DVD featuring live performance footage of Téada and documentary of the rich musical culture of Ireland's Sligo region.
| | | |
| --- | --- | --- |
| MP3/320 | $10.00 | |
| FLAC | $12.00 | |
| WAV | $12.00 | |
| CD | $15.00 | |
Track Listing
| | | |
| --- | --- | --- |
| Sorry, but your browser is out dated and can't play audio. | Ríleanna: Lady Montgomery/ Follow Me Down/ Give the Girl Her Fourpence/ Tie the Bonnet | |
| Sorry, but your browser is out dated and can't play audio. | Port Luascach/Poirt Shingile: The Tenpenny Piece/ Comb Your Hair and Curl It/ Larry McDonagh's | |
| Sorry, but your browser is out dated and can't play audio. | Máirseáil/ Rince Sciobóil/ Ríl: Jamesy Gannon's/ McDermott's/ Over the Moor to Peggy | |
| Sorry, but your browser is out dated and can't play audio. | Polcaí: Tá Dhá Ghabhairín Bhuí Agam/ the Shelf | |
| Sorry, but your browser is out dated and can't play audio. | Dréacht Tuairisciúil: Nóra Críona | |
| Sorry, but your browser is out dated and can't play audio. | Poirt: Delia Keane's/ the Horse's Leotard/ Seán Buí/ the Dawn Chorus | |
| Sorry, but your browser is out dated and can't play audio. | Cornphíopaí: the Ebb Tide/ Peter Wyper's | |
| Sorry, but your browser is out dated and can't play audio. | Ríleanna: Sarah's Delight/ Paddy Seán Nancy's/ the Ireland We Knew/ the Ewe Reel | |
| Sorry, but your browser is out dated and can't play audio. | Planestaí/ Polca/Sleamhnán: Planxty Crilly/ Micho Russell's/ Mickey Callaghan's | |
| Sorry, but your browser is out dated and can't play audio. | Poirt Shingile: Port Aitheantais Na GCaipíní/ Johnny's So Long At the Fair | |
| Sorry, but your browser is out dated and can't play audio. | Ríleanna: Bonnie Ann/ John Kelly's/ the Boy In the Boat | |