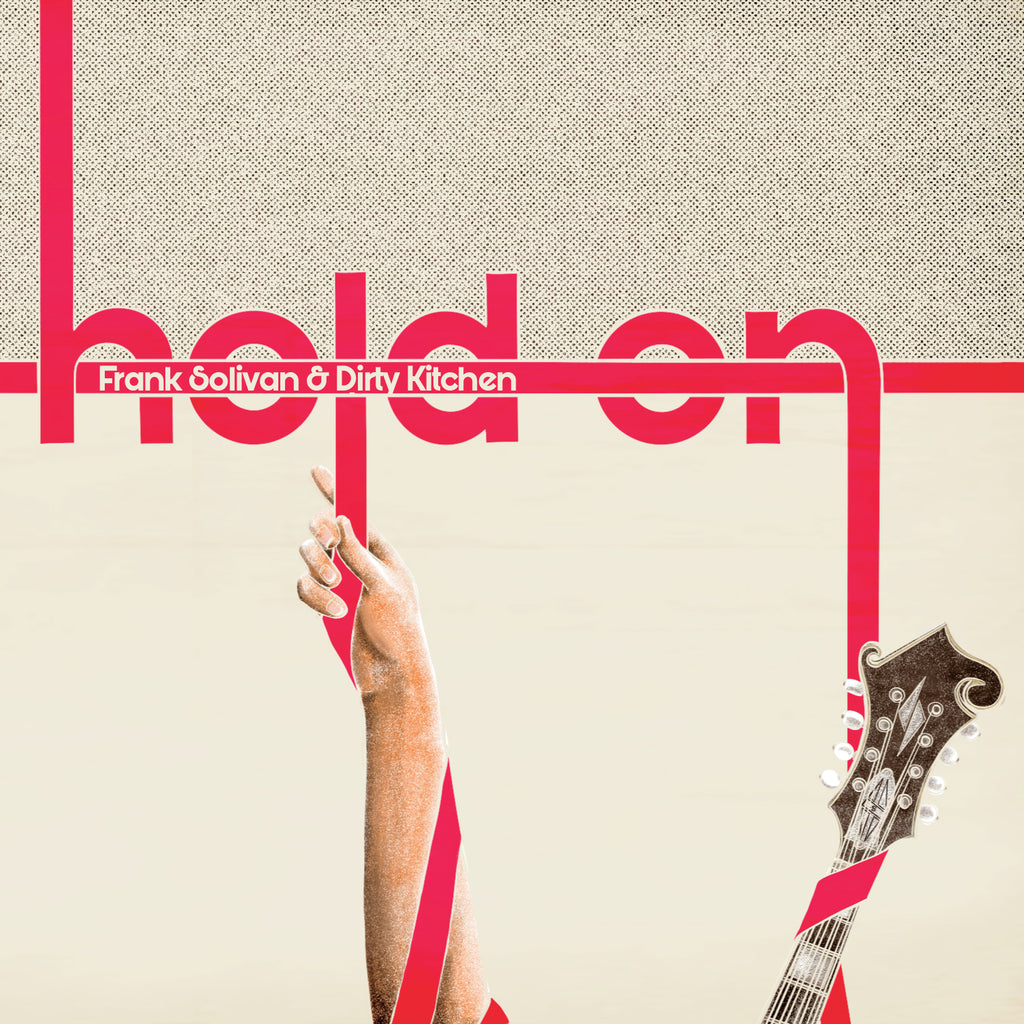 On their new release, HOLD ON, multi-GRAMMY nominees Frank Solivan & Dirty Kitchen plant another flag in their journey of musical exploration, delivering a set of high-octane bluegrass that solidifies their reputation as one of the best bands on the progressive bluegrass scene.
There's an overarching theme of love that runs through the album's 11 tracks, and a spirit of hope for better days ahead. Solivan says, "I was going through the hardest time of my life leading up to the pandemic. And then the world stopped! Exploring some of the subject matter and song ideas that came out of those difficult times led me to these songs. Songs that helped bring me out of a seemingly hopeless situation. Finding light where there was darkness and trying to relay some of my journey of figuring out how to 'hold on'. My hope is that the listener will be able to relate and will have these songs to help them get through difficult times."

Without a doubt Solivan and company dazzle too, with covers like Newgrass Revival's "Sail To Australia" (featuring John Cowan on harmony vocals), Buzz Busby's "Lost," and Orleans' "Sails," sitting alongside the upbeat Solivan originals "I'm Already Gone" and "Hold On," which open the album, and the instrumental cooker, "Scorchin' The Gravy," which gives banjo master Mike Munford and guitarist Chris Luquette a chance to step out, anchored as always by bassist Jeremy Middleton.
Powered by Solivan's dynamic and bold vocals and the band's virtuosic instrumental chops, Frank Solivan & Dirty Kitchen have earned widespread critical acclaim. Their last two albums both received GRAMMY nominations for Best Bluegrass Album, and the band are two-time winners of the IBMA Instrumental Group of the Year Award. Their show stealing performances have earned them slots on the most prestigious stages in the country and abroad, from The Grand Ole Opry in Nashville to the La Roche Bluegrass Festival in France, with stops at The Telluride Bluegrass Festival, MerleFest, Grey Fox, RockyGrass, Delfest, the Strawberry Music Festival, Pickin' in the Pines, ROMP, and countless other festivals. The band's deep respect and understanding of the bluegrass tradition collides with rock-tinged fiery instrumental chops, pushing the boundaries of bluegrass and delivering a live show that is nothing short of electrifying.
"Frank Solivan & Dirty Kitchen have certainly ranked among the "buzz" bluegrass bands…a razor sharp, confident quartet influenced by a broad range of the last four decades of bluegrass music." —Bluegrass Unlimited
"Frank Solivan just keeps getting better, as a songwriter, arranger, singer and, not the least, instrumentalist." —Bluegrass Today
| | | |
| --- | --- | --- |
| MP3/320 | $10.00 | |
| FLAC | $12.00 | |
| WAV | $12.00 | |
| WAV-HD | $17.00 | |
| CD | $15.00 | |
Track Listing
| | | |
| --- | --- | --- |
| Sorry, but your browser is out dated and can't play audio. | I'm Already Gone | |
| Sorry, but your browser is out dated and can't play audio. | Hold On | |
| Sorry, but your browser is out dated and can't play audio. | Goodbye Goodbye | |
| Sorry, but your browser is out dated and can't play audio. | Find My Way | |
| Sorry, but your browser is out dated and can't play audio. | Modesto | |
| Sorry, but your browser is out dated and can't play audio. | Scorchin' The Gravy | |
| Sorry, but your browser is out dated and can't play audio. | Queen Of The Mountain | |
| Sorry, but your browser is out dated and can't play audio. | Virginia Is For Lovers | |
| Sorry, but your browser is out dated and can't play audio. | Lost | |
| Sorry, but your browser is out dated and can't play audio. | Sail To Australia | |
| Sorry, but your browser is out dated and can't play audio. | Sails | |