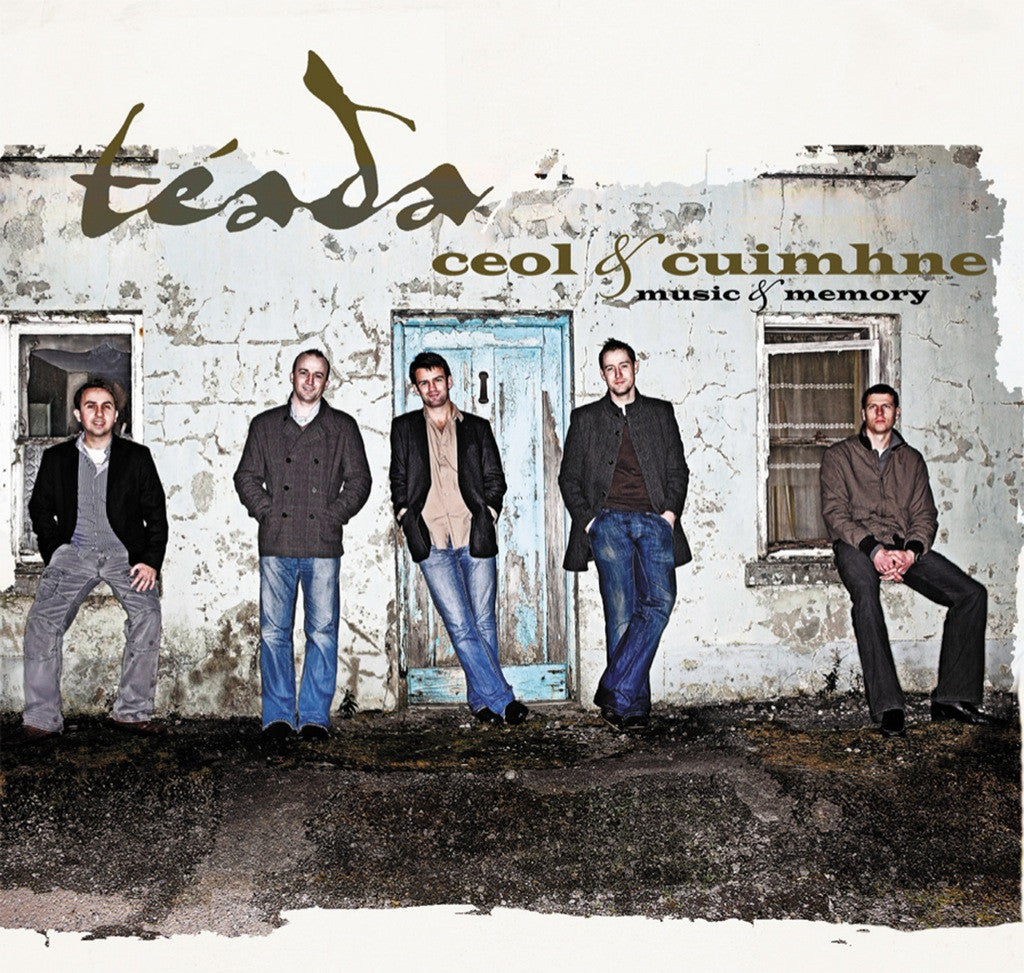 Téada, now firmly established as one of Irish music's leading exponents on the international world music stage, continues to be driven by a fascination with the timeless, expressive force of traditional tunes inherited from previous generations of musicians. Téada are Oisín Mac Diarmada (fiddle), Paul Finn (button accordion), Damien Stenson (flutes), Seán McElwain (bouzouki/guitar), and Tristan Rosenstock (bodhrán).
Since 2001, when the freshly-formed band landed a spot on the innovative Irish television show Flosc, Téada, has evolved to frequent headline performances at major music festivals throughout the US, Canada, Europe, the Middle East, Asia and Australia. A notable highlight was a headlining appearance to a 30,000-audience in Brittany during 2006, a year which also saw the band launch a hugely successful CD/DVD Inné Amárach, released by Compass Records.
About Ceol & Cuimhne
From the liner notes by Frank McNally, The Irish Times:
The poet Shelley wrote that "Music, when soft voices die/Vibrates in the memory." He may have been more right than he knew. Neuroscientists speak wonderingly of patients who have lost all other memories but can play music the same as before; or who, deprived of all spoken language, can still sing unimpaired.

In Ceol & Cuimhne, the brilliant Irish band Téada bring their own unique focus to this mysterious relationship. With their trademark combination of youthful energy and old-school respect, they explore how the collective memory of a people can be locked into its music, even music without words. And, unlocking it, they give new meaning to an old expression: the one about how we can't get that tune out of our heads.

| | | |
| --- | --- | --- |
| MP3/320 | $10.00 | |
| FLAC | $12.00 | |
| WAV | $12.00 | |
| CD | $15.00 | |
Track Listing
| | | |
| --- | --- | --- |
| Sorry, but your browser is out dated and can't play audio. | Miss Cassidy's/ All Around the Room/ The Ballintra Lass (Ríleanna/Reels) | |
| Sorry, but your browser is out dated and can't play audio. | The Bog of Allen/ Eanach Dhúin/ Bill the Weaver's (Poirt/Jigs) | |
| Sorry, but your browser is out dated and can't play audio. | Poitín March/ Devlin's/ Basket of Oysters/ Crotty's Glory (Éagsúil; March/Polka/Fling/Reel) | |
| Sorry, but your browser is out dated and can't play audio. | The Russians are Coming/ The Miller's Daughter/ The Boston-Sligo Reel (Ríleanna/Reels) | |
| Sorry, but your browser is out dated and can't play audio. | Murty Rabbett's/ Gan Ainm from Grier Manuscript/ The Crossroads Dance (Éagsúil; Polka/Slip Jig/Jig) | |
| Sorry, but your browser is out dated and can't play audio. | Gan Ainm/ The Stormy Night/ Paddy Cronin's (Poirt/Jigs) | |
| Sorry, but your browser is out dated and can't play audio. | A Sligo Air/ Sally Gully (Éagsúil; Air/Jig) | |
| Sorry, but your browser is out dated and can't play audio. | Ríl Liatroma/ The Green Cockade/ The Mourne Mountains (Ríleanna/Reels) | |
| Sorry, but your browser is out dated and can't play audio. | Granuaile Barndance/ The Circus Polka (Rince Sciobóil/Polc; Barndance/Polka) | |
| Sorry, but your browser is out dated and can't play audio. | Clothiers (Fonn Mall/Air) | |
| Sorry, but your browser is out dated and can't play audio. | Paddy Fahey's/ Séamus Mór McKenna's (Ríleanna/Reels) | |