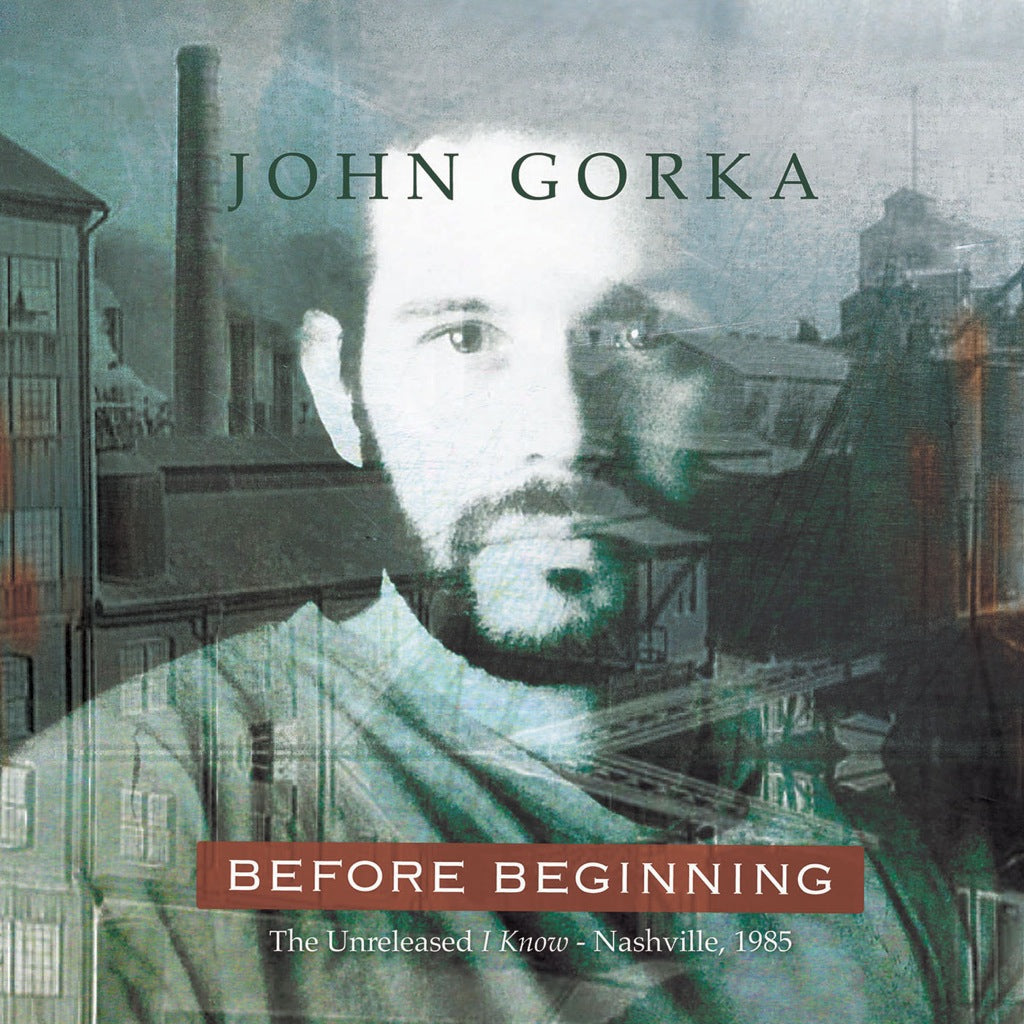 Since his 1987 Red House release, I Know, introduced renowned artist John Gorka to the public, the Minnesota-via-New Jersey guitarist and songwriter's wit, insight and honesty has made him one of the most respected, beloved songwriters currently carrying on the folk tradition. With the insight that comes with hindsight, John has decided to share his very first studio sessions, a collection of songs recorded in Nashville, TN at Cowboy Jack Clements' in 1985 with producer Jim Rooney (at the recommendation of Nanci Griffith) and a stable of top studio musicians. Still finding his way, John decided to go a different direction and the sessions were never released. Before Beginning, The Unreleased I Know, brings these never-before-heard, studio versions of John's earliest material to the public after three decades. It will be available on July 22, 2016 digitally and on CD through Red House Records and features nine of the 12 songs that would be on I Know, as well as "Geza's Wailing Ways," a track released in 1983 on a Fast Folk compilation.
Recorded spontaneously with John and a full band — recorded and mixed in five days — these sessions provide a fascinating look into the road not taken, an alternate musical direction this now well-known artist chose to forego.
Featuring extensive liner notes and reminiscences by the artist, we see the seasoned songwriter, now 13 critically acclaimed albums into his career, revisiting his first foray into a professional studio as an aspiring  25-year-old. "Even though it is an older recording it is a fresh take on the songs." With only a few tracks on compilations at that point, this would be his introduction to the world.
John says of the experience, "I can only say that I was finding my way. I had played solo live almost exclusively and I had not made an album or ever done a studio recording with other players. I guess I just didn't know what I wanted to hear.  I know now that there is more than one right way to present a song.  In that way songs are bigger than any one recording of a song. It was good. It just wasn't the good I wanted at the time."
It would be two more years and two more versions, both recorded in his home state of New Jersey, before I Know would be released on Red House Records. 
Over the years, the multitrack tapes of the original recordings went from Nashville to Easton to New York City to Bethlehem, on to Ann Arbor and finally arrived at John's home in Minnesota a few years ago.  In the fall of 2014, he took them out of storage to see if they would still play. 
"I brought them to Rob Genadek at The Brewhouse Recording Studio in Minneapolis to listen and we enjoyed what we heard. I thought that others might too, even those people who were familiar with I Know. It had different arrangements and a different energy as I was singing and playing live with the band — Kenny Malone on drums and percussion, Dave Pomeroy on bass and some backing vocals I think, Jay Patten on saxophone, Mike Dugan on electric guitar, Ralph Vitello or Biff Watson on keyboards and Stuart Duncan on fiddle and mandolin. Jim Rooney also played second acoustic guitar on several songs and Shawn Colvin and Lucy Kaplansky sang while we tracked, everyone in one room."  
Genadek "baked" the tapes with a hair dryer so that magnetic particles would not flake off and they were able to transfer the analog tapes to the digital world.
Since then, John Gorka has been a pillar of the folk music community, with 13 albums to his credit and appearances on Austin City Limits, Mountain Stage, eTown, CNN and more. Many artists have recorded and/or performed his songs, including Mary Chapin Carpenter, Nanci Griffith, Eliza Gilkyson, Mary Black and Maura O'Connell. 
| | | |
| --- | --- | --- |
| MP3/320 | $10.00 | |
| FLAC | $12.00 | |
| WAV | $12.00 | |
| CD | $15.00 | |
Track Listing
| | | |
| --- | --- | --- |
| Sorry, but your browser is out dated and can't play audio. | Down in the Milltown | |
| Sorry, but your browser is out dated and can't play audio. | Love Is Our Cross to Bear | |
| Sorry, but your browser is out dated and can't play audio. | Gezas Wailing Ways | |
| Sorry, but your browser is out dated and can't play audio. | I Know | |
| Sorry, but your browser is out dated and can't play audio. | Out of My Mind | |
| Sorry, but your browser is out dated and can't play audio. | Downtown Tonight | |
| Sorry, but your browser is out dated and can't play audio. | Blues Palace | |
| Sorry, but your browser is out dated and can't play audio. | Winter Cows | |
| Sorry, but your browser is out dated and can't play audio. | Branching Out | |
| Sorry, but your browser is out dated and can't play audio. | I Saw a Stranger With Your Hair | |