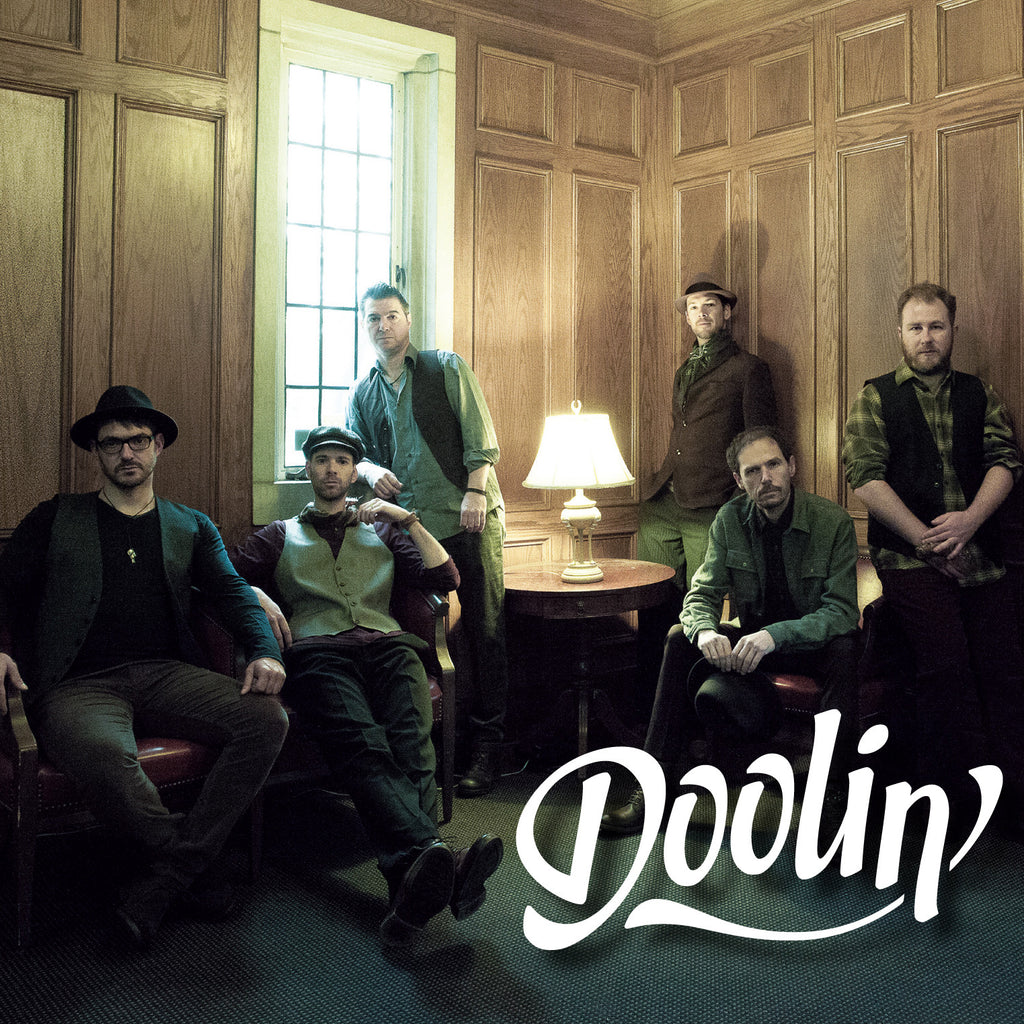 Irish music with a French touch!
Produced by John Doyle and featuring special guests Taron Benson, Alison Brown, Ashley Davis, Jerry Douglas, John Doyle, Kenny Malone, Michael McGoldrick and Mary Shannon.

Doolin' is France's premiere Celtic band and their self-titled debut for Compass Records is one of the freshest and most exciting Celtic records of the year. Natives of Toulouse, Doolin' worked with legendary Irish guitarist John Doyle in the producer's chair to achieve a sound uniquely their own—deeply rooted in traditional Celtic music but wonderfully flavored with French chanson, American roots music and even hip hop straight from the streets of Paris. The band traveled to Nashville, Tennessee to record the album and worked in the legacy studio now owned by Compass Records where the Outlaw Movement in country music took root in the late 1960s. The resulting experience infused DOOLIN' with an infectious energy. The musical essence of the band is captured on the fiery "The Road to Gleanntan", the gorgeous reflective character of "Le Dernier Kouign Amann", the beautifully rendered Jacques Brel classic "Amsterdam", with its evocative strains of accordion and French lyric, and culminates with the bold integration of rap and John Doyle's percussive guitar style on Sinéad O'Connor's "Famine". Collaborations with special guests Jerry Douglas (Dobro), John Doyle (guitar, bouzouki), Alison Brown (banjo), and Kenny Malone (percussion) brought stellar results on stand out tracks that include a reworking of the Steve Earle classic "Galway Girl" and Bob Dylan's "Ballad of Hollis Brown".
"They're an all-French band who play Irish traditional music brilliantly."—Frank McNally, The Irish Times
"A unique sound: energetic and full of emotion."  —Gérard Viel, Trad Mag
"To my knowledge, no French band has ever done a greater honor to Irish music.  Doolin at once honors the musical tradition and makes it their own with a unique French touch." —Garry West, Compass Records
| | | |
| --- | --- | --- |
| MP3/320 | $10.00 | |
| FLAC | $12.00 | |
| WAV | $12.00 | |
| CD | $12.00 $15.00 | |
Track Listing
| | | |
| --- | --- | --- |
| Sorry, but your browser is out dated and can't play audio. | Chanson pour John | |
| Sorry, but your browser is out dated and can't play audio. | Reel Africa | |
| Sorry, but your browser is out dated and can't play audio. | The Galway Girl | |
| Sorry, but your browser is out dated and can't play audio. | Le Dernier Kouign Amann | |
| Sorry, but your browser is out dated and can't play audio. | Ballad of Hollis Brown | |
| Sorry, but your browser is out dated and can't play audio. | Mary's Jigs | |
| Sorry, but your browser is out dated and can't play audio. | Itinerant Singing Boy | |
| Sorry, but your browser is out dated and can't play audio. | Sailing Across the Ocean | |
| Sorry, but your browser is out dated and can't play audio. | The Road to Gleanntán | |
| Sorry, but your browser is out dated and can't play audio. | Le Jupon Blanc | |
| Sorry, but your browser is out dated and can't play audio. | Amsterdam | |
| Sorry, but your browser is out dated and can't play audio. | Wind Her Up | |
| Sorry, but your browser is out dated and can't play audio. | Famine | |