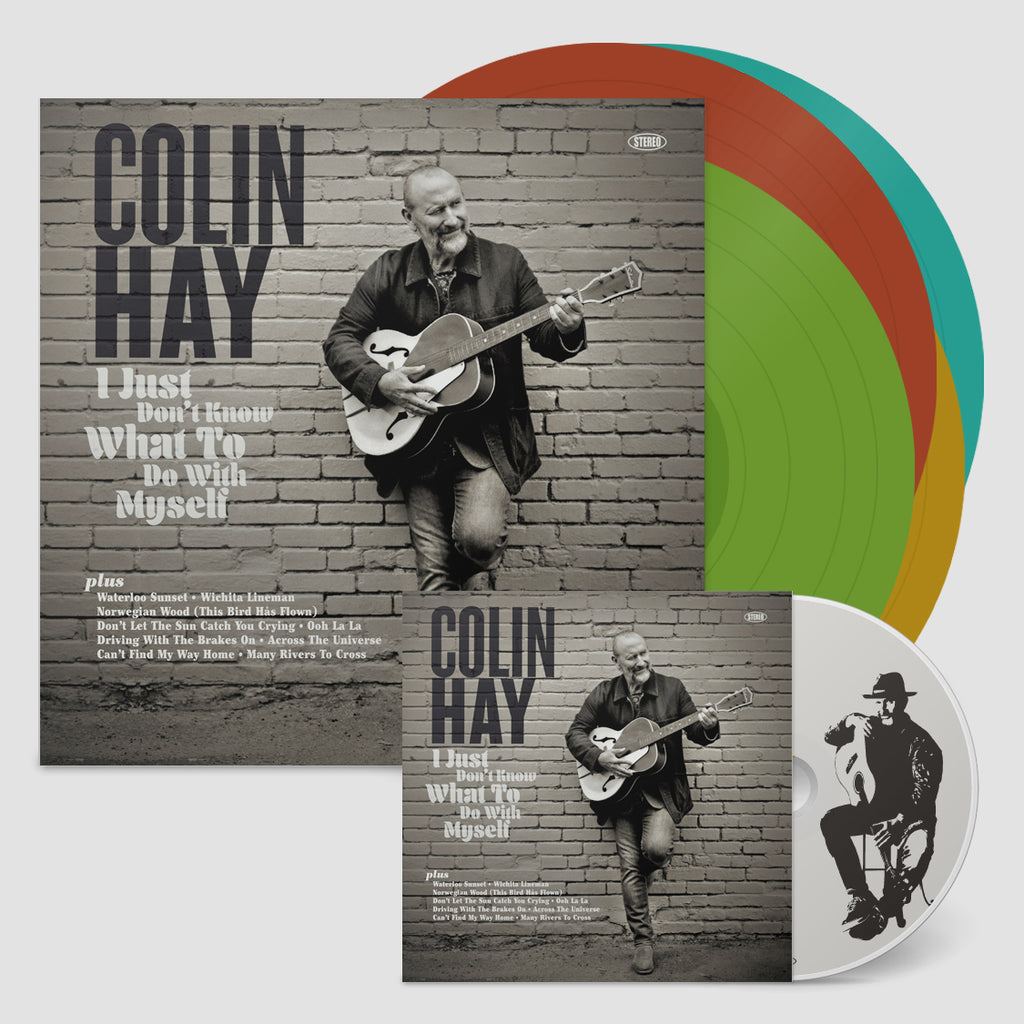 LP available on LIMITED EDITION Random Color VINYL

CD packaged in a mini LP CD jacket

FEATURING SONGS FROM: The Beatles, Blind Faith, Del Amitri, Dusty Springfield, Faces, Gerry & the Pacemakers, Glen Campbell, Jimmy Cliff, The Kinks
Colin Hay first emerged as songwriter/vocalist for hitmakers Men at Work before establishing himself as a solo artist. But his love for music was born in his native Scotland while working at his parents' record store and hearing the hits of the day. At home during quarantine in 2021 Hay was moved to record some of his favorites from that period. From the Kinks' "Waterloo Sunset" to Faces' "Ooh La La" and Dusty Springfield's "I Just Don't Know What to Do with Myself", Hay delivers a set a lushly reimagined classics that showcase both his talent for interpreting songs and his iconic vocals.
Please note: LP orders will be packaged in a Mighty Music Mailer box.
| | | |
| --- | --- | --- |
| MP3/320 | $10.00 | |
| FLAC | $12.00 | |
| WAV | $12.00 | |
| WAV-HD | $17.00 | |
| Signed CD | $15.00 | |
| Signed LP | $26.98 | |
| CD/LP Signed Bundle | $38.00 | |
Track Listing
| | | |
| --- | --- | --- |
| Sorry, but your browser is out dated and can't play audio. | I Just Don't Know What To Do With Myself | |
| Sorry, but your browser is out dated and can't play audio. | Waterloo Sunset | |
| Sorry, but your browser is out dated and can't play audio. | Wichita Lineman | |
| Sorry, but your browser is out dated and can't play audio. | Norwegian Wood (This Bird Has Flown) | |
| Sorry, but your browser is out dated and can't play audio. | Don't Let the Sun Catch You Crying | |
| Sorry, but your browser is out dated and can't play audio. | Ooh La La | |
| Sorry, but your browser is out dated and can't play audio. | Driving With the Brakes On | |
| Sorry, but your browser is out dated and can't play audio. | Across the Universe | |
| Sorry, but your browser is out dated and can't play audio. | Can't Find My Way Home | |
| Sorry, but your browser is out dated and can't play audio. | Many Rivers to Cross | |