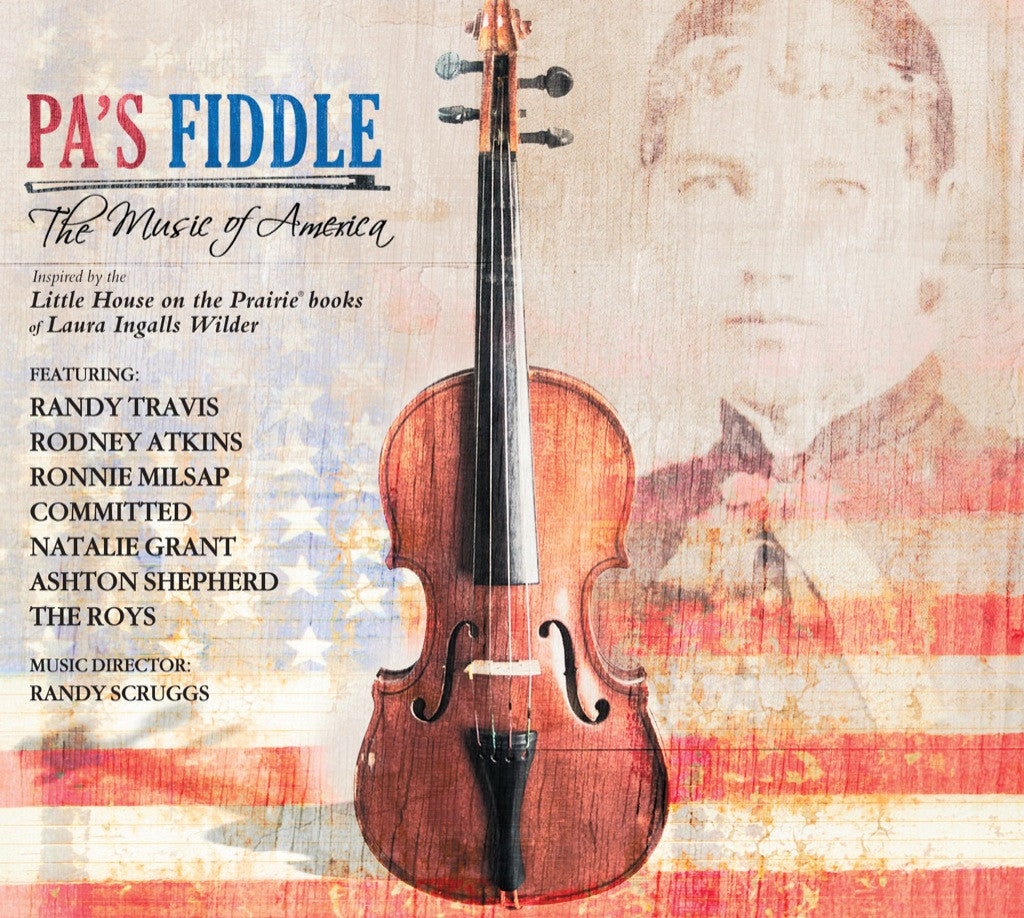 Live concert performances of the music of the Little House on the Prairie books by Laura Ingalls Wilder.

Featuring Ronnie Milsap, Randy Travis, Rodney Atkins, Ashton Shepherd, The Roys, Natalie Grant and Committed.
Little House on the Prairie, the autobiographical book series by Laura Ingalls Wilder, holds in its pages a comprehensive review of 19th-century American folk music via the very real character of Charles "Pa" Ingalls (1836-1902), a highly acclaimed fiddler of the time and Laura's own non-fictional father. For the first time, in January 2012, a concert based on this music was performed before a live audience at the Loveless Barn just outside of Nashville, TN for broadcast by the PBS television network. Pa's Fiddle: The Music of America, the PBS special broadcast, will air throughout the nation this June during pledge-drive season and will be available for national broadcast over the next two years. The CD release includes 16 tracks from the live performance.
An effort co-produced by Dean Butler ("Almanzo" on the Little House on the Prairie TV show) and esteemed musicologist Dale Cockrell (President of Pa's Fiddle Recordings), Pa's Fiddle: The Music of America features performances from some of the finest of today's acoustic musicians, enlisting the talents of award-winning musician and musical director Randy Scruggs and all-star "Pa's Fiddle Band" with Matt Combs (fiddle), Dennis Crouch (upright bass), Chad Cromwell (drums), Hoot Hester (mandolin) and Shad Cobb (banjo), along with featured artists Randy Travis, Rodney Atkins, Ronnie Milsap, Ashton Shepherd, The Roys, Natalie Grant and Committed (NBC Sing Off Champions). Says Dean Butler of the production, "Dale Cockrell loves traditional American music and I love the stories of American pioneer life written by Laura Ingalls Wilder. Having this opportunity to share the music Laura recalled in her unforgettable novels is nothing less than a dream come true."
"If you want to know the spirit of those times, you need to know these old songs" —Laura Ingalls Wilder
| | | |
| --- | --- | --- |
| MP3/320 | $10.00 | |
| FLAC | $12.00 | |
| WAV | $12.00 | |
| CD | $15.00 | |
Track Listing