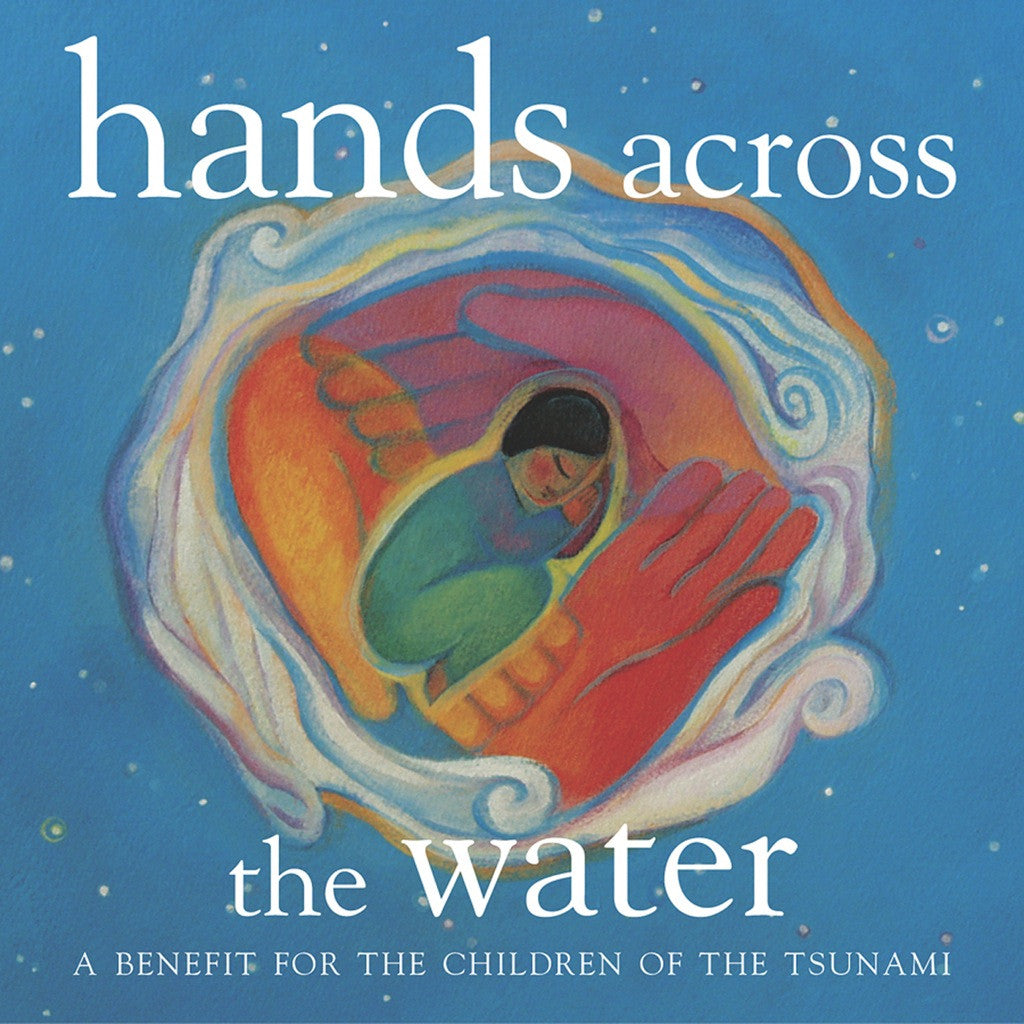 To Benefit the Children of the Tsunami

The Track List (from handsacrossthewater.com)

1. Darrell Scott with Muireann Nic Amhlaoibh, Oisin McAuley and Paul Rodden - This Beggar's Heart
Darrell wrote this song and recorded a rough demo of it after being inspired while on tour with Tim O'Brien and the Crossing. He offered it to us for the project and we brought in Muireann and Oisin from the great Irish band Danu. They recorded the fiddle, whistle and haunting harmony vocal in a small flat in Dublin. We added Paul Rodden, an Irish 5 string banjo player living in Nantes, France who played a beautiful banjo piece using clothes pins as mutes on the bridge. 

2. Jon Randall with Máirtín O'Connor and Alison Brown - Get Through It
Jon is one of our favorite songwriters and a great singer as well. As soon as he heard what we were doing he gave us a choice of four songs. We both liked this song right away and asked the amazing Máirtín O'Connor to sit in. He headed to Tuam Co Galway and recorded an inspired, fun accordion track. Then we asked award winning banjo player Alison Brown to add her own magic on the banjo. 

3. Karen Matheson with Donald Shaw, The Duhks and Bryan Sutton - Ae Fond Kiss
This is one of the most beautiful songs ever written and is sung here by Capercaillie's Karen Matheson. We met up with Karen and pianist Donald Shaw in January in their native Glasgow and they immediately offered to help. When they sent us the tracks we added our friends the Duhks who spent two days in a studio in Winnipeg, Canada. We also called our buddy Bryan Sutton to come in and add a gorgeous guitar track in Nashville.

4. Andrea Zonn with Flook and Bill Shanley - Standing Still
This was the first track that we worked on in Nashville. Andrea chose this beautiful Sally Barris song for her contribution to the project and we brought in English trad band Flook to add a touch of magic. Flook recorded their parts in Ed Boyd's home studio in Bath in England. The track also features a guitar part by Bill Shanley recorded at his own studio in Dublin.

5. Tim O'Brien with Lúnasa - Fair and Tender Ladies
Tim has been a fan of Irish band Lúnasa for some time so when we asked him to be part of the project he specifically asked if he could work with them. They were fans of Tim's as well and were delighted to sit in on this beautiful version of an old traditional song. We had to do some rushing around though to get Tim's track to Lúnasa before they left for a huge tour.

6. Sharon Shannon with Jackson Browne - A Man Of Constant Sorrow
This track was originally released on Sharon's Diamond Mountain Sessions CD. This is the only track we haven't added anything to and except for some remixing we left this is the beautiful state in which it was given to us.

7. Solas with Mindy Smith - Reason Land
Seamus Egan and his band Solas arrived in Nashville two days early for the start of their US tour to record a song especially for us. We spent two great days in Bil VornDick's studio in the hills outside of town. The band then downloaded the tracks to an iPod and took it on the road with them. They added the accordion and fiddle tracks in various hotel rooms on tour. We brought in the amazing Mindy Smith to share the vocals with Deirdre.

8. John and Fiona Prine with Dermot Byrne - Til a Tear Becomes a Rose
This is a rare duet between John and his Donegal born wife Fiona. The song was originally recorded for an earlier John Prine album, In Spite of Ourselves, but they gave us the original tracks to work with. We decided to keep the Donegal spirit intact and added Altan's Dermot Byrne on accordion.

9. Beth Nielsen Chapman with Christina Quinn, Bonnie Raitt, Michael McGoldrick and Donald Shaw - Be Still My Soul
Beth was the first person to record a track for us and when we heard it we were afraid to touch this gorgeous piece of music. We knew we needed something exceptional and so we asked Michael McGoldrick and Donald Shaw to help us out. They took time out during a tour of Australia and recorded the flute and accordion tracks in Sydney then transferred all the tracks back to us via the internet.
10. Paul Brady with Rodney Crowell - 40 Shades of Green

Paul took on this Johnny Cash classic while recording his latest album in Nashville. With Garry West at the production helm he has managed to do something very special with it. Rodney dropped in and added his own great vocals on the track.

11. Blue Merle with Pauline Scanlon
- Part of Your History
One of the hottest young bands in the country right now generously picked up the phone and offered to help as soon as they heard of our project. When they gave us this great song from their Burning in the Sun cd, we thought of Pauline Scanlon who is one of Ireland's most unique singers. Pauline headed to Dublin to record her vocals at Bill Shanley's studio.

12. Altan with Vince Gill
- Lets Heal
John had suggested to Altan that they think of doing a collaboration with Vince Gill a couple of years ago but when this project started all the pieces fell together and it quickly became a reality. Altan reworked a traditional Irish song with new words in English. Vince jumped at the chance to help and recorded his unique vocal and guitar in the Compass Sound studios in Nashville.

13. Cerys Matthews with John Jorgenson and Stuart Duncan
- An Occasional Song
Cerys is know as a rock star all over Europe but when John saw her name advertised for a local Nashville show he suggested to Andrea that we ask her to sing a traditional Welsh song. Cerys loved the idea and Andrea brought in some of the finest session players in Nashville as well as the amazing John Jorgenson and Stuart Duncan to give this traditional song its exiting and unusual sound.
14. John Cowan with the Brock McGuire Band - Cumberland Plateau
This song was co-written by John Cowan and Darrell Scott and features some great picking all round. We added the lively and fun Brock McGuire band who were in Nashville on tour from Ireland.

15. Jim Lauderdale with Maura O'Connell - This World's Family
We asked Jim to write a song for the project and he was delighted to help especially when he knew we wanted him to work with Maura O'Connell. He took a tune by his friend Tania Elizabeth from the Duhks and wrote a beautiful song of how we all unite in times of need. We recorded this in one afternoon at Brent Truitt's studio in Nashville.

16. Jerry Douglas with Ciaran Tourish - In The Sweet By and By
Jerry very generously gave us this beautiful track from his Lookout for Hope album and asked that his old buddy Ciaran Tourish from Altan add something to it. Ciaran recorded low whistles to make this one of the most haunting tracks on the CD and the perfect tune to close our project.
| | | |
| --- | --- | --- |
| MP3/320 | $10.00 | |
| FLAC | $12.00 | |
| WAV | $12.00 | |
| CD | $15.00 | |
Track Listing
| | | |
| --- | --- | --- |
| Sorry, but your browser is out dated and can't play audio. | This Beggar's Heart | |
| Sorry, but your browser is out dated and can't play audio. | Get Through It | |
| Sorry, but your browser is out dated and can't play audio. | Ae Fond Kiss | |
| Sorry, but your browser is out dated and can't play audio. | Standing Still | |
| Sorry, but your browser is out dated and can't play audio. | Fair and Tender Ladies | |
| Sorry, but your browser is out dated and can't play audio. | A Man of Constant Sorrow | |
| Sorry, but your browser is out dated and can't play audio. | Reasonland | |
| Sorry, but your browser is out dated and can't play audio. | Til a Tear Becomes a Rose | |
| Sorry, but your browser is out dated and can't play audio. | Be Still My Soul | |
| Sorry, but your browser is out dated and can't play audio. | 40 Shades of Green | |
| Sorry, but your browser is out dated and can't play audio. | Part of Your History | |
| Sorry, but your browser is out dated and can't play audio. | Let's Heal | |
| Sorry, but your browser is out dated and can't play audio. | An Occasional Song | |
| Sorry, but your browser is out dated and can't play audio. | Cumberland Plateau | |
| Sorry, but your browser is out dated and can't play audio. | This World's Family | |
| Sorry, but your browser is out dated and can't play audio. | In the Sweet By and By | |