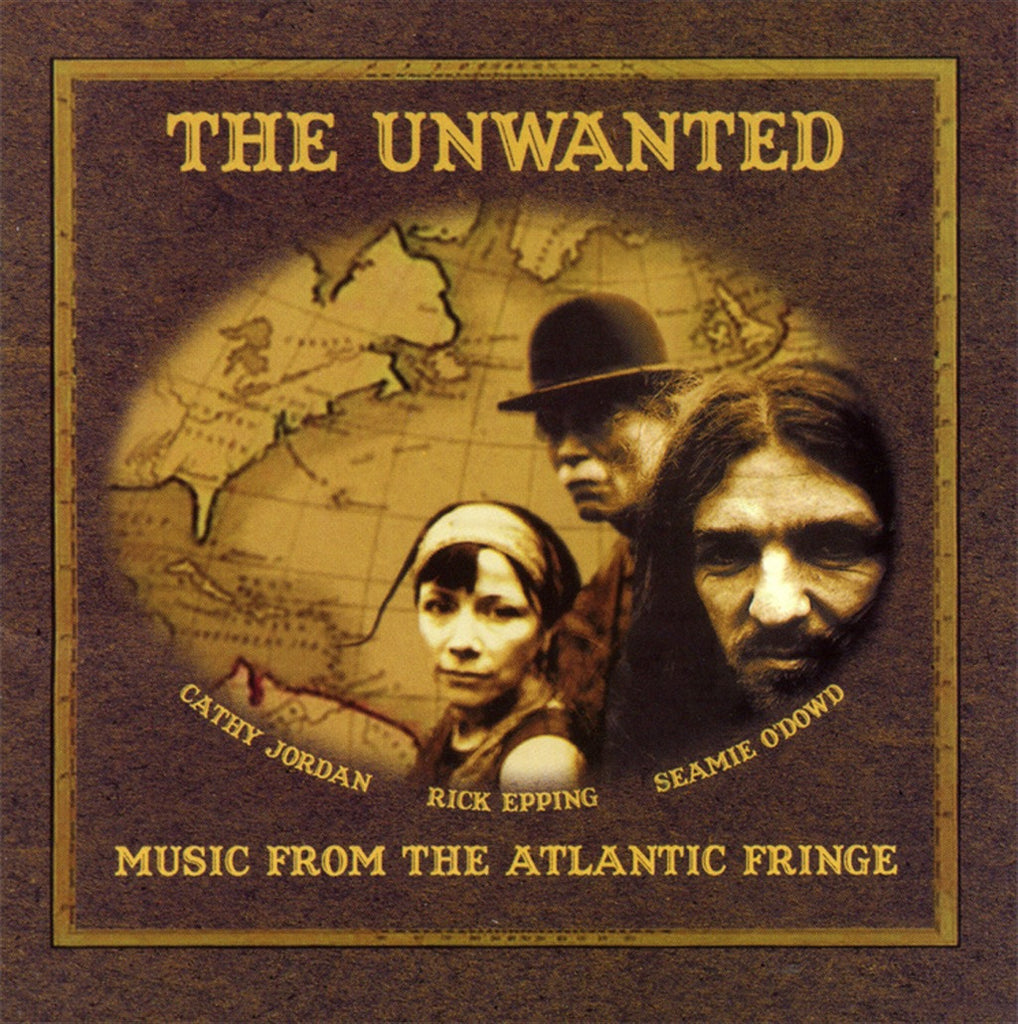 Overview
The Unwanted is a group consisting of Cathy Jordan, Rick Epping and Seamie O'Dowd. Between them, they encompass a vast range of the music of Ireland, America, and other places geographically and culturally linked to these lands that encircle the Atlantic Ocean. From the rich traditions of both sides of the Atlantic have come the source and inspiration of the music of The Unwanted—three Sligo-based musicians, each with exceptional talent and a lifetime dedication to their music.

The songs and tunes of the Atlantic Fringe—the combined traditions from Ireland to Appalachia and beyond—are the result of generations of movement and migration, of leave-taking and homecoming, back and forth across the ocean in an endless tide of cultural exchange. Lyrics and melodies borrowed from one land wash ashore on another, only to return again later transformed, peopled with new characters and set in different modes.

The Musicians
Roscommon born Cathy Jordan, lead singer for acclaimed group Dervish, moves effortlessly and with soaring voice between Sean-nós, Appalachian ballad and contemporary folksong, lending rich accompaniment on bodhrán and tenor guitar. Her engaging stage presence and easy interaction with the audience turns a simple concert into an evening at home among good friends.                             

Sligo native Séamus O'Dowd (guitar, fiddle, harmonica) grew up steeped in the tradition of Sligo fiddling, early on expanding his repertoire to include the New World traditions and today he is as accomplished playing blues on slide guitar as he is playing jigs and reels. Seamus is well known both from his years with Dervish and from his performing with the best of Irish traditional musicians such as piper Liam O'Flynn and accordionist Máirtín O'Connor.                                           

Rick Epping (harmonica, concertina, banjo, jaw harp), a native of California, has been moving back and forth between Ireland and the United States for over 35 years and has been playing the music of both lands since childhood. Having played with musical greats as varied as Bill Monroe, Texas bluesman Mance Lipscomb and Irish accordionist Joe Cooley, Rick brings to the group a wealth of experience and authentic style.
Together, The Unwanted demonstrate a deep understanding and appreciation of the music of both the Old World and the New, and together they have created a seamless fusion of these traditions, showing that the process of transformation arising from the musical ebb and flow along the Atlantic Fringe continues today. Wherever they perform, The Unwanted are finding that they are welcome and very much wanted, indeed.
"Many ties bind our own musical traditions to those of Appalachia and points west. The Unwanted is a beautifully loose-limbed celebration of those cross fertilizations, with an inquisitive ear cocked towards the future too." – Irish Times

"It is the best of the barley from both the Old World and the New, a first class and sometimes a very particular interpretation of a great selection of songs (and some tunes)." - Folkworld

| | | |
| --- | --- | --- |
| MP3/320 | $7.50 $10.00 | |
| FLAC | $9.00 $12.00 | |
| WAV | $9.00 $12.00 | |
| CD | $11.25 $15.00 | |
Track Listing
| | | |
| --- | --- | --- |
| Sorry, but your browser is out dated and can't play audio. | Out on the Western Plains | |
| Sorry, but your browser is out dated and can't play audio. | Sweet Becky at the Loom | |
| Sorry, but your browser is out dated and can't play audio. | The Morning Blues | |
| Sorry, but your browser is out dated and can't play audio. | The Duke of Leinster Set | |
| Sorry, but your browser is out dated and can't play audio. | It's Cool to be Green | |
| Sorry, but your browser is out dated and can't play audio. | The Diamantina Drover | |
| Sorry, but your browser is out dated and can't play audio. | Angelina Baker | |
| Sorry, but your browser is out dated and can't play audio. | Shove the Pig's Foot Set | |
| Sorry, but your browser is out dated and can't play audio. | Turn the Corner | |
| Sorry, but your browser is out dated and can't play audio. | Sadly Grows the Rose | |
| Sorry, but your browser is out dated and can't play audio. | No Expectations | |
| Sorry, but your browser is out dated and can't play audio. | An Phis Fliuch | |
| Sorry, but your browser is out dated and can't play audio. | Eileen a Ruin | |