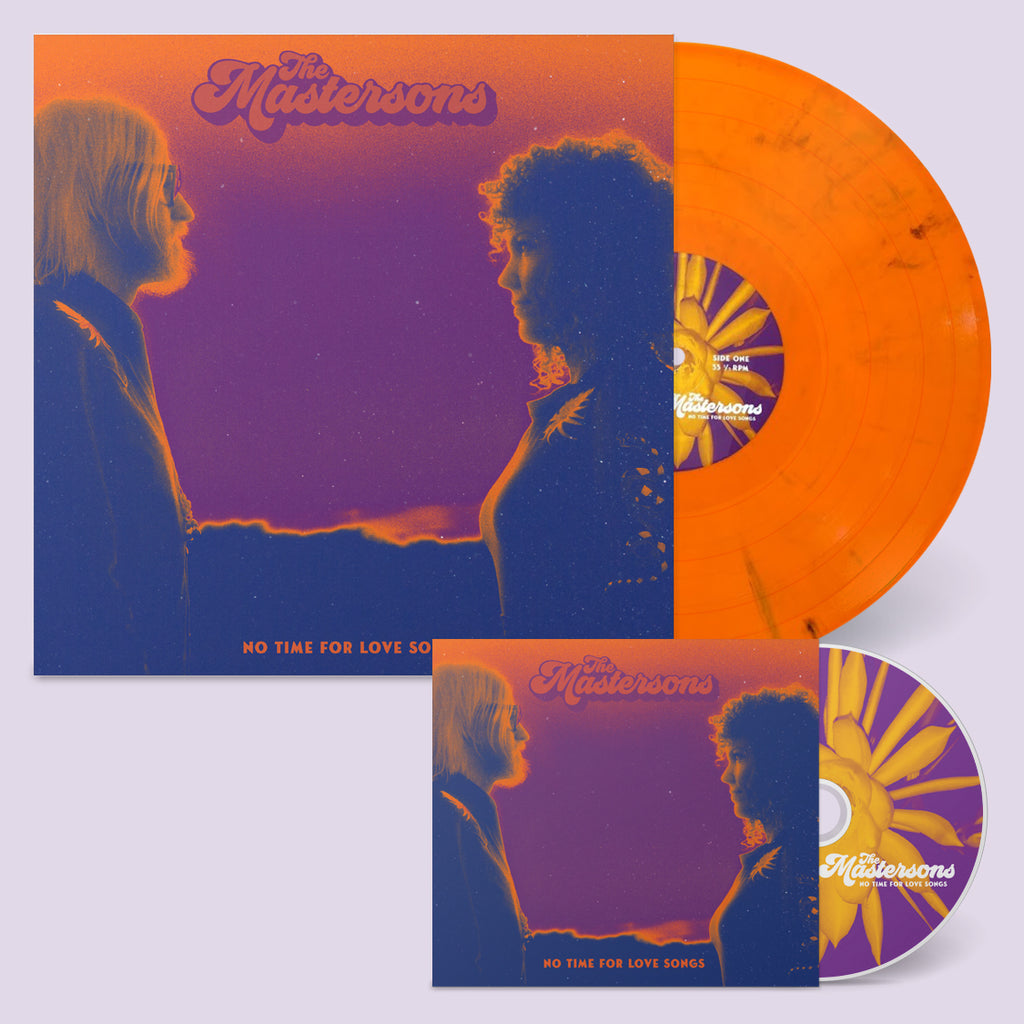 LP pressed on orange & purple vinyl.
The Mastersons are singer-songwriters/multi-instrumentalists Chris Masterson and Eleanor Whitmore. Longtime members of Steve Earle's band the Dukes, the musical and marital twosome make inspired albums of their own vivid, deeply humanistic songs. Their fourth album, No Time for Love Songs, marks the 10th anniversary of their partnership and creative journey with a collection of songs that could easily serve as the soundtrack to our lives—or at least one version of it. Produced by Shooter Jennings and recorded at L.A.'s legendary Sunset Sound Recorders, the album was engineered and mixed by five-time Grammy Award-winning engineer, Ryan Freeland.

No Time for Love Songs explores the emotional challenges of a morally compromised era, and reflects the experiences that the pair has accumulated in their travels. Those experiences helped to inspire the big-hearted songcraft of such compelling new tunes as "Spellbound," "Circle the Sun," "Eyes Open Wide," "The Silver Line," "There Is A Song to Sing," and the album's poignant title track, and showcase the Mastersons' organic harmonies, stirring melodies and insightful lyrics, which consistently offer clear-eyed optimism in the face of loss and discouragement.
"sumptuous vocals and easy flowing melodies"  —AMERICAN SONGWRITER

"…a masterful piece of Americana give-and-take" —NO DEPRESSION

"The Mastersons deliver a delightfully maverick kind of country love song" —ALL MUSIC
"...beautifully catchy harmonies and a happy blend of Americana, roots, country and even pop. These two are a match made in heaven" —GLIDE MAGAZINER

"Chris and Eleanor are also great songwriters and have unmatched vocal harmony" —NPR MOUNTAIN STAGE
| | | |
| --- | --- | --- |
| MP3/320 | $10.00 | |
| FLAC | $12.00 | |
| WAV | $12.00 | |
| WAV-HD | $17.00 | |
| CD | $15.00 | |
| LP | $28.98 | |
Track Listing
| | | |
| --- | --- | --- |
| Sorry, but your browser is out dated and can't play audio. | No Time For Love Songs | |
| Sorry, but your browser is out dated and can't play audio. | Spellbound | |
| Sorry, but your browser is out dated and can't play audio. | Circle The Sun | |
| Sorry, but your browser is out dated and can't play audio. | Eyes Open Wide | |
| Sorry, but your browser is out dated and can't play audio. | The Last Laugh | |
| Sorry, but your browser is out dated and can't play audio. | So Impossible | |
| Sorry, but your browser is out dated and can't play audio. | The Silver Line | |
| Sorry, but your browser is out dated and can't play audio. | There Is A Song To Sing | |
| Sorry, but your browser is out dated and can't play audio. | King Of The Castle | |
| Sorry, but your browser is out dated and can't play audio. | Pride Of The Wicked | |