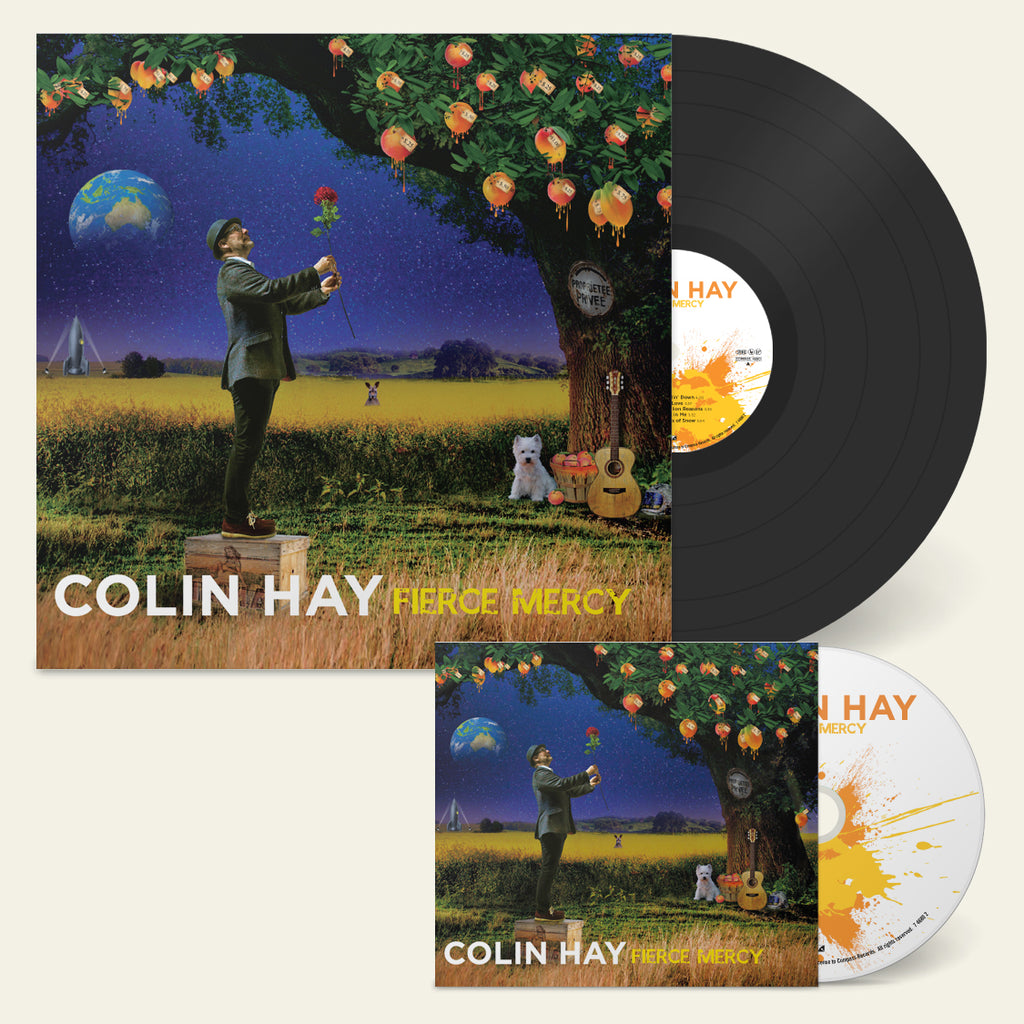 FIERCE MERCY is an epic, cinematic step forward from singer-songwriter Colin Hay, most beloved for his intimate, confessional live shows but most widely known for being an influential and celebrated frontman. The range of artists who have chosen to cite him as a muse or who have found themselves on stage with him in the past year spans the genre landscape from heavy metal, to Americana, to Cuban rhythms and beyond. His inclusion as a playlist favorite from the likes of Metallica to The Lumineers reflects his continuing relevance and broad appeal.

Recorded in both Los Angeles and Nashville and mixed by Vance Powell (Chris Stapleton, Jack White) and Gordon Hammond (Buddy Miller, Don Williams), FIERCE MERCY explores themes of love and loss, mortality, and even the odd UFO sighting, but always with the singular perspective and insightful wit that define Hay's work. He has created a new classic in his impressive repertoire (this is his 13th solo release), using a palette of pop songcraft, Americana flourishes, and soundtrack-ready strings. FIERCE MERCY is animated by its pensive, honest, and impassioned lyrics, and, Hay adds, by a sense of urgency felt deeply in the song "The Last to Know," which introduces the album's title concept of "fierce mercy." Guest musicians include guitarists Audley Freed (Sheryl Crow, the Black Crowes, the Dixie Chicks) and Doug Lancio (John Hiatt), pedal steel guitarist and organist Jim Hoke (Iris Dement, Don Henley, Darius Rucker), Compass co-founder Alison Brown (banjo), bassist Yosmel Montejo, drummer Charlie Paxson, keyboardists Fred Kron and Jeff Babko, vocalist Cecilia Noël, and guitarist/tres player San Miguel Perez.

Though many music fans will be glad to see the end of 2016, it was something of a breakout year for this career artist that included a three-week run at the Edinburgh Fringe; performances on The Tonight Show With Jimmy Fallon, Jimmy Kimmel Live! and ABC's Greatest Hits; sharing the stage with Of Monsters and Men, Milk Carton Kids, Choir Choir Choir!, Kings of Leon; being publicly cited as an influence by artists as distinct as James Hetfield of Metallica, Jeremiah Fraites of The Lumineers, Troy Sanders of Mastodon, and The Infamous Stringdusters; as well as the completion of a documentary film about his career entitled Waiting for My Real Life, named for one of his best known solo recordings. Now finding himself in the unprecedented place of having both '80s fame and indie credibility, it's possible that Hay has delivered the defining album of his solo career.
Vinyl LP track list:
1. Come Tumblin' Down
2. Secret Love
3. A Thousand Million Reasons
4. The Best in Me
5. Frozen Fields of Snow
6. The Last to Know
7. I'm Going to Get You Stoned
8. I'm Walking Here
9. Two Friends
10. She Was the Love of Mine

| | | |
| --- | --- | --- |
| MP3/320 | $10.00 | |
| FLAC | $12.00 | |
| WAV | $12.00 | |
| CD | $15.00 | |
| LP | $24.98 | |
Track Listing
| | | |
| --- | --- | --- |
| Sorry, but your browser is out dated and can't play audio. | Come Tumblin' Down | |
| Sorry, but your browser is out dated and can't play audio. | Secret Love | |
| Sorry, but your browser is out dated and can't play audio. | A Thousand Million Reasons | |
| Sorry, but your browser is out dated and can't play audio. | The Best In Me | |
| Sorry, but your browser is out dated and can't play audio. | Frozen Fields of Snow | |
| Sorry, but your browser is out dated and can't play audio. | The Last to Know | |
| Sorry, but your browser is out dated and can't play audio. | I'm Going to Get You Stoned | |
| Sorry, but your browser is out dated and can't play audio. | I'm Walking Here | |
| Sorry, but your browser is out dated and can't play audio. | Two Friends | |
| Sorry, but your browser is out dated and can't play audio. | She Was the Love of Mine | |
| Sorry, but your browser is out dated and can't play audio. | I'm Inside Outside In (Deluxe Edition Bonus Track) | |
| Sorry, but your browser is out dated and can't play audio. | Blue Bay Moon (Deluxe Edition Bonus Track) | |
| Sorry, but your browser is out dated and can't play audio. | Love Don't Mean Enough (Deluxe Edition Bonus Track) | |