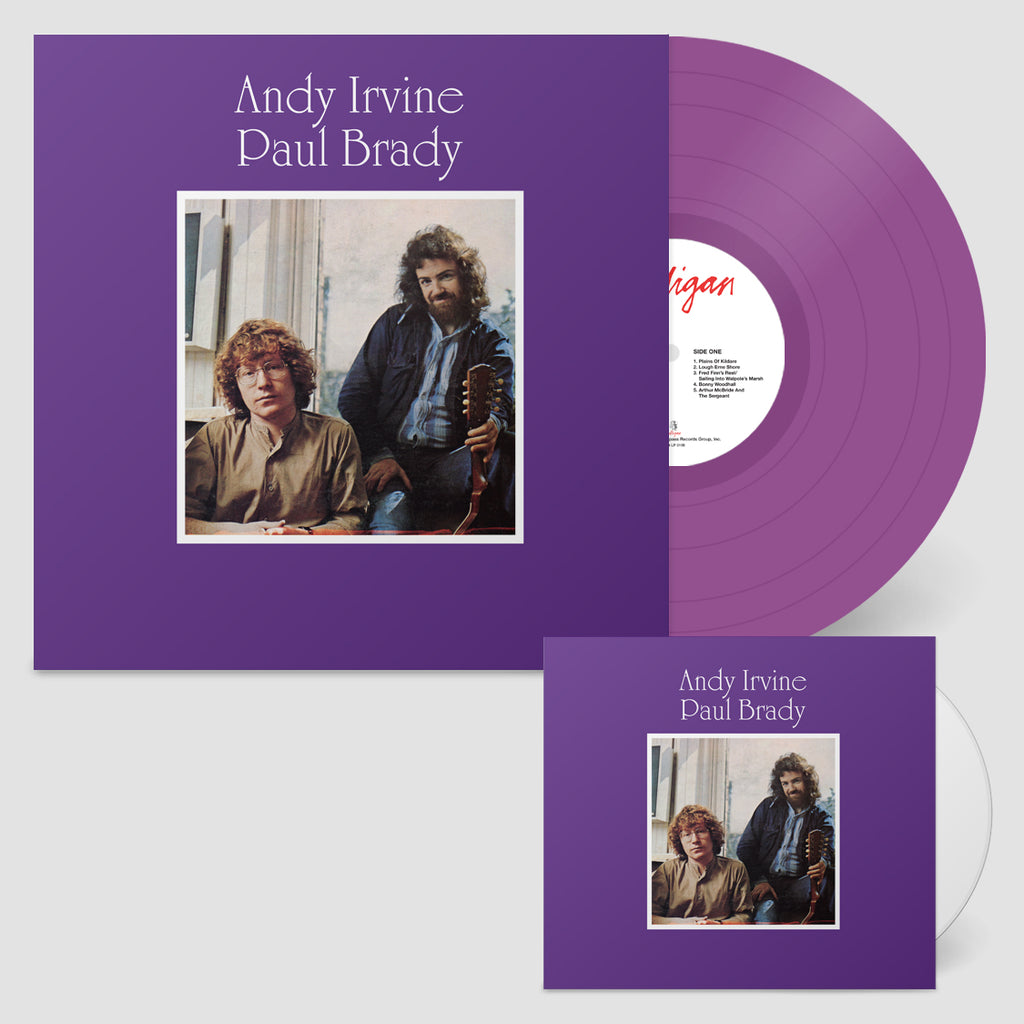 * CD and LP orders are signed by Andy Irvine & Paul Brady
Remastered from the analog tapes.
LP pressed on 180gram Purple Vinyl and packaged in a gatefold jacket with 12pg booklet.

"Andy Irvine and Paul Brady (former Planxty members) team up for one of the greatest albums ever of traditional Irish songs. Their unique sound will stay with you long after the music has stopped." —AllMusic

Compass Records Group is announcing the SPECIAL EDITION release of the Mulligan Records classic ANDY IRVINE / PAUL BRADY. Long thought of as one of the seminal releases in the Irish music cannon, the album has been praised by artists such as Bob Dylan (who recorded Paul Brady's arrangement of "Arthur McBride And The Sergeant"), Bono, Mary Chapin Carpenter, Liam O'Maonlai (Hothouse Flowers), and Radie Peat and Daragh Lynch (both of Lankum).

In 1976, Andy Irvine and Paul Brady, fresh from the demise of the Irish supergroup Planxty, entered legendary Rockfield Studios in Wales with mystic producer/bouzouki player Dónal Lunny and fiddler Kevin Burke to record what has become an Irish Music classic. ANDY IRVINE / PAUL BRADY propelled them to be viewed as one of the most accomplished Irish traditional duos that have ever recorded. All these years later perhaps no record more pointedly reflects the time and the spirit of innovation within one genre of music.

This Special Edition marks the first time the vinyl album has been pressed since the 70s. For this ultimate version, the ten track album was remastered from the original analog tapes, which were transferred at 192k/32 bit to maintain the highest resolution, mastered with the best combination of classic analog and state of the art digital equipment, and packaged both as a gatefold LP and tri-fold CD wallet. Both formats include a 12,000 word essay by noted music journalist Gareth Murphy (Cowboys and Indies – The Epic History of the Record Industry and Siren Song: My Life in Music [with Seymour Stein]), and include interviews with Andy Irvine, Paul Brady, Dónal Lunny and Kevin Burke, as well as testimonials from artists including Glen Hansard, Liam O'Maonlai, Brian MacGloinn of Ye Vagabonds, Daragh Lynch of Lankum, Consuelo Nerea Breschi and Lucie Azconaga of Varo, PJ Curtis and more.

| | | |
| --- | --- | --- |
| MP3/320 | $10.00 | |
| FLAC | $12.00 | |
| WAV | $12.00 | |
| WAV-HD | $17.00 | |
| SIGNED CD | $20.00 | |
| SIGNED LP | $38.00 | |
Track Listing
| | | |
| --- | --- | --- |
| Sorry, but your browser is out dated and can't play audio. | Plains Of Kildare | |
| Sorry, but your browser is out dated and can't play audio. | Lough Erne Shore | |
| Sorry, but your browser is out dated and can't play audio. | Fred Finn's Reel/Sailing Into Walpole's Marsh | |
| Sorry, but your browser is out dated and can't play audio. | Bonny Woodhall | |
| Sorry, but your browser is out dated and can't play audio. | Arthur McBride And The Sergeant | |
| Sorry, but your browser is out dated and can't play audio. | The Jolly Soldier/The Blarney Pilgrim | |
| Sorry, but your browser is out dated and can't play audio. | Autumn Gold | |
| Sorry, but your browser is out dated and can't play audio. | Mary And The Soldier | |
| Sorry, but your browser is out dated and can't play audio. | The Streets Of Derry | |
| Sorry, but your browser is out dated and can't play audio. | Martinmas Time/The Little Stack Of Wheat | |