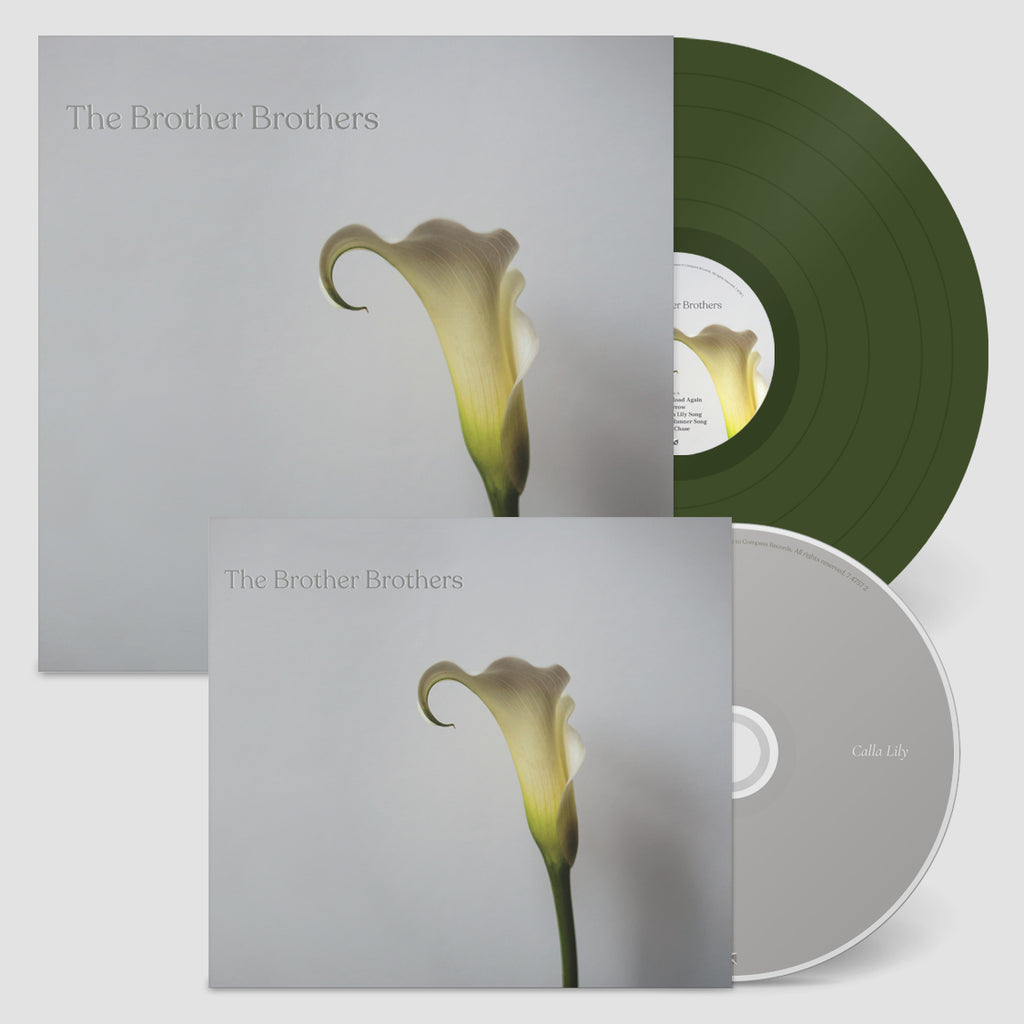 LP pressed on limited edition green vinyl.

Brooklyn's The Brother Brothers new release Calla Lily is the follow-up to real-life siblings The Moss Brothers' debut album, Some People I Know, which garnered praise from taste-makers including NPR, Billboard and Rolling Stone Country. The album's lead single, "On the Road Again," sets mood of the album and showcases the brothers' warm, immediate harmonies. Ironically, the Moss brothers wrote "On The Road Again" — a quintessential road song that explores the life of the touring musician and speaks to one's longing for the road — before the pandemic hit; it's a paean to the connection and company of that diasporic artist community forged across stages, festival grounds, and long, winding roads. The music video for "On The Road Again" kicks off with the brothers leaving New York City in the tour van and features a convoy of whimsical animated creatures who are along for the ride, culminating in a cartoon concert along the Hudson River. David Moss says of the track: "There's no denying that life in motion can leave a person lonesome or aimless, but so can sitting still. The same part of our beings that gets homesick aches for life on the road. This song's an exploration of that duality — a celebration and a lamentation in one."
Calla Lily was produced and mixed by Grammy-nominated Ryan Hadlock (The Lumineers, Brandi Carlile, Vance Joy) at Bear Creek Studios in Woodinville, Washington and mastered by Grammy-nominated Phillip Shaw Bova (Andy Shauf, Father John Misty).
| | | |
| --- | --- | --- |
| MP3/320 | $10.00 | |
| FLAC | $12.00 | |
| WAV | $12.00 | |
| WAV-HD | $17.00 | |
| CD | $15.00 | |
| LP | $26.98 | |
| LP/CD Bundle | $36.00 | |
Track Listing
| | | |
| --- | --- | --- |
| Sorry, but your browser is out dated and can't play audio. | On The Road Again | |
| Sorry, but your browser is out dated and can't play audio. | Sorrow | |
| Sorry, but your browser is out dated and can't play audio. | The Calla Lily Song | |
| Sorry, but your browser is out dated and can't play audio. | The Road Runner Song | |
| Sorry, but your browser is out dated and can't play audio. | The Chase | |
| Sorry, but your browser is out dated and can't play audio. | A Poquito Doina | |
| Sorry, but your browser is out dated and can't play audio. | Waiting For A Star To Fall | |
| Sorry, but your browser is out dated and can't play audio. | Circles | |
| Sorry, but your browser is out dated and can't play audio. | Seein' Double | |
| Sorry, but your browser is out dated and can't play audio. | My Holy Way | |