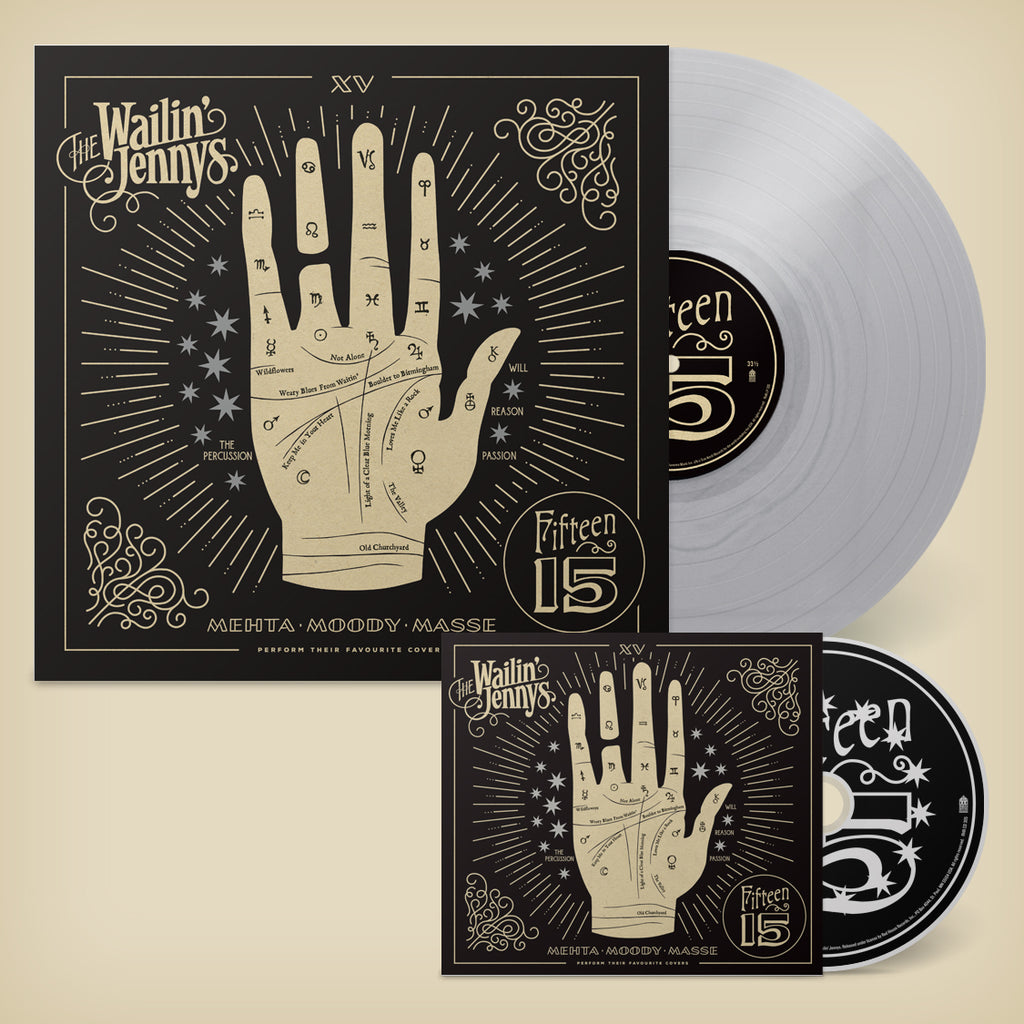 One of today's most respected folk groups, The Wailin' Jennys are releasing their first new recording in six years, Fifteen. This long-awaited follow-up to Bright Morning Stars finds the trio bringing their passion and stellar musicianship to a carefully curated collection of some of their favorite songs, including tracks by Tom Petty, Emmylou Harris and Dolly Parton. For members Nicky Mehta, Ruth Moody and Heather Masse, Fifteen celebrates a 15-year musical partnership that has created three award-winning, Billboard-charting studio albums and one magical live recording and brought them a loyal worldwide fanbase.

Steeped in the artistry and elegance that has defined their career, Fifteen presents The Wailin' Jennys at their very best. Opening with their stark yet exquisite rendering of "Old Churchyard," sung a cappella over a single droning viola tone, the album then shifts to a gorgeous full-band acoustic version of Tom Petty's "Wildflowers." Other highlights include their moving interpretation of Emmylou Harris's "Boulder to Birmingham," their update of Paul Simon's "Loves Me Like a Rock" (from a women's point of view) and songs by Jane Siberry, Warren Zevon and Patty Griffin. They also do an achingly beautiful a cappella version of Dolly Parton's "Light of a Clear Blue Morning" that resonates as a call to hope in these troubled political times.  
All three of the Jennys now have young children and — coupled with living in two countries and different sides of the North American continent — making the time to record has been a challenge. 
"We are all mothers now, living in different cities, so we knew we couldn't spend a month in the studio the way we used to," Moody says. "Nicky and Heather could only be away from their boys for a week, which gave us five days! So we decided to do something that was true to our live show. Arranging other people's songs has been something we've enjoyed doing since the beginning, so we thought that a covers album would be fun to do, especially given the time restraints. Even so, it was a little nuts: We were arranging harmonies on the fly… my son was just shy of three months old and I was feeding him every couple of hours… Nicky had a bad cold which made things tricky for her. But we just went with it, and trusted that it would all work out; maybe that's the thing we've gotten better at as mothers."
Produced by The Wailin' Jennys and engineered by Joby Baker, the album also features additional musicians Richard Moody (Ruth's brother), Sam Howard, Adrian Dolan and Adam Dobres.
NPR wrote of their last Newport Folk Fest appearance, "The Wailin' Jennys are more than just impeccable bluegrass harmonizers; they're also terrific bandleaders who give their traditional roots music a sense of real reverence." It's this respect for their craft, as well as the Wailin' Jennys heartfelt, impeccable vocal performances, that has cemented the trio's reputation in folk and roots music circles.
| | | |
| --- | --- | --- |
| MP3/320 | $10.00 | |
| FLAC | $12.00 | |
| WAV | $12.00 | |
| CD | $15.00 | |
| Standard Black LP | $24.98 | |
| Vinyl LP | $26.98 | |
Track Listing
| | | |
| --- | --- | --- |
| Sorry, but your browser is out dated and can't play audio. | Old Churchyard | |
| Sorry, but your browser is out dated and can't play audio. | Wildflowers | |
| Sorry, but your browser is out dated and can't play audio. | The Valley | |
| Sorry, but your browser is out dated and can't play audio. | Light of a Clear Blue Morning | |
| Sorry, but your browser is out dated and can't play audio. | Loves Me Like a Rock | |
| Sorry, but your browser is out dated and can't play audio. | Boulder to Birmingham | |
| Sorry, but your browser is out dated and can't play audio. | Not Alone | |
| Sorry, but your browser is out dated and can't play audio. | Keep Me in Your Heart | |
| Sorry, but your browser is out dated and can't play audio. | Weary Blues From Waitin' | |