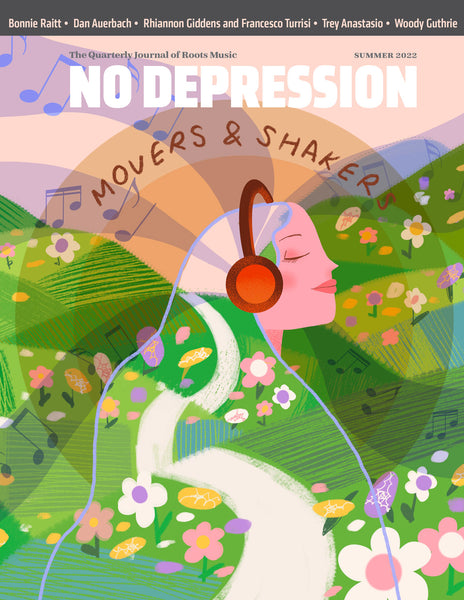 No Depression, Movers & Shakers: Summer 2022
For a collection of genres based in traditions, roots music is always evolving. The "Movers & Shakers" issue will highlight leaders in the community — both in the spotlight and unsung — who continue to push the boundaries of what's possible in roots music. Additionally, this theme will give special attention to the physical and bodily elements of music's power to move us.
Included in this issue:
Bonnie Raitt
Woody Guthrie, Marjorie Mazia, and their relationship with modern dance
Michael League (Snarky Puppy) and the burgeoning musical movement outside Barcelona
Inside the nonprofit Decolonizing the Music Room and its debut live event, the Fort Worth African American Roots Music Festival, which featured Jake Blount, Kaia Kater, Ben Hunter, and Justin Robinson
Donna the Buffalo and the 30th anniversary of their Finger Lakes GrassRoots Festival of Music & Dance
Dan Auerbach and the artistic ecosystem of Easy Eye Sound
A series of short profiles highlighting musical organizations shaking up the industry, including RAMPD (Gaelyn Lea, Laachi), Reverb (Guster), and Backline
Leyla McCalla
Louis Michot
Lee Bains & The Glory Fires
... And so much more!
Photos/Art:
Original design by Marcus Amaker
Original cover art by Ni Ma
Photo essay of original images from the national tour of Lucy Negro, Redux, the ballet with a musical score by Rhiannon Giddens and Franceso Turrisi, courtesy of the Nashville Ballet