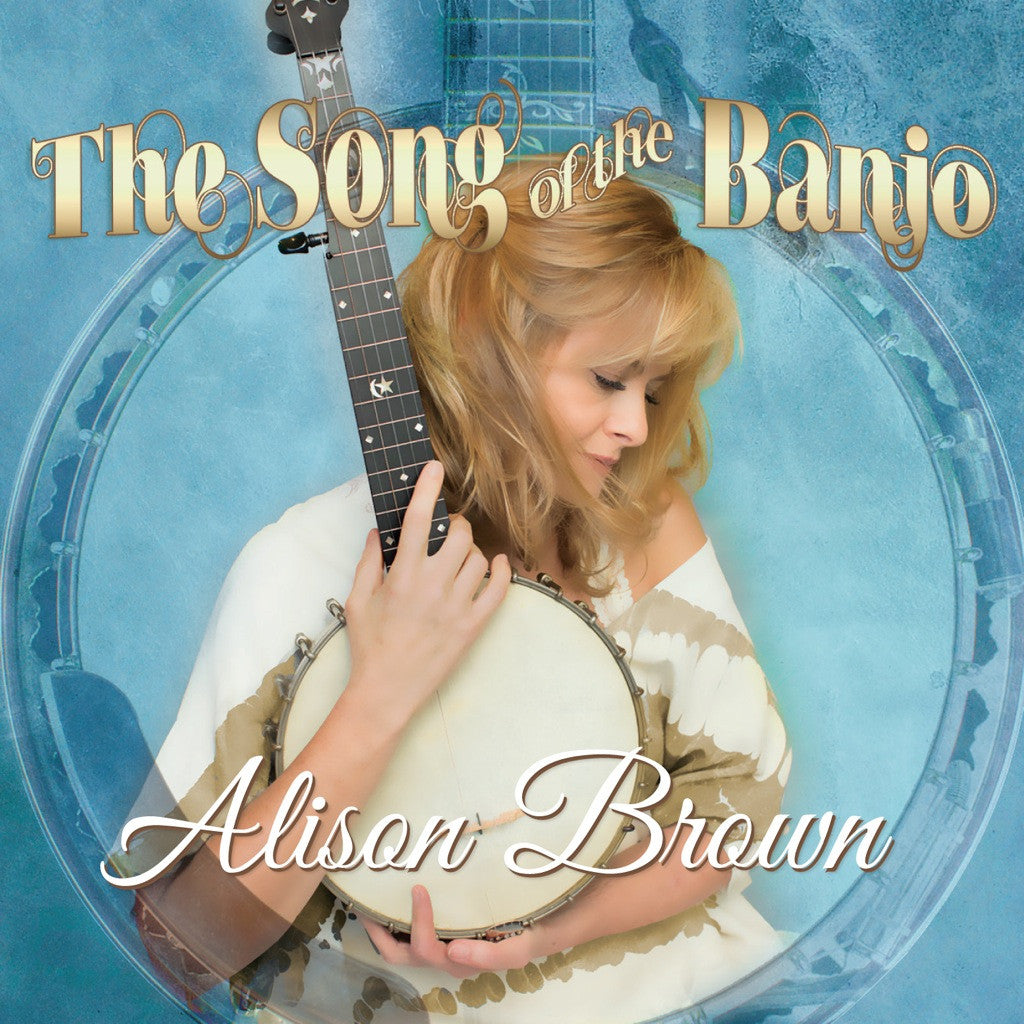 With: Indigo Girls, Colin Hay, Keb' Mo', Jake Shimabukuro, Rob Ickes and Steve Gadd.  
With The Song of the Banjo, her first album since 2009, GRAMMY-winning musician/composer/producer/entrepreneur Alison Brown plants another flag in her journey of musical exploration.
Acclaimed as one of today's finest progressive 5-string banjo players, the 2015 IBMA Distinguished Achievement Award/2014 United States Artist Fellowship recipient and Compass Records co-founder mixes seven masterful originals with six surprising covers of pop and rock classics from the '70s and '80s ("Dance With Me," "Feels So Good," "Time After Time," "Carolina in the Pines" "I'll Never Fall in Love Again" and the Deluxe Edition CD bonus track, "What's Going On"), boldly going where no banjo album has gone before.
For their mission, Brown and her co-producer, husband, label co-founder and bassist Garry West have assembled an equally unconventional all-star ensemble, including Indigo Girls' Amy Ray and Emily Saliers, Keb' Mo', Colin Hay, uke master Jake Shimabukuro, legendary studio drummer Steve Gadd, fiddler Stuart Duncan, Irish phenom guitarist John Doyle, bassist Todd Phillips, guitarist Jim Oblon, Dobro player Rob Ickes and pianists Will Barrow, Joe Davidian and John Jarvis.
Combining stunning virtuosity and unerring taste, Brown, with her signature model Prucha banjo (and on "I'll Never Fall in Love Again," a custom wood-body banjola), creates a roots rainbow of folk, jazz, pop, Celtic, classical, Latin and Americana.
For Brown, arranging recent classics from The Great American Songbook for the Great American Instrument makes the listener hear banjo in a new way. "Most listeners don't know how to hear what a banjo is doing, but in the context of a familiar tune they are able to hear the voice of the instrument, and understand what's unique about how it's played."
Dynamic, introspective and even romantic, The Song of the Banjo is an album for people who didn't know they liked the banjo. For banjo lovers, Alison Brown's new CD rekindles that affair.
Deluxe CD version includes bonus track not available on the digital download.
"Like James Taylor's voice or B.B. King's guitar, Alison Brown's banjo is an instrument possessed of a unique sonic signature and an inescapable beauty." —Billboard Magazine
"How sweetly she has taught her banjo to sing, whether humming winkingly behind the melody or delivering it with a breathy humanness that is as technically awesome as it is melodically seductive." —The Boston Globe
"Banjo music is seldom thought of as 'mellow' or, dare we say 'pretty,' but Alison Brown makes it so…As a true ground-breaker, (she's) opening up whole new vistas for an instrument once solely associated with pickin' n' grinnin." —USA Today
| | | |
| --- | --- | --- |
| MP3/320 | $10.00 | |
| FLAC | $12.00 | |
| WAV | $12.00 | |
| CD | $15.00 | |
Track Listing
| | | |
| --- | --- | --- |
| Sorry, but your browser is out dated and can't play audio. | The Song of the Banjo | |
| Sorry, but your browser is out dated and can't play audio. | Dance With Me | |
| Sorry, but your browser is out dated and can't play audio. | Carolina in the Pines | |
| Sorry, but your browser is out dated and can't play audio. | A Long Way Gone | |
| Sorry, but your browser is out dated and can't play audio. | Windansea | |
| Sorry, but your browser is out dated and can't play audio. | Time After Time | |
| Sorry, but your browser is out dated and can't play audio. | Stuff Happens | |
| Sorry, but your browser is out dated and can't play audio. | I'll Never Fall in Love Again | |
| Sorry, but your browser is out dated and can't play audio. | Airish | |
| Sorry, but your browser is out dated and can't play audio. | Feels So Good | |
| Sorry, but your browser is out dated and can't play audio. | The Moon in Molly's Eyes | |
| Sorry, but your browser is out dated and can't play audio. | Musette for the Last Fret | |
| Sorry, but your browser is out dated and can't play audio. | What's Going On? (Bonus Track) | |