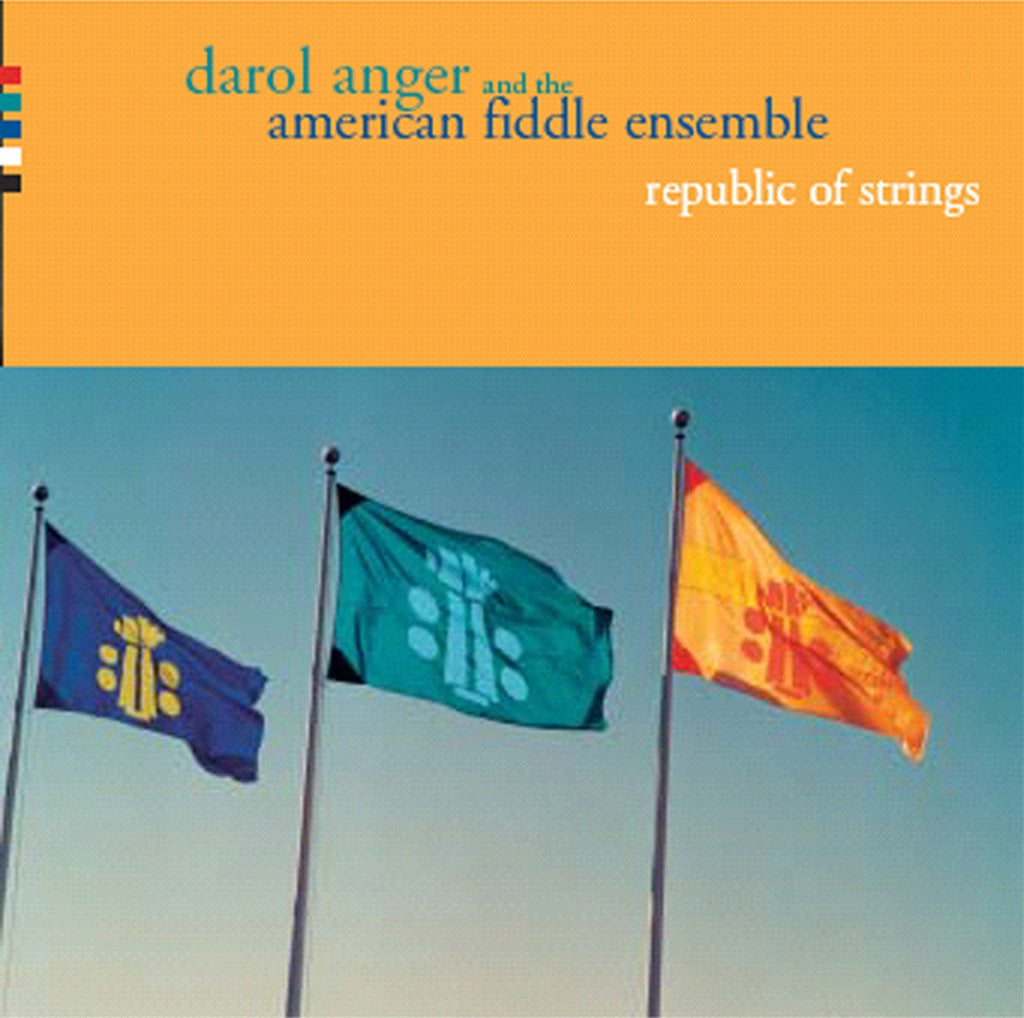 Featuring special guests Laurie Lewis and Sara Watkins (Nickel Creek)!

Darol Anger's unique vision of vernacular, international stringband music is fully realized on Republic of Strings, the debut of The American Fiddle Ensemble. Exceptional among modern fiddlers in his versatility and depth, Anger has reinvented acoustic music many times over, via such ground-breaking outfits as the David Grisman Quintet, The Turtle Island String Quartet, and 2002 Grammy-nominees Fiddlers 4 (a collaboration with Michael Doucet, Bruce Molsky, and cellist Rushad Eggleston). Teaming a new generation of string players with acknowledged masters, the fluid and eclectic Darol Anger Fiddle Ensemble is the next step in that evolution.

The members of the Darol Anger Fiddle Ensemble include flat-picking guitarist Scott Nygaard (Tim O'Brien's O'Boys, Grant Street w/Laurie Lewis), maverick cellist Rushad Eggleston (Fiddlers 4), and young fiddle prodigy Brittany Haas. Republic of Strings features the core quartet augmented by such special guests as Laurie Lewis and Nickel Creek's Sara Watkins on an evocative program that bridges bluegrass, jazz, classical, and folk traditions.
"Nobody in the fiddle world has found himself on the front edge of progressive acoustic music as often as Darol Anger." - Fiddler Magazine
| | | |
| --- | --- | --- |
| MP3/320 | $10.00 | |
| FLAC | $12.00 | |
| WAV | $12.00 | |
| CD | $15.00 | |
Track Listing
| | | |
| --- | --- | --- |
| Sorry, but your browser is out dated and can't play audio. | Lost in the Loop | |
| Sorry, but your browser is out dated and can't play audio. | Higher Ground | |
| Sorry, but your browser is out dated and can't play audio. | Grigsby's Hornpipe | |
| Sorry, but your browser is out dated and can't play audio. | Old Dangerfield | |
| Sorry, but your browser is out dated and can't play audio. | Help Me | |
| Sorry, but your browser is out dated and can't play audio. | Andre de Sabato Nuovo | |
| Sorry, but your browser is out dated and can't play audio. | Sneezin' | |
| Sorry, but your browser is out dated and can't play audio. | Ouditarus Rez | |
| Sorry, but your browser is out dated and can't play audio. | Where to Now? | |
| Sorry, but your browser is out dated and can't play audio. | Evening Prelude | |
| Sorry, but your browser is out dated and can't play audio. | Evening Prayer Blues | |
| Sorry, but your browser is out dated and can't play audio. | Dzinomwa Muna Save | |
| Sorry, but your browser is out dated and can't play audio. | Sand | |