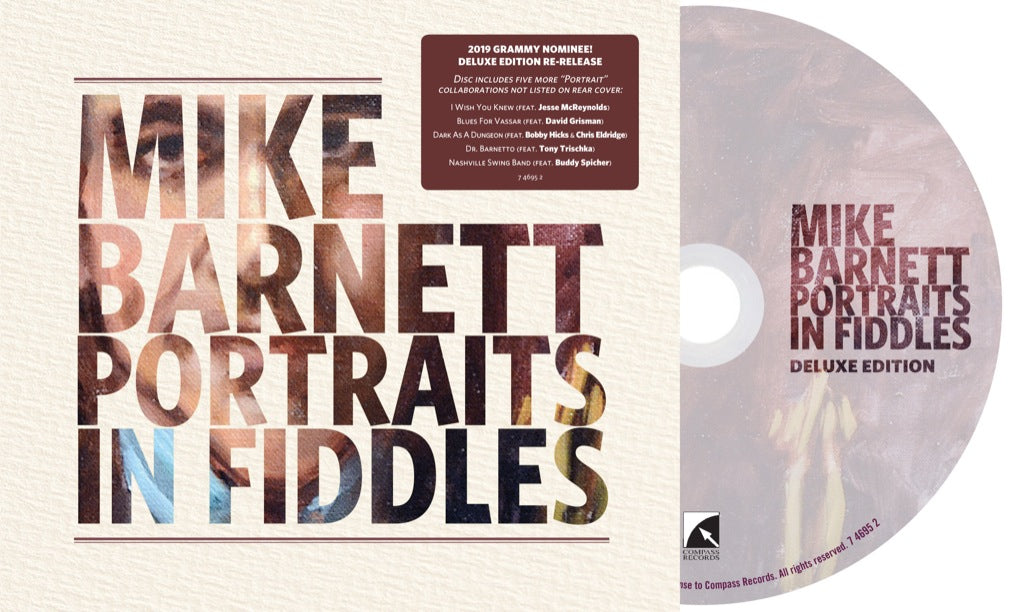 DELUXE EDITION RE-RELEASE
Disc includes additional "Portrait" collaborations not previously included:

I Wish You Knew (feat. Jesse McReynolds)

Blues For Vassar (feat. David Grisman)

Dark As A Dungeon (feat. Bobby Hicks & Chris Eldridge)

Dr. Barnetto (feat. Tony Trischka)

Nashville Swing Band (feat. Buddy Spicher)
With: Mike Bub, Michael Daves, Stuart Duncan, Casey Campbell, Chris Eldridge, Grant Gordy, David Grier, David Grisman, Sam Grisman, Alex Hargreaves, Bobby Hicks, Ethan Jodziewicz, Dominick Leslie, Rob McCoury, Jesse McReynolds, Tim Mensy, Tim O'Brien, Jeff Picker, Noam Pikelny, Buddy Spicher, Bryan Sutton, Tony Trischka
Though he's a Nashville native who became a professional player at a young age as part of Jesse McReynolds' band, Mike Barnett can still be considered another breakout talent from the Boston roots music scene that produced the likes of Lake Street Dive, Crooked Still and The Deadly Gentlemen, a newgrass outfit where he held fiddle duties from 2011 to 2014. On his second solo effort, PORTRAITS IN FIDDLES, he takes a moment to reflect on the extraordinary blessings he's had building a career as a premier fiddler in bluegrass music (leading up to his current gig as a member of Kentucky Thunder, the traveling band of bluegrass legend, Ricky Skaggs) and to celebrate his heroes, collaborators, and contemporaries. The album is a unique snapshot of the music's finest, from Buddy Spicher and Jesse McReynolds to David Grisman and Stuart Duncan, on to Bryan Sutton and Tony Trischka with special guest vocals from Tim O'Brien. Barnett curated the set and in many cases arranged the compositions, putting himself in harm's way as it were, a short interval away from the titans of the form, settling into composed instrumental breaks or trading off on improvisation, an exercise he says was intended to "put me up against my heroes as a challenge, to push me to always achieve my best." Interspersed throughout the tracks, his musical guests offer commentary on their own career beginnings or insight into some of the special compositions he's chosen for this thoughtful collection.
"Mike Barnett is a first-class fiddle player and all-around musician. He's got the chops and knows how to use them, but he also has something to say, and that's a rare quality in music these days." —David "Dawg" Grisman