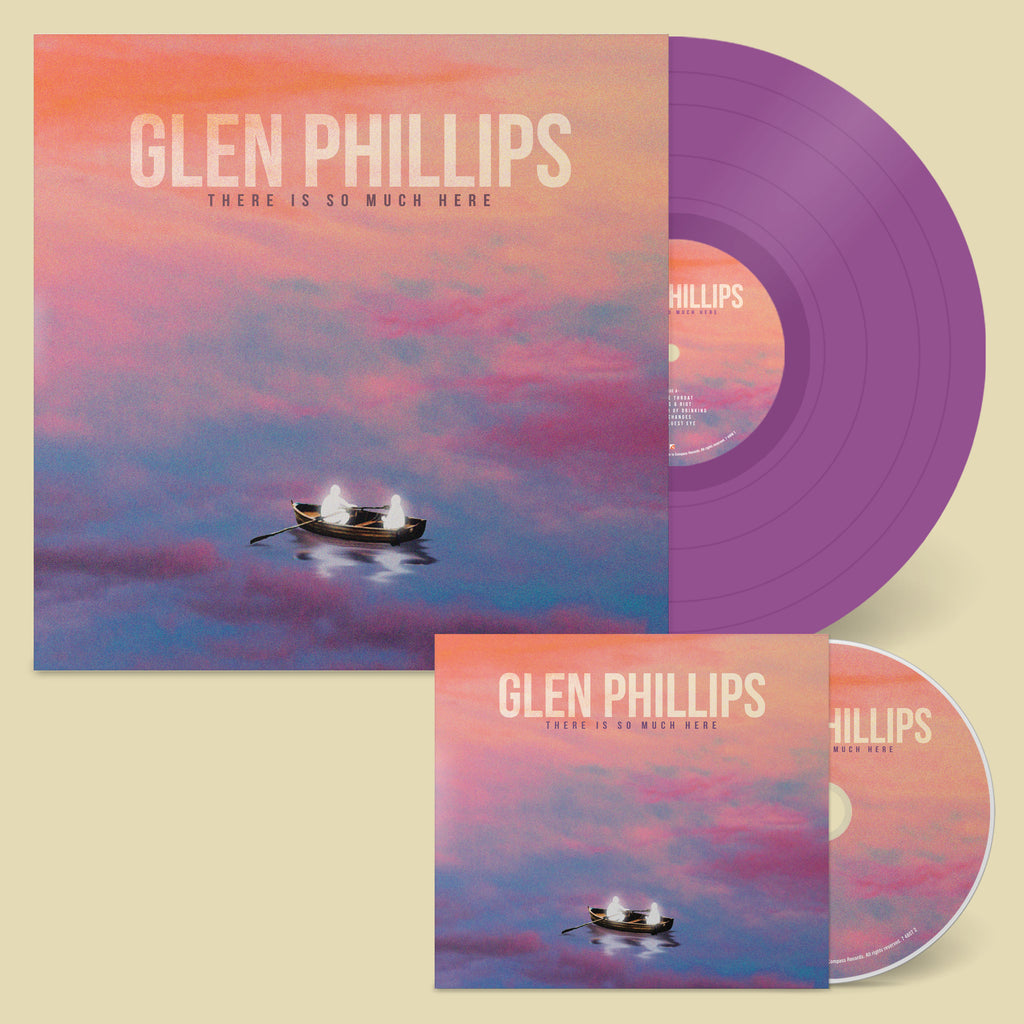 Toad the Wet Sprocket front man Glen Phillips dives into the joys and sorrows of everyday life with help from Dave Depper (Death Cab For Cutie), Ji Tanzer (Blue Cranes) and John Morgan Askew.

"I've seldom allowed myself to stay in one place for very long," Glen Phillips says, explaining the genesis of his new album, There Is So Much Here. "I was lucky during the COVID lockdown to move in with my girlfriend, now fianceé, and to stay home for the longest stretch I've had since the birth of my daughter, 20 years ago. After a life of travel and seeking out peak experiences, I began to appreciate the subtle beauty of sitting still."
The 11 tracks on Phillips' new album are informed by the time that the pandemic shut down allowed for reflection, moving between quiet love songs and rockers that consider the multi-faceted meanings hidden in our everyday lives. "Stone Throat" is a jazzy, midtempo rocker that looks at a couple in a new relationship, trying to find the balance between desire and responsibility, or as Phillips sings, "trying to find the balance, between the sacred and the street." There's a hint of new wave ska in the rhythm of "I Was a Riot," a song that casts a compassionate eye on the end of a relationship.
The COVID lockdown inspired "The Sound of Drinking," is an appreciation of the familiar things in life, like drinking a glass of water on your back porch. Phillips plays soft acoustic guitar and sighs a lyric of gratitude for simple pleasures. "Call The Moondust" is the most metaphysical song in the set. There's a hint of secular gospel in Depper's piano, and the ambient effects that suggest the vastness of the cosmos. Phillips delivers an emotional performance over a tense arrangement that hints at the wonders of the universe. "The beauty of life is in its mystery," Phillips states. "If we think we have an answer, we're deluding ourselves."
While Phillips' critically-acclaimed 2018 release, Swallowed by the New, was about grief, the new album is a post-divorce outing with Phillips' writing from a place of hope and optimism. He explains: "I was writing love songs again, focusing on gratitude, beauty and staying present. Happiness is about allowing what is, to be what it is. I used to view the everyday happenings around me as a distraction. I was suddenly hopeful again, knowing you can never know what the outcome of any action, or inaction, is going to be, but doing it anyway. There's no pure happy ending—the world is a mess, the future is uncertain—but I find found truth in the poet Mary Oliver's words: 'Attention is the beginning of devotion.' I was suddenly in a state of being that wasn't about my loss. I woke up and things felt doable again. This is an album about showing up for what is and letting it be enough."
Glen Phillips has been making music for over two decades, with a career that began as the 14-year-old frontman for Toad the Wet Sprocket. Since then, he's accumulated an esteemed body of work comprising eight albums with Toad (which collectively have sold close to 4 million units) and three as a solo artist. Writing about his solo work ABC News said: "Songwriting-wise, Phillips continues to come off like an American answer to Crowded House's Neil Finn. Both men are masters at delivering dense, seemingly effortlessly-crafted songs rich with context and depth."
"Songwriting-wise, Phillips continues to come off like an American answer to Crowded House's Neil Finn. Both men are masters at delivering dense, seemingly effortlessly-crafted songs rich with context and depth."
—ABCNews.com
| | | |
| --- | --- | --- |
| MP3/320 | $10.00 | |
| FLAC | $12.00 | |
| WAV | $12.00 | |
| WAV-HD | $17.00 | |
| CD | $15.00 | |
| LP | $25.00 | |
| CD + LP Bundle | $38.00 | |
Track Listing
| | | |
| --- | --- | --- |
| Sorry, but your browser is out dated and can't play audio. | Stone Throat | |
| Sorry, but your browser is out dated and can't play audio. | I Was A Riot | |
| Sorry, but your browser is out dated and can't play audio. | The Sound Of Drinking | |
| Sorry, but your browser is out dated and can't play audio. | Big Changes | |
| Sorry, but your browser is out dated and can't play audio. | The Bluest Eye | |
| Sorry, but your browser is out dated and can't play audio. | Brand New Blue | |
| Sorry, but your browser is out dated and can't play audio. | Center Of The Circle | |
| Sorry, but your browser is out dated and can't play audio. | Skeleton For School | |
| Sorry, but your browser is out dated and can't play audio. | Other Birds Of Prey | |
| Sorry, but your browser is out dated and can't play audio. | Let In Anarchy | |
| Sorry, but your browser is out dated and can't play audio. | Call The Moondust | |