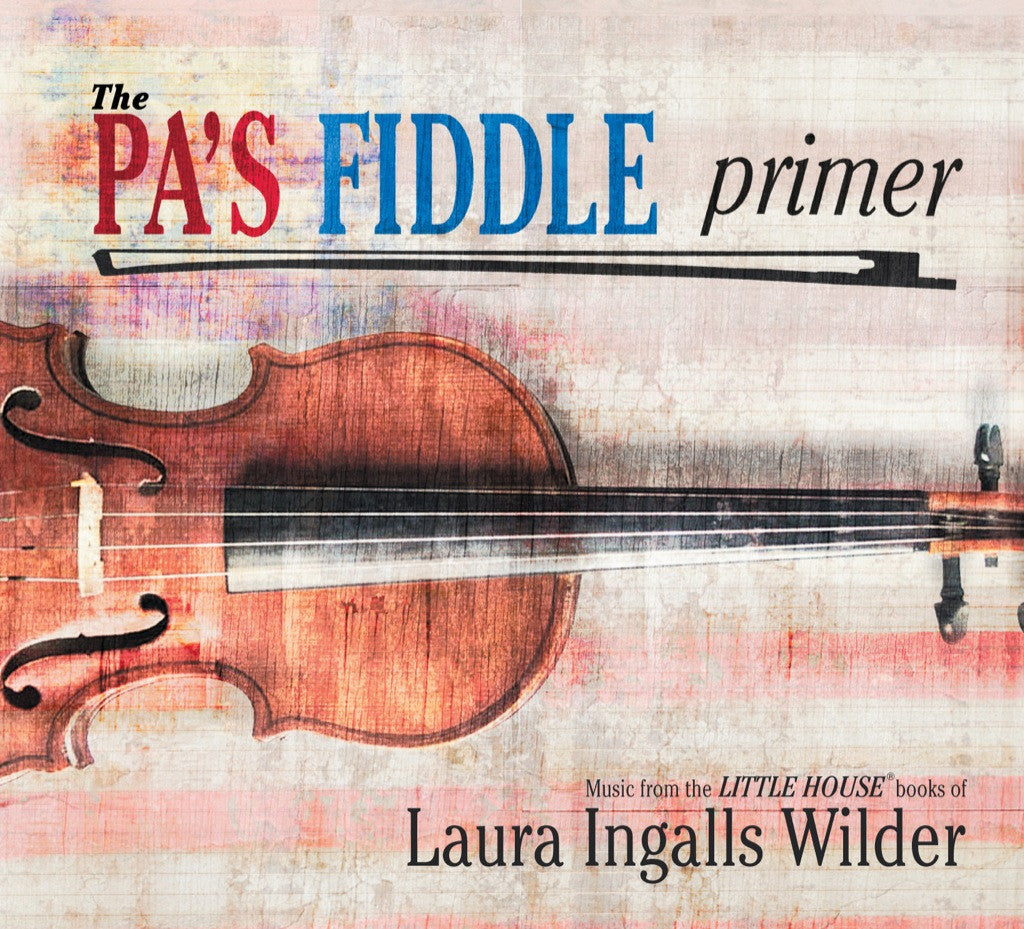 The music of the Little House on the Prairie books by Laura Ingalls Wilder.

The companion anthology collection to the PBS concert DVD/CD Pa's Fiddle: The Music of America.

Featuring Riders in the Sky, Judith Edelman, Mac Wiseman, Deborah Packard, and The Pa's Fiddle Band (from the live concert performance).
Little House on the Prairie, the autobiographical book series by Laura Ingalls Wilder, holds in its pages a comprehensive review of 19th-century American folk music via the very real character of Charles "Pa" Ingalls (1836-1902), a highly acclaimed fiddler of the time and Laura's own non-fictional father. For the first time, in January 2012, a concert based on this music was performed before a live audience at the Loveless Barn just outside of Nashville, TN for broadcast by the PBS television network. The Pa's Fiddle Primer draws from some of the songs that inspired the PBS concert that will air throughout the nation this June during pledge-drive season and will be available for national broadcast over the next two years.
An effort produced by esteemed musicologist Dale Cockrell (President of Pa's Fiddle Recordings), The Pa's Fiddle Primer features performances from some of the finest of today's acoustic musicians, enlisting the talents of award-winning musicians Matt Flinner (mandolin), Bryan Sutton (guitar), Byron House (acoustic bass), Butch Baldassari (mandolin), Mike Bubb (acoustic bass), Bob Carlin (banjo), Pat Enright (guitar), Matt Combs (fiddle), Dennis Crouch (upright bass), and Shad Cobb (banjo) along with featured bands Riders in the Sky, Deborah Packard/John Mock, Judith Edelman/Blair String Quartet, The Peggy Duncan Singers, and Mac Wiseman. Standout tracks include "Irish Washerwoman," "Green Grows the Laurel," and "Happy Land."
"If you want to know the spirit of those times, you need to know these old songs." —Laura Ingalls Wilder
| | | |
| --- | --- | --- |
| MP3/320 | $10.00 | |
| FLAC | $12.00 | |
| WAV | $12.00 | |
| CD | $15.00 | |
Track Listing
| | | |
| --- | --- | --- |
| Sorry, but your browser is out dated and can't play audio. | Yellow Heifer | |
| Sorry, but your browser is out dated and can't play audio. | The Blue Juniata | |
| Sorry, but your browser is out dated and can't play audio. | Green Grows the Laurel | |
| Sorry, but your browser is out dated and can't play audio. | Irish Washerwoman | |
| Sorry, but your browser is out dated and can't play audio. | Roll On Silver Moon | |
| Sorry, but your browser is out dated and can't play audio. | Captain Jinks | |
| Sorry, but your browser is out dated and can't play audio. | The Campells are Coming / Haste to the Wedding | |
| Sorry, but your browser is out dated and can't play audio. | Happy Land | |
| Sorry, but your browser is out dated and can't play audio. | The Monkey's Wedding | |
| Sorry, but your browser is out dated and can't play audio. | Barbara Allen | |