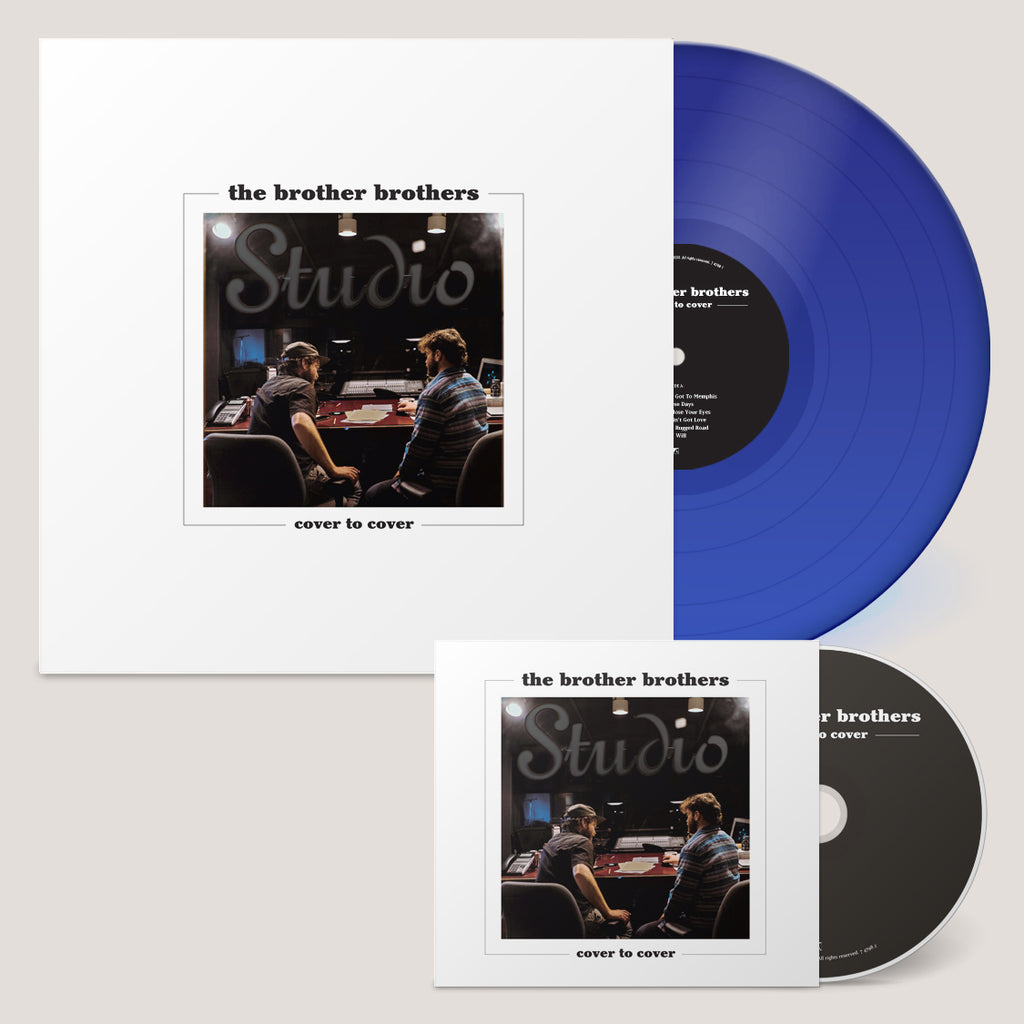 CD & LIMITED EDITION Translucent Blue Vinyl
Harmonizing folk duo The Brother Brothers are used to hearing Everly Brothers comparisons, but even Phil and Don couldn't beat the sound of siblings Adam and David Moss, who share identical DNA. The twins started weaving their voices together before they hit first grade, learning by singing along to the Everlys, the Beatles and other artists they found in their dad's record collection. On their new album, Cover to Cover, the Brother Brothers pay homage to those early influences and other favorite songwriters with unique arrangements of both beloved classics and songs they want more people to hear. Among their eclectic picks: Tom T. Hall's "That's How I Got to Memphis," Jackson Browne's "These Days," James Taylor's "You Can Close Your Eyes," Hoagy Carmichael's "I Get Along Without You Very Well (Except Sometimes)," Robert Earl Keen's "Feelin' Good Again," Richard Thompson's "Waltzing's for Dreamers," Judee Sill's "Rugged Road" and Tom Waits' "Flowers Grave." Their exquisite version of The Beatles' "I Will" holds special significance, because they created their own harmonies over the solo-vocal original when they were six.
Fiddler/violinist Adam and cello player/guitarist David also called on special friends, from singer/mandolinist Sarah Jarosz to Lake Street Dive vocalist Rachael Price—who sings with her sister, Emily, making this effort even more of a family affair.
"Intimate acoustic folk anchored by butter-smooth close-harmony vocals and minimalist-yet-sophisticated arrangements" —Rolling Stone Country
"wonderful ... fabulous old-time playing and sibling harmony." —NPR
"natural harmonies and evocative lyricism that reflect a timeless sound and spirit." —Relix
"soulful folk" —Billboard
| | | |
| --- | --- | --- |
| MP3/320 | $10.00 | |
| FLAC | $12.00 | |
| WAV | $12.00 | |
| WAV-HD | $17.00 | |
| CD | $15.00 | |
| LP | $26.98 | |
| LP + CD Bundle | $38.00 | |
Track Listing
| | | |
| --- | --- | --- |
| Sorry, but your browser is out dated and can't play audio. | That's How I Got To Memphis | |
| Sorry, but your browser is out dated and can't play audio. | These Days | |
| Sorry, but your browser is out dated and can't play audio. | You Can Close Your Eyes | |
| Sorry, but your browser is out dated and can't play audio. | If You Ain't Got Love | |
| Sorry, but your browser is out dated and can't play audio. | There's A Rugged Road | |
| Sorry, but your browser is out dated and can't play audio. | I Will | |
| Sorry, but your browser is out dated and can't play audio. | I Get Along Without You Very Well (Except Sometimes) | |
| Sorry, but your browser is out dated and can't play audio. | Feelin' Good Again | |
| Sorry, but your browser is out dated and can't play audio. | Waltzing's For Dreamers | |
| Sorry, but your browser is out dated and can't play audio. | High Sierra | |
| Sorry, but your browser is out dated and can't play audio. | Blue Virginia Blues | |
| Sorry, but your browser is out dated and can't play audio. | Flower's Grave | |