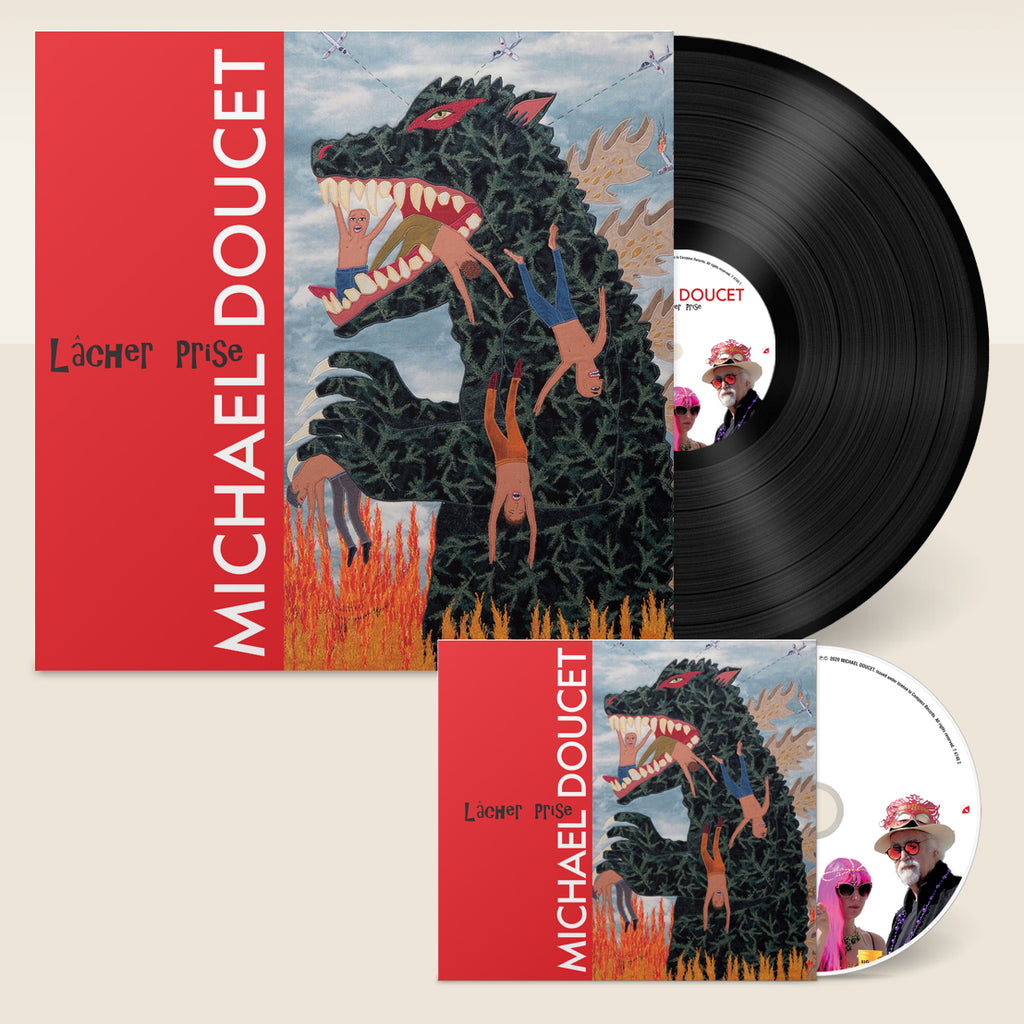 Michael Doucet the GRAMMY® Award-winning singer, songwriter, artist, founder of BeauSoleil avec Michael Doucet, and Cajun legend crafts the quintessential Louisiana soundtrack to a good time on his new solo album, LÂCHER PRISE. Joined by Sarah Quintana [vocals, guitar], Chad Viator [guitar], Chris French [bass], and Jim Kolacek [drums], he stirs up a sweet and simmering brew of Acadian tradition, swamp soul, and infectious grooves.
 
In many ways, the moniker embodies the spirit of these five musicians.
 
"In French, 'Lâcher Prise' means 'let go'," Doucet explains. "It's also a Buddhist term. When it came to making this music, it was just total freedom. The new songs were different from what I typically do, so we formed a group of great people and musicians. I've reached a point in my life and career where I can do whatever the hell I want to do. There's freedom for everybody because of the mutual respect though." Doucet describes the album's music as "Les îles Français Zarico", a description that takes into account an eclectic mix of styles including New Orleans rhythm & blues and Southwest Louisiana rock 'n roll, as well as his own interpretations of zydeco and Cajun, infused with the intoxicating rhythms of the French Caribbean.

The new band, now known as Michael Doucet avec Lâcher Prise, recorded the ten songs comprising the debut in just three days at Dockside in Maurice, Louisiana, a hallowed studio that has hosted everyone from Dr. John to Allen Toussaint, and Rod Stewart to Arcade Fire. The triumvirate of Doucet, Viator, and Compass Records co-founder Garry West produced, and friends including Sarah Dugas (The Duhks), Reese Wynans (Stevie Ray Vaughan, Joe Bonamassa), and Jim Hoke (NRBQ) lent their respective talents to the end result.
"Doucet is an American national treasure, having helped revive the Acadian music of Louisiana, alongside the incomparable Zachary Richard. But Doucet is so much more than that. He's a consummate violinist of the highest order." —POPMATTERS

"The spirit of fun on Lâcher Prise is palpable. The album captures the energy of a live performance; the music wends its way into our hearts and bodies and won't let us sit still, inviting us to laugh, dance, and embrace those we love." —FOLK ALLEY

"The first two tracks on Michael Doucet's new album are solid Cajun stuff. They are rollicking tracks like those at which Doucet's old band, BeauSoleil, excelled—but nothing unusual. Then it changes: Lâcher Prise gives you many more spicy crawfish than the usual gumbo." —NO DEPRESSION

"With his unerring eye and ear for good-time, Louisiana and Cajun music, Doucet is nothing less than a true US national treasure. Lâcher Prise simply adds yet another string to his already swinging bow. Treat yourself to some mighty fine Cajun music with this one, wonderful stuff yet again from a master musician." —ELMORE

"A debut album with a side project that reflects his interest in collaborations and in stretching the Cajun sound even farther than might be right for Beausoleil. The band and the album are called Lâcher Prise, which Doucet translates as 'let go' in the spiritual and musical sense. It's made of nearly all original songs (except for the must-hear Boozoo Chavis classic 'Lula, Don't You Go To Bingo'), and while they certainly pulse and surge with the timbres of Cajun accordion and fiddle, they're unafraid to reach out to partake of North African, Caribbean and funky New Orleans sounds." —WMOT-FM THE STRING

"… if 'Water, Water' (the first single) is any indication of the sound, you'll be in for a cheery, cheeky, energetic frolic." —OFFBEAT

"Never one to be contained in just one band or genre, Doucet's newest solo album finds him stirring up a sweet and simmering brew of Acadian tradition, swamp soul and infectious grooves." —THE ENTERPRISE (Davis, CA)
| | | |
| --- | --- | --- |
| MP3/320 | $10.00 | |
| FLAC | $12.00 | |
| WAV | $12.00 | |
| WAV-HD | $17.00 | |
| CD | $15.00 | |
| LP | $24.98 | |
Track Listing
| | | |
| --- | --- | --- |
| Sorry, but your browser is out dated and can't play audio. | Water, Water | |
| Sorry, but your browser is out dated and can't play audio. | Lula Lula Don't You Go To Bingo | |
| Sorry, but your browser is out dated and can't play audio. | Dites Moi Pas | |
| Sorry, but your browser is out dated and can't play audio. | Walking on a Mardi Gras Day | |
| Sorry, but your browser is out dated and can't play audio. | Abandonne | |
| Sorry, but your browser is out dated and can't play audio. | Bad Woman | |
| Sorry, but your browser is out dated and can't play audio. | Marie Catin | |
| Sorry, but your browser is out dated and can't play audio. | He's Got All The Whiskey | |
| Sorry, but your browser is out dated and can't play audio. | Chere Emelie | |
| Sorry, but your browser is out dated and can't play audio. | Cajun Gypsy | |