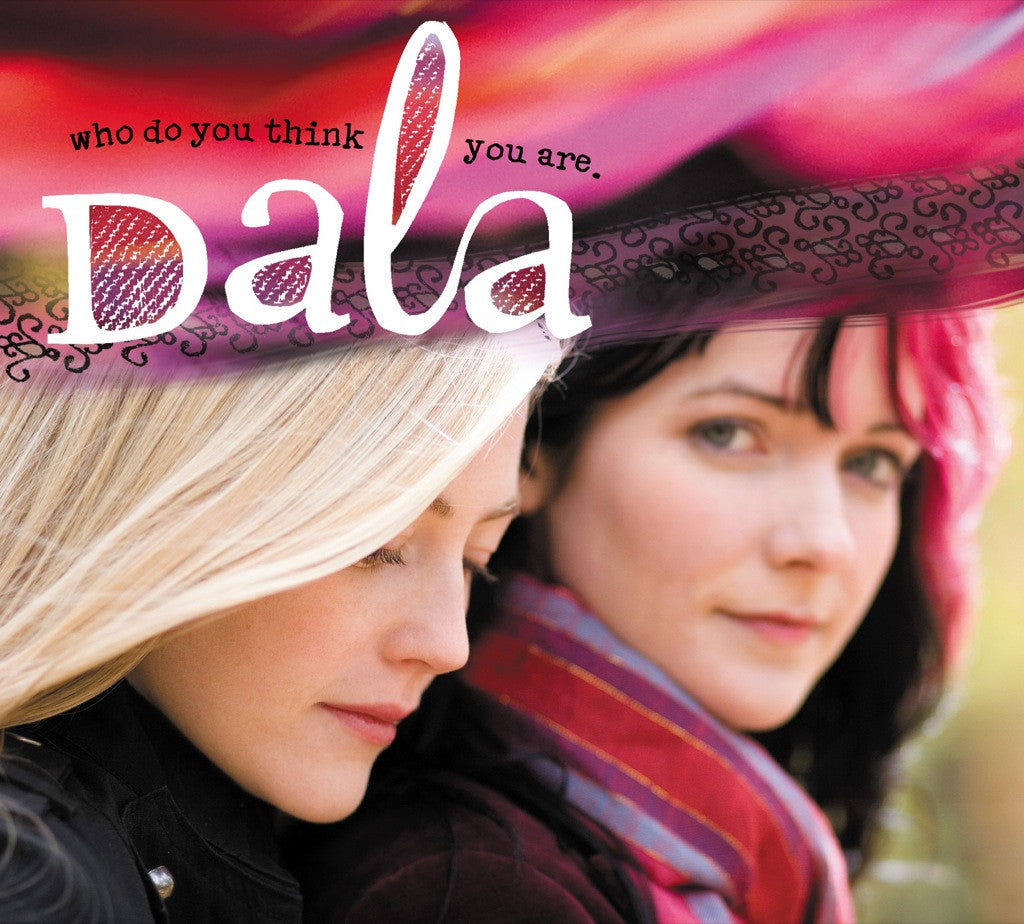 Now avaialble for the first time in the United States, Dala's 2007 Canadian release, Who Do You Think You Are brings the listener back to Dala's simpler and more pop-oriented sounds. Warm and hauntingly ethereal and full of folk-pop sensibilities,
the award-winning Canadian duo Amanda Walther and Shiela Carabine, better known as Dala, have established a completely signature sound, abundant with playful harmonies and creative, hook-driven melodies. Reminiscent of early Sarah McLachlan with a semi-Celtic adult contemporary appeal, Dala continues to grow as North American folk sweethearts.
Tracks on Who Do You Think You Are are almost criminally sweet, notably "Anywhere Under The Moon" with its commercial sensibilities and subtle drumset and guitar accompaniment, while the rootsy "Sunday Dress," is a gentle lament for the loss of innocence. Dala's immediately identifiable harmony and great melodies are best revealed on "Marilyn Monroe" and "Hockey Sweater." With five consecutive Canadian Folk Music Award nominations, a Toronto Independent Music Award for Best Folk Group, as well as many other accolades, Dala is a favorite in the US Festival circuit with recent appearances including New Orleans Jazz and Heritage Festival, Strawberry Music Festival, Falcon Ridge Folk Festival, and a repeat appearance at The Newport Folk Festival. They have also appeared on syndicated radio including Mountain Stage, NPR's Folk Alley and World Café.
"The definitively Canadian duo…has an ear for pop hooks, but writes songs that sound warm and comfortable played on an acoustic guitar with little ornamentation." —NPR Music
"Ontario's Dala are so charming in every other way it hurts." —Edmonton Sun
"Darlings of the Canadian music scene, Dala are poised to bring their harmonies and fresh brand of acoustic pop to the world." —The Post (Ontario)
| | | |
| --- | --- | --- |
| MP3/320 | $10.00 | |
| FLAC | $12.00 | |
| WAV | $12.00 | |
| CD | $15.00 | |
Track Listing
| | | |
| --- | --- | --- |
| Sorry, but your browser is out dated and can't play audio. | Who Do You Think You Are | |
| Sorry, but your browser is out dated and can't play audio. | Anywhere Under the Moon | |
| Sorry, but your browser is out dated and can't play audio. | Sunday Dress | |
| Sorry, but your browser is out dated and can't play audio. | Marilyn Monroe | |
| Sorry, but your browser is out dated and can't play audio. | Hockey Sweater | |
| Sorry, but your browser is out dated and can't play audio. | $5 Pearls | |
| Sorry, but your browser is out dated and can't play audio. | The Sweetest Ones | |
| Sorry, but your browser is out dated and can't play audio. | Don't Wait | |
| Sorry, but your browser is out dated and can't play audio. | Perfect Photo | |
| Sorry, but your browser is out dated and can't play audio. | Too Much of Everything | |
| Sorry, but your browser is out dated and can't play audio. | Don't Believe the Actress | |