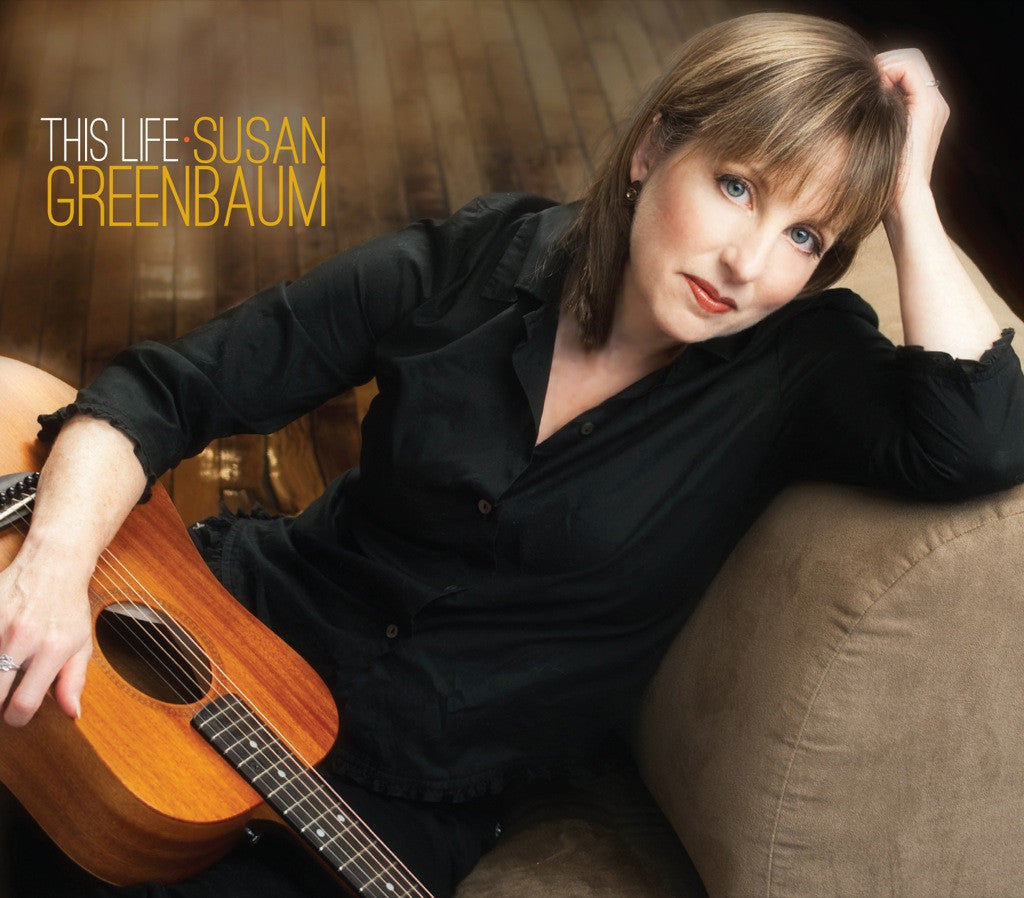 Susan Greenbaum is one of the most intelligent and literate songwriters to emerge in recent years. Insightful lyrics coupled with her powerful yet nimble vocals make hers a voice poised for national attention.
On THIS LIFE, her first nationally distributed release, Susan delivers a set of 12 catchy originals as striking for their lyric depth and smart turns of phrase as their harmonic sophistication. Stand out tracks include the certain-to-be-covered "Big", the emotionally-charged "This Life", a letter in song to her brother whose untimely passing inspired her career change, and "Here I Go", an uplifting gospel song featuring the Nashville-based gospel quartet, The Settles Connection. Throughout the album, Susan is accompanied by some of Nashville's finest players including guitarist George Marinelli (Bonnie Raitt), Stuart Duncan (fiddle), Mark T Jordon (piano) and bassists Alison Prestwood (Shawn Colvin) and Todd Phillips (Joan Baez).
Susan has been singing as long as she's been speaking, growing up in Kansas City, attending college at Harvard, and throughout her professional life in Boston, MA and Richmond, VA, where she currently lives. After working as a corporate executive in  Fortune 500 companies, Susan traded her power suits for performing. Since then she has self-released five albums with  cumulative sales in excess of 20,000 units and has toured as an opening act with Jewel as well as playing opening slots for
Kenny Loggins, Patty Griffin, Dar Williams, Janis Ian and Iris DeMent, among many others. And during MP3.com's heyday, Susan was one of the site's most popular artists, famous or otherwise. She held impressive positions on several charts and garnered over 180,000 downloads of her songs, which were frequently #1 or in the Top Ten of the Acoustic Rock and Pop charts.
The most frequently heard comment at Susan Greenbaum's gigs is, "Great songs--and how does all that big, beautiful sound come out of someone under five feet tall?" Listen and find out.
| | | |
| --- | --- | --- |
| MP3/320 | $10.00 | |
| FLAC | $12.00 | |
| WAV | $12.00 | |
| CD | $15.00 | |
Track Listing
| | | |
| --- | --- | --- |
| Sorry, but your browser is out dated and can't play audio. | This Life | |
| Sorry, but your browser is out dated and can't play audio. | Big | |
| Sorry, but your browser is out dated and can't play audio. | Penny On The Sidewalk | |
| Sorry, but your browser is out dated and can't play audio. | Magic | |
| Sorry, but your browser is out dated and can't play audio. | He's Not Leavin' | |
| Sorry, but your browser is out dated and can't play audio. | Fireworks | |
| Sorry, but your browser is out dated and can't play audio. | Scared To Sit Down | |
| Sorry, but your browser is out dated and can't play audio. | Ten Out Of Ten | |
| Sorry, but your browser is out dated and can't play audio. | Walk In These Shoes | |
| Sorry, but your browser is out dated and can't play audio. | Here No More | |
| Sorry, but your browser is out dated and can't play audio. | On My Way | |
| Sorry, but your browser is out dated and can't play audio. | The Season | |
| Sorry, but your browser is out dated and can't play audio. | Virginia, The Home Of My Heart | |
| Sorry, but your browser is out dated and can't play audio. | The Squirrel Song | |