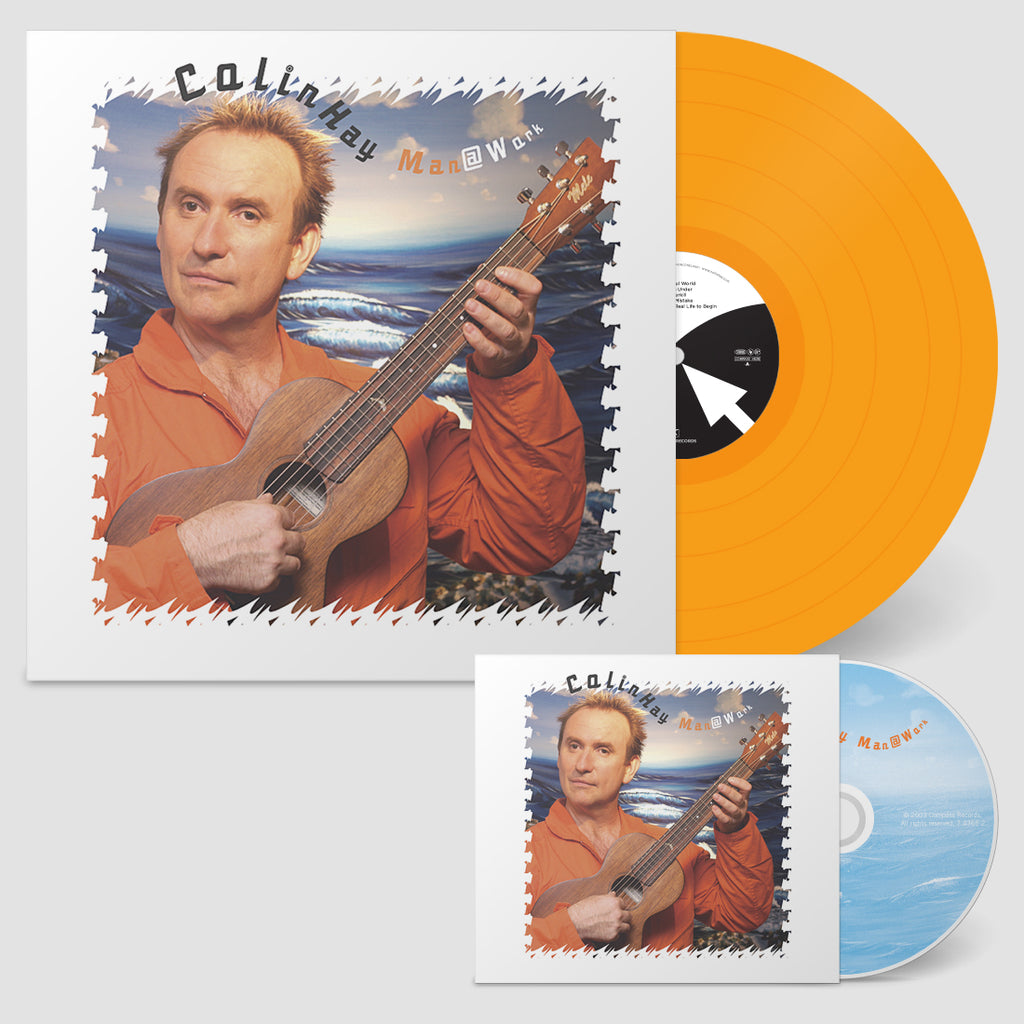 LP is pressed on orange vinyl.
As frontman and principal songwriter for the smash group Men at Work, Colin Hay secured a place in pop music's pantheon with a series of melodically infectious, invigorating singles marked by Hay's instantly recognizable voice and perceptive, witty lyrics.

Man @ Work introduces the Hay of today: his voice aged to a warm, burnished tenor, his wits and musical acumen still sharp. Over the course of bittersweet new songs, revamped versions of solo favorites, and surprising, stripped-down versions of Men at Work classics, Hay reasserts himself as one of pop music's most distinct and likable craftsmen.
Acoustic Vinyl Track Listing:
Beautiful World (alternate mix)
Down Under (acoustic version)
Love Is Innocent (re-release)
It's A Mistake (acoustic version/new recording)
Waiting For My Real Life To Begin (re-release)
Who Can It Be Now? (acoustic version)
Overkill (acoustic version)
I Can See It In Your Eyes (acoustic version/new recording)
I Just Don't Think I'll Ever Get Over You (radio edit)
Down By The Sea (acoustic version/new recording)
| | | |
| --- | --- | --- |
| MP3/320 | $7.50 $10.00 | |
| FLAC | $9.00 $12.00 | |
| WAV | $9.00 $12.00 | |
| CD | $11.25 $15.00 | |
| Acoustic Vinyl LP | $20.99 $27.98 | |
Track Listing
| | | |
| --- | --- | --- |
| Sorry, but your browser is out dated and can't play audio. | Beautiful World (Alternate Mix) | |
| Sorry, but your browser is out dated and can't play audio. | Down Under (Acoustic Version) | |
| Sorry, but your browser is out dated and can't play audio. | Overkill (Acoustic Version) | |
| Sorry, but your browser is out dated and can't play audio. | Storm In My Heart | |
| Sorry, but your browser is out dated and can't play audio. | Looking for Jack | |
| Sorry, but your browser is out dated and can't play audio. | Don't Be Afraid (Previously Unreleased) | |
| Sorry, but your browser is out dated and can't play audio. | It's A Mistake | |
| Sorry, but your browser is out dated and can't play audio. | Waiting For My Real Life To Begin (Re-Release) | |
| Sorry, but your browser is out dated and can't play audio. | To Have And To Hold (Previously Unreleased) | |
| Sorry, but your browser is out dated and can't play audio. | Who Can It Be Now? (Acoustic Version) | |
| Sorry, but your browser is out dated and can't play audio. | Be Good Johnny | |
| Sorry, but your browser is out dated and can't play audio. | Love Is Innocent (Previously Unreleased) | |
| Sorry, but your browser is out dated and can't play audio. | Down Under (2003 Version) | |