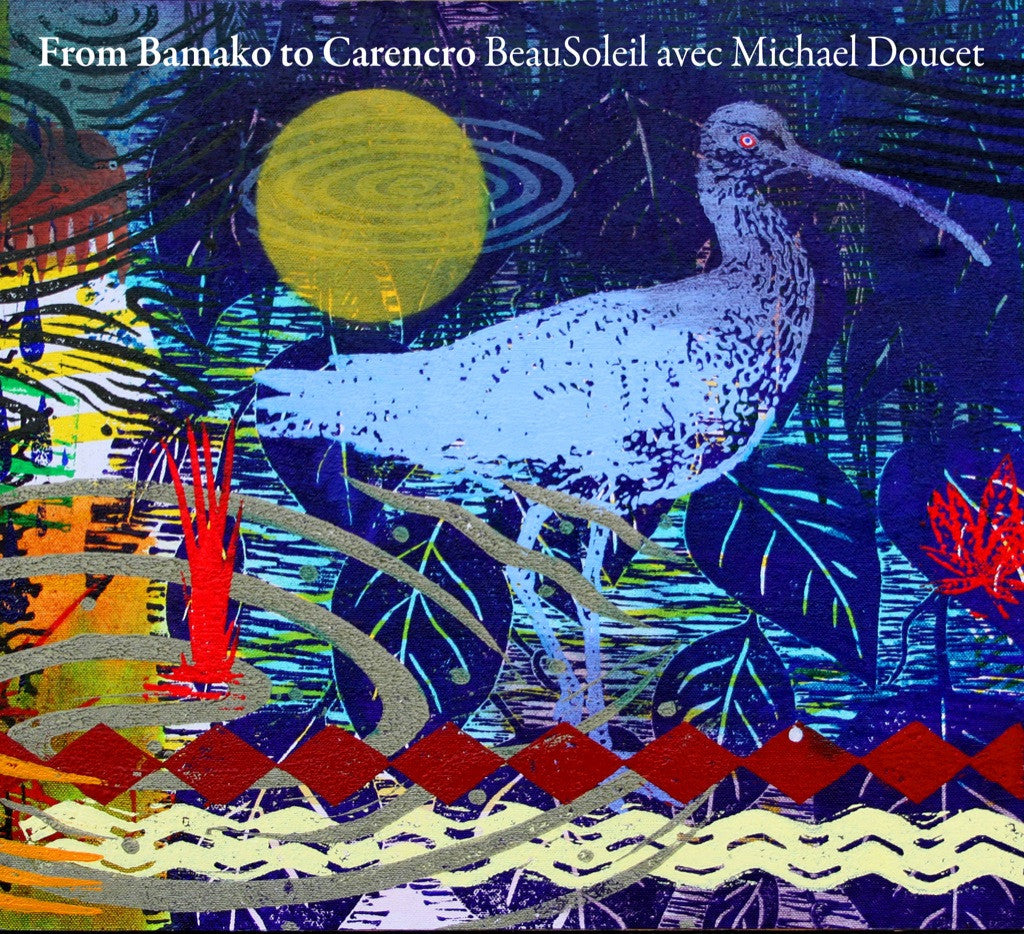 BeauSoleil is the most well-known band performing music derived from the Cajun culture of Louisiana. With flavors of jazz, blues and rock and roll, the band's cross-genre appeal and instrumental prowess have earned them fans across the roots music world. Their debut album for Compass Records—From Bamako to Carencro—takes its name from the cultural connection between Bamako, in Mali, West Africa, and Louisiana, symbolized in name by the Lafayette, LA suburb of Carencro. Featured on the album are band members Michael Doucet (fiddle and lead vocals), David Doucet (guitar and vocals), Billy Ware (percussion) and Tommy Alissi (drums) and Mitchell Reed (bass and fiddle). Guests Jessie Lége (button accordion), Cory Ledet (piano accordion), and special guest, multi-instrumentalist Don Vappe (acoustic bass, electric bass, electric guitar, mandolin) round out the mix.

The new album includes the celebrated Cajun/Creole-rooted music the band is known for, but also includes some notable jazz, blues and R&B elements. Standout tracks include the Roswell Rudd composition "Bamako", a haunting and hypnotic Michael Doucet original entitled "Carenco", a Cajun swing version of Coltrane's "Bessie's Blues" and a surprising cover of James Brown's "I'll Go Crazy." "Port Arthur Two-Step" features a duet between Michael Doucet and brother David Doucet, and band bassist and 2nd fiddler Mitchell Reed contributes the infectious "Creole Jig."  The album was recorded at the legendary Dockside Studios in Maurice, LA and mixed at Compass Sound Studio in Nashville, TN.

BeauSoleil has performed over twenty times during the course of the last three decades at the New Orleans Jazz & Heritage Festival, the Smithsonian Folklife Festival, The Voodoo Festival (where, this year, Doucet was a special guest of Thomas Dolby), and are frequent guests on NPR's A Prairie Home Companion. The band has just finished filming an episode of HBO's Treme, which will air in 2013, and will tour in support of the new album beginning in January 2013.
"The best Cajun band in the World!"  —Garrison Keillor, A Prairie Home Companion

"BeauSoleil avec Michael Doucet—they play music that's honest to the bone!" —Allen Toussaint
| | | |
| --- | --- | --- |
| MP3/320 | $10.00 | |
| FLAC | $12.00 | |
| WAV | $12.00 | |
| CD | $15.00 | |
Track Listing
| | | |
| --- | --- | --- |
| Sorry, but your browser is out dated and can't play audio. | Two-Step de Port Arthur | |
| Sorry, but your browser is out dated and can't play audio. | La Doucer | |
| Sorry, but your browser is out dated and can't play audio. | Bamako | |
| Sorry, but your browser is out dated and can't play audio. | Carencro | |
| Sorry, but your browser is out dated and can't play audio. | Chanson de Cinquante Sous | |
| Sorry, but your browser is out dated and can't play audio. | Les Barres de la Prison | |
| Sorry, but your browser is out dated and can't play audio. | Bessie's Blues | |
| Sorry, but your browser is out dated and can't play audio. | I'll Go Crazy | |
| Sorry, but your browser is out dated and can't play audio. | You Got To Move | |
| Sorry, but your browser is out dated and can't play audio. | Le Jig Creole | |
| Sorry, but your browser is out dated and can't play audio. | Guilbeau Pelican & Napoleon's Reel | |