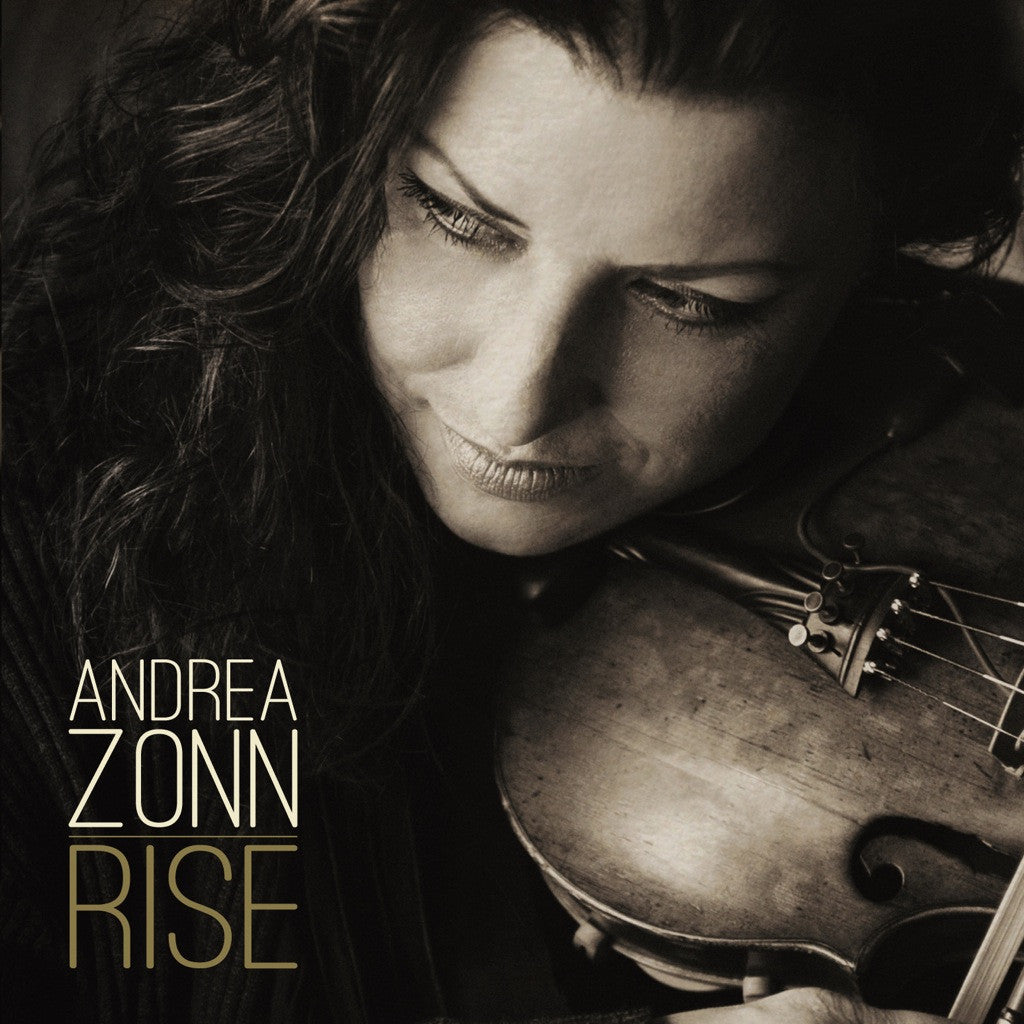 Features special guest appearances by James Taylor, Vince Gill, Keb' Mo', Trace Adkins, Jerry Douglas, Sam Bush, John Cowan, Jim Oblon, Bryan Sutton, Michael Landau, Mac McAnally, Alison Brown, and many more...

Andrea Zonn, one of the most respected fiddle players and harmony vocalists in contemporary music, knows as well as anyone that the right players and the right chemistry are what elevates an album and serves the songs. On her second album as an artist, Andrea is supported by the illustrious musicians she usually accompanies: James Taylor, Vince Gill, and Keb' Mo', for starters.
 
The 10 tracks on her new record RISE show Andrea digging into songcraft with focus and newfound confidence. The results escape any neat genre descriptions—folk-rock suits as well as anything—but they're heavy on groove, natural tones and spontaneous, transparent beauty.
 
The blending of genres is perhaps due to the multi-faceted dream team she assembled in the studio, a group of musicians she's worked with over her career: Dobro star Jerry Douglas, Newgrass-founding mandolinist Sam Bush, former Newgrass vocalist and current Doobie Brother John Cowan, and multi-award winning musician Mac McAnally.
 
Central to the project's conception and guiding her songwriting was the core rhythm section of bassist Willie Weeks (Eric Clapton, George Harrison, Rolling Stones) and drummer Steve Gadd (Paul Simon, Steely Dan, Simon & Garfunkel). The two legendary musicians had rarely recorded together before these sessions, but Zonn, who's known both of them for years, conceived the project around their studio collaboration. These are the kind of high-level recording sessions any producer would put together if they had these contacts. Zonn was not just dropping names when she put the album together.
 
One could say Zonn is worthy of close attention based on the company she keeps. But it's even more telling that they seem just as honored to have her around. As a champion bluegrass fiddler and an accomplished classical violinist, a recording artist and a songwriter, her own albums have been admired widely for their beauty, taste and impeccable musicianship.
"At last: this sublime new batch of songs from the voice (and bow) of our unparalleled, Andrea Zonn. So proud to be a part of it..." —James Taylor
"Distinguished by her gorgeous vocals, masterful songwriting and sweet fiddle playing, Rise is one of the year's greatest music treasures." —Rolling Stone Country
| | | |
| --- | --- | --- |
| MP3/320 | $7.50 $10.00 | |
| FLAC | $9.00 $12.00 | |
| WAV | $9.00 $12.00 | |
| CD | $11.25 $15.00 | |
Track Listing
| | | |
| --- | --- | --- |
| Sorry, but your browser is out dated and can't play audio. | Rise | |
| Sorry, but your browser is out dated and can't play audio. | Another Side of Home | |
| Sorry, but your browser is out dated and can't play audio. | No Reason to Feel Good | |
| Sorry, but your browser is out dated and can't play audio. | Crazy If You Let It | |
| Sorry, but your browser is out dated and can't play audio. | I Can't Talk About It Now | |
| Sorry, but your browser is out dated and can't play audio. | Let Them Go | |
| Sorry, but your browser is out dated and can't play audio. | Where the Water Meets the Sky | |
| Sorry, but your browser is out dated and can't play audio. | Another Swing and a Miss | |
| Sorry, but your browser is out dated and can't play audio. | You Make Me Whole | |
| Sorry, but your browser is out dated and can't play audio. | Ships | |