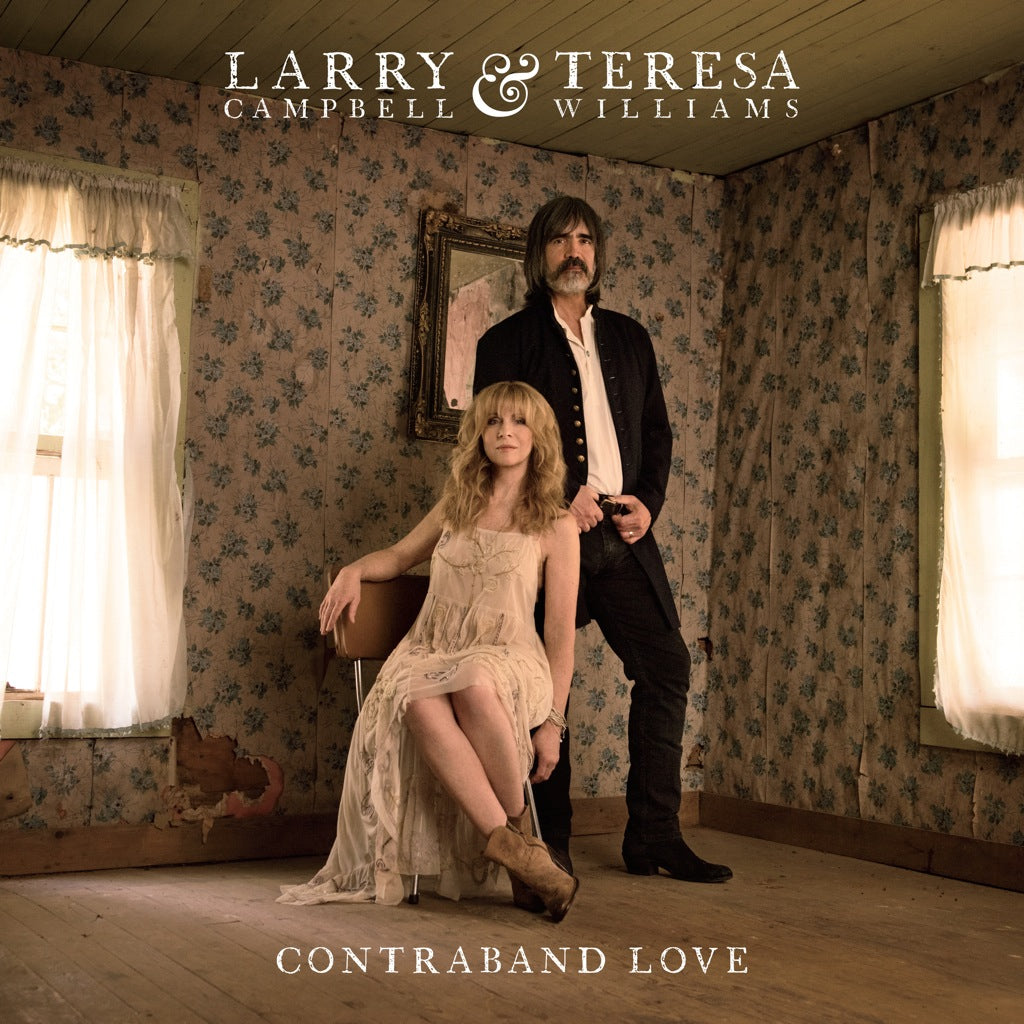 Multi-instrumentalist/singer Larry Campbell & singer/guitarist Teresa Williams have long provided musical firepower for fellow artists including Levon Helm, Bob Dylan, Mavis Staples, Little Feat, Phil Lesh and Friends, and Rosanne Cash. When the duo stepped onto center stage in 2015 with their Red House Records debut, Larry Campbell & Teresa Williams, the response was immediate: the release placed them atop the Americana radio charts, Mojo called them "The first couple of Americana" and Uncut gave the album 9/10 stars, describing it as "Passionate, eloquent, spilling over with regal harmonies...channeling Emmylou and Gram." 
In January 2017, armed with a new collection of Campbell originals, the pair headed back into the studio with longtime drummer/engineer Justin Guip and new bassist Jesse Murphy to record their follow up, Contraband Love. The new album represents a leap forward for Larry and Teresa as they dive even more deeply into their shared pool of musical and life experience. Williams continues to impress as a vocalist, turning in stunning performances on Campbell originals "Contraband Love" and "Save Me From Myself." Her interpretive skills are showcased on two surprising covers: the Carl Perkins classic "Turn Around" (featuring drumming by Levon Helm on one of his last sessions), and "My Sweetie Went Away," penned in 1923 and popularized by Bessie Smith. High octane originals "Hit & Run Driver" and "The Wishing Well" give Campbell ample room to show off his vocal prowess as well as his legendary dexterity as a guitarist. Campbell particularly shines on his soul ballad "When I Stop Loving You," co-written with Stax Records songwriting legend and recent Grammy winner William Bell.
Building on the bedrock of album one, 'Contraband' features adventurous songwriting, powerful new interpretations of their blues and gospel influences, sterling musicianship and some achingly vulnerable vocals by Teresa and Larry as they tackle emotionally stormy themes of love and betrayal.
| | | |
| --- | --- | --- |
| MP3/320 | $10.00 | |
| FLAC | $12.00 | |
| WAV | $12.00 | |
| WAV-HD | $17.00 | |
| CD | $15.00 | |
| LP | $24.98 | |
Track Listing
| | | |
| --- | --- | --- |
| Sorry, but your browser is out dated and can't play audio. | The Other Side Of Pain | |
| Sorry, but your browser is out dated and can't play audio. | Save Me From Myself | |
| Sorry, but your browser is out dated and can't play audio. | Hit and Run Driver | |
| Sorry, but your browser is out dated and can't play audio. | Contraband Love | |
| Sorry, but your browser is out dated and can't play audio. | Three Days in a Row | |
| Sorry, but your browser is out dated and can't play audio. | Turn Around | |
| Sorry, but your browser is out dated and can't play audio. | When I Stop Loving You | |
| Sorry, but your browser is out dated and can't play audio. | It Ain t Gonna Be A Good Night | |
| Sorry, but your browser is out dated and can't play audio. | My Sweetie Went Away | |
| Sorry, but your browser is out dated and can't play audio. | Wishing Well | |
| Sorry, but your browser is out dated and can't play audio. | Slidin Delta | |