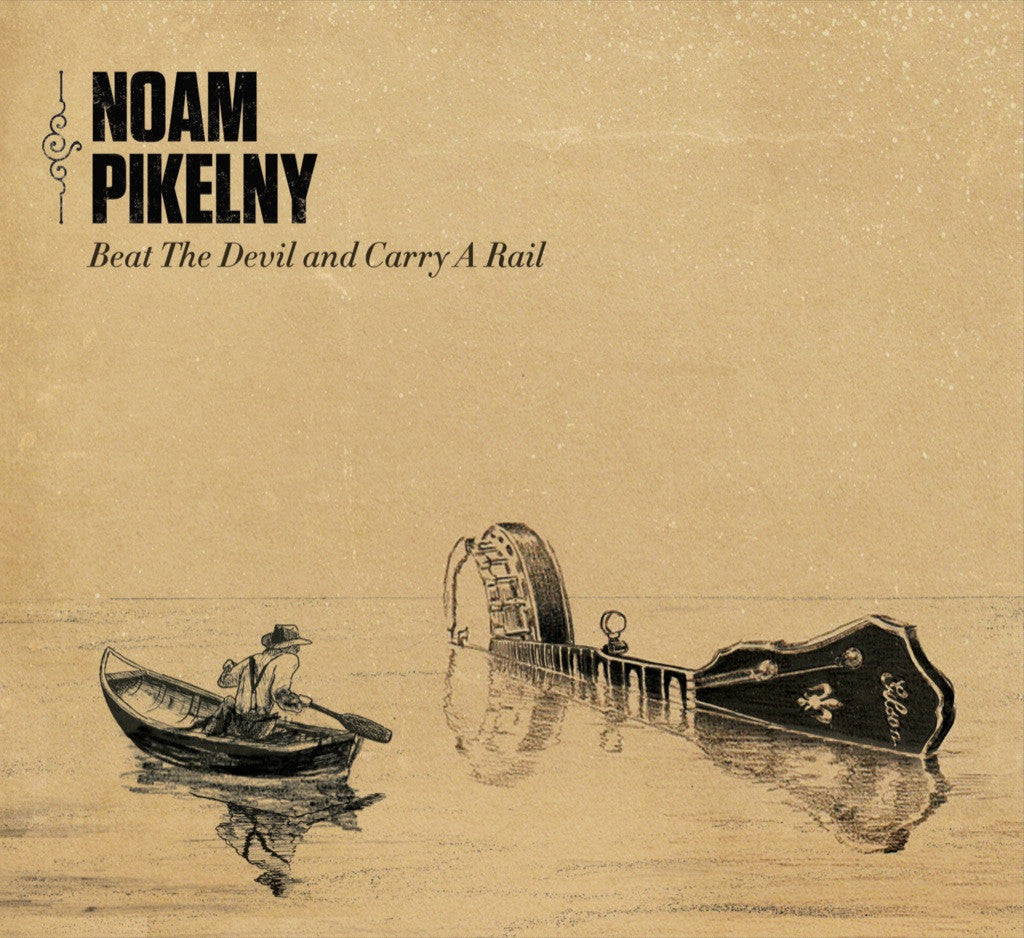 Noam Pikelny
is releasing his long awaited second album
Beat The Devil and Carry A Rail
on Tuesday, October 25th, 2011 on Compass Records. Pikelny is undeniably the next big thing to happen to the 5-string banjo, a player of unparalleled technique, he confounds and inspires listeners with his mastery of the instrument. As a member of Punch Brothers, he has helped to broaden the awareness of the banjo in the mainstream, earning the first annual
Steve Martin Prize for Excellence in Banjo and Bluegrass Music
and a coveted appearance on Late Show with David Letterman with Martin.
On his long-awaited sophomore recording, Noam delivers a set that is as dazzling for its virtuosity as it is engaging for its melodic sensibilities. In addition to an all star cast of instrumentalists including
Bryan Sutton
(guitar),
Chris Thile
(mandolin),
Tim O'Brien
(mandolin, fiddle) and
Jerry Douglas
(dobro), he also shares the spotlight with guest vocalists
Aoife O'Donovan
(Crooked Still) on a delightful rendering of Tom Waits' "Fish and Bird" and
Tim O'Brien
on a re-working of the Henry Thomas classic "Bob Mckinney."  Other standout tracks include a banjo duet with Steve Martin on the old-time standard "Cluck Old Hen" and a mind-boggling, instrumental powerhouse trio featuring Chris Thile and Bryan Sutton on the original "Bear Dog Grit."  Rounding out the band is fiddler
Stuart Duncan
, Punch Brothers guitarist
Chris Eldridge
, and bassist
Mark Schatz
.  The release marks Punch Brothers fiddler
Gabe Witcher
's debut as producer.
| | | |
| --- | --- | --- |
| MP3/320 | $7.50 $10.00 | |
| FLAC | $9.00 $12.00 | |
| WAV | $9.00 $12.00 | |
| CD | $11.25 $15.00 | |
Track Listing
| | | |
| --- | --- | --- |
| Sorry, but your browser is out dated and can't play audio. | Jim Thompson's Horse | |
| Sorry, but your browser is out dated and can't play audio. | My Mother Thinks I'm a Lawyer | |
| Sorry, but your browser is out dated and can't play audio. | Fish and Bird | |
| Sorry, but your browser is out dated and can't play audio. | Cluck Old Hen | |
| Sorry, but your browser is out dated and can't play audio. | Boathouse on the Lullwater | |
| Sorry, but your browser is out dated and can't play audio. | Bear Dog Grit | |
| Sorry, but your browser is out dated and can't play audio. | Day Down | |
| Sorry, but your browser is out dated and can't play audio. | Milford's Reel | |
| Sorry, but your browser is out dated and can't play audio. | Bob McKinney | |
| Sorry, but your browser is out dated and can't play audio. | Pineywoods | |
| Sorry, but your browser is out dated and can't play audio. | The Broken Drought | |
| Sorry, but your browser is out dated and can't play audio. | All Grit Out | |