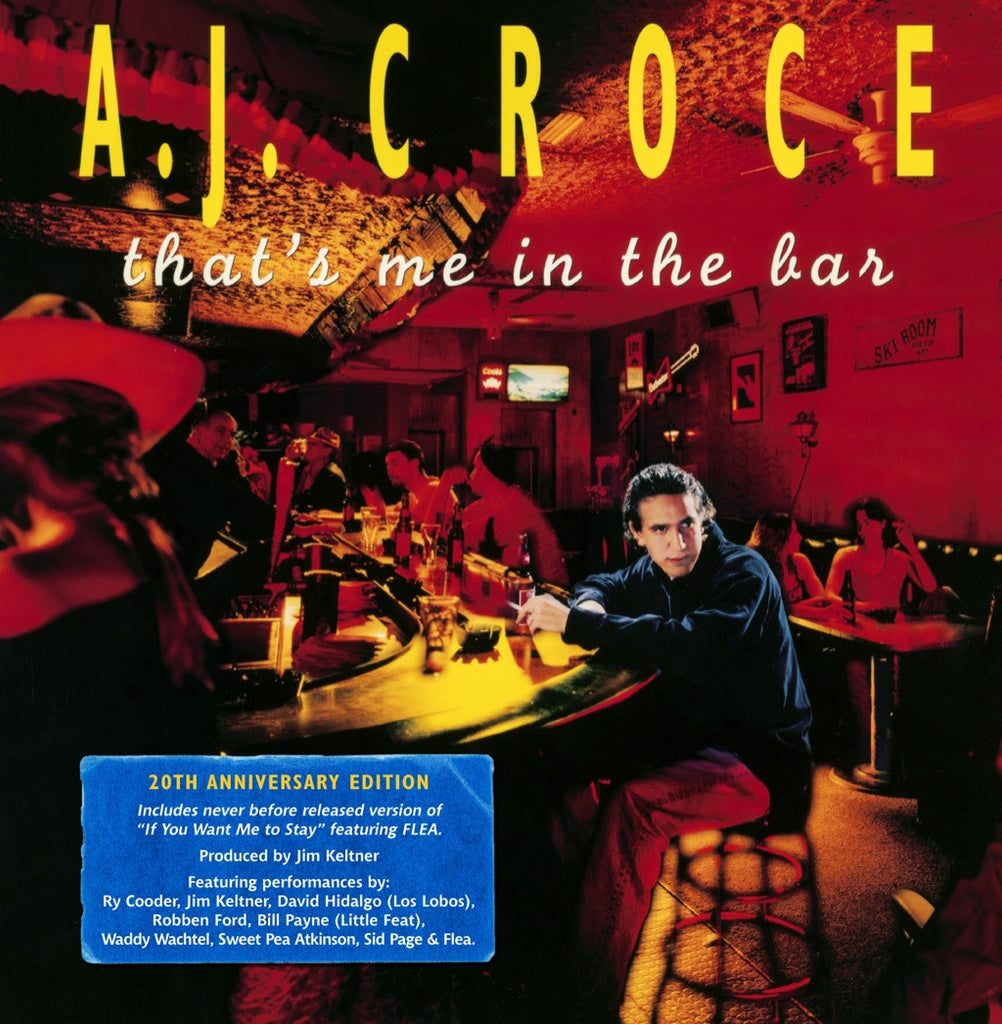 FEATURING: Ry Cooder, Jim Keltner, David Hidalgo (Los Lobos), Robben Ford, Bill Payne (Little Feat), Waddy Wachtel, Sweet Pea Atkinson, Sid Page & Flea.

On August 21st, Compass Records will re-release A.J. Croce's highly successful album, That's Me in the Bar in celebration of its 20th anniversary. With his unique jazz piano stylings and blues-tinged voice, the 12-track album established Croce as a singular artistic force in 1995.
Hailed by The Boston Globe as "a thoughtful, probing record," That's Me in the Bar boasts appearances from the likes of Billy Payne (Little Feat), Sweet Pea Atkinson (Was (Not Was)), Robben Ford, Ry Cooder, Waddy Wachtel, Sid Page (Sly & The Family Stone), and others.
The re-release will feature a bonus track, "If You Want Me to Stay," recorded 20 years ago but locked in the vault until now. Producer Jim Keltner, "the leading session drummer in America" according to Bob Dylan, held down the percussion and invited a slew of illustrious friends to play on the track as well. Multi-instrumentalist David Hidalgo's (Los Lobos) masterful contributions include horn and accordion lines, while Keltner's next-door-neighbor Flea (Red Hot Chili Peppers) added a heavy dose of funky bass. A.J. Croce, whose timeless voice has cured like good Scotch whisky, rerecorded the vocals in 2015 for the 20th anniversary re-release.
 
Croce, son of legendary singer-songwriter Jim Croce, began his career at age 17 opening for B.B. King. Unbound by genre, Croce's music spans from jazz to Americana to blues to pop. Through the years, he's headlined festivals and shared the stage with Ray Charles, James Brown, Lyle Lovett, and Rod Stewart. Croce has performed on television shows including Conan, David Letterman, Jay Leno, MTV, VH1, and E!, and climbed up seven radio charts including Top 40, Americana, Blues, College, and AAA.
"The presence of the guitarists Ry Cooder and Robben Ford adds currency to the record. All songs are written and sung by Croce and powered by his piano, which comes across as sort of Generation X blend of James P. Johnson and Jerry Lee Lewis." —International Herald Tribune
 
"The opening tune, which is also the title track, lays the groundwork for this album that owes a debt to Randy Newman with its pop interpretation of the blues. Gravelly voiced on tracks like "Sign On The Line," there's a potent combination of r&b, blues and jazz that makes this album a swinging good time." —Cash Box
| | | |
| --- | --- | --- |
| MP3/320 | $10.00 | |
| FLAC | $12.00 | |
| WAV | $12.00 | |
| CD | $15.00 | |
| LP | $24.98 | |
Track Listing
| | | |
| --- | --- | --- |
| Sorry, but your browser is out dated and can't play audio. | That's Me in the Bar | |
| Sorry, but your browser is out dated and can't play audio. | Sign on the Line | |
| Sorry, but your browser is out dated and can't play audio. | She's Waiting for Me | |
| Sorry, but your browser is out dated and can't play audio. | Checkin' In | |
| Sorry, but your browser is out dated and can't play audio. | Music Box | |
| Sorry, but your browser is out dated and can't play audio. | Callin Home | |
| Sorry, but your browser is out dated and can't play audio. | Night Out on the Town | |
| Sorry, but your browser is out dated and can't play audio. | Pass Me By | |
| Sorry, but your browser is out dated and can't play audio. | I Meant What I Said | |
| Sorry, but your browser is out dated and can't play audio. | Maybe I'm to Blame | |
| Sorry, but your browser is out dated and can't play audio. | I Confess | |
| Sorry, but your browser is out dated and can't play audio. | Some People Call it Love | |
| Sorry, but your browser is out dated and can't play audio. | If You Want Me to Stay (Bonus Track) | |