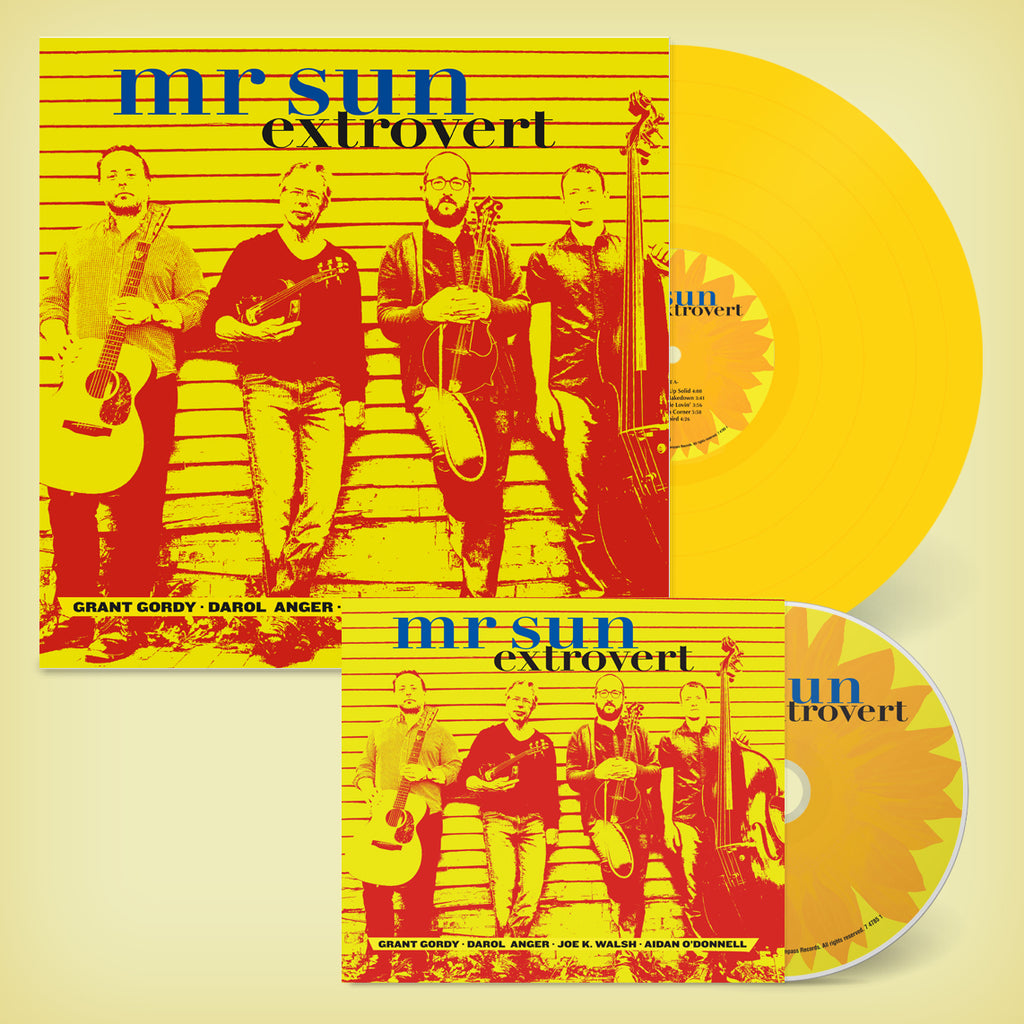 LIMITED EDITION YELLOW VINYL includes download card with additional tracks.
Mr. Sun
brings together four of the most virtuosic musicians in acoustic music. Led by
Darol Anger
, an iconic fiddler and founding father of new acoustic music, the four musicians in the band span three generations and offer some of the most jaw-dropping instrumental prowess to be found in any genre. Their sophomore release
EXTROVERT
picks up where their much-lauded debut left off, exploring the grooves and melodies that exist at the intersection of bluegrass, jazz and swing. In spite of their technical chops, Mr. Sun never loses sight of the light-hearted, musical playfulness that has made them a must-see act on the roots music scene.
 
EXTROVERT opens with the funky, blues-inflected "Tamp 'Em Up Solid," which offers a tongue-in-cheek tip of the hat to the classic "Muleskinner Blues," and which features mandolinist Joe Walsh on lead vocals. Anger offers a sweet re-imagining of Lennon and McCartney's "Blackbird," and guitarist Grant Gordy and newest member, bassist Aidan O'Donnell, get a chance to stretch on the angular "A Real Dragon." The swinging "Just a Little Loving" gives each soloist a chance to play the perfect instrumental foil to Anger's fiddlistic flights of fancy and the Anger original "Breaker's Bakedown" showcases the quartet's mastery of the fiddle tune tradition. At the end of the day, more than the chops and instrumental prowess on display, it's the pure joy emanating from Mr. Sun's music that will keep EXTROVERT on repeat.
LP Track listing:
Side A:

Tamp 'Em Up Solid
Breaker's Bakedown
Just a Little Lovin'
The Amen Corner
Blackbird
Side B:

The Fiddler Of Dooney
Danny Barnes
Murmurations
The Traveler's Prayer
"Aside from their instrumental mastery, there is a playfulness to their music that falls somewhere between old time, bluegrass, swing, and what we used to call 'new acoustic'." —Bluegrass Today
 
"Mr. Sun radiates hi-tone improv that will actually drop your jaw. Darol Anger's Gang of Four is steeped in bluegrass and jazz and swing and everything else under the...Their compositions range from heart-tugging pastorality to the intensity of a solar flare tsunami." —Tony Trischka
| | | |
| --- | --- | --- |
| MP3/320 | $10.00 | |
| FLAC | $12.00 | |
| WAV | $12.00 | |
| WAV-HD | $17.00 | |
| CD | $15.00 | |
| Signed LP | $26.98 | |
Track Listing
| | | |
| --- | --- | --- |
| Sorry, but your browser is out dated and can't play audio. | Tamp 'Em Up Solid | |
| Sorry, but your browser is out dated and can't play audio. | Danny Barnes | |
| Sorry, but your browser is out dated and can't play audio. | Blackbird | |
| Sorry, but your browser is out dated and can't play audio. | The Fiddler Of Dooney | |
| Sorry, but your browser is out dated and can't play audio. | Breaker's Bakedown | |
| Sorry, but your browser is out dated and can't play audio. | A Real Dragon | |
| Sorry, but your browser is out dated and can't play audio. | Better Git It In Your Soul | |
| Sorry, but your browser is out dated and can't play audio. | The Amen Corner | |
| Sorry, but your browser is out dated and can't play audio. | Murmurations | |
| Sorry, but your browser is out dated and can't play audio. | The Traveler's Prayer | |
| Sorry, but your browser is out dated and can't play audio. | Just A Little Lovin' | |